US Mobile Unlimited
Promoted
Unlimited
Unlimited
100GB
$50

Special Features:
Free 50 day trial available includes 50GB data plus $50 gift card

Includes priority data! With a 5G device, your data speeds will not slow down compared to others during times of network congestion!
Includes 10GB of international roaming data, 1000 texts, 500 minutes to over 100 countries
Includes 50GB of mobile hotspot
Add additional lines and get free perks and discounts.
Choose free subscription perks such as Apple TV Plus, Disney-Hulu-ESPN Plus, Netflix and many more!
Taxes and fees included!
24/7 Customer Service
Get US Mobile!
---
There Is No Best Unlimited Data Plan, But There Is A Best Unlimited Plan For You
The internet is filled with posts and articles about the "best unlimited data plans." But the truth is, there is really no such thing. Or at least there's no one best plan for everybody. What there is though, is a best unlimited data plan specific to you and your needs. And I'm going to help you find it.
Before we even dive into what may be the best unlimited data plan for you, we actually have to first define what the word "unlimited" means.
Unlimited, unfortunately, is a very dirty word in the wireless industry. It gets tossed around rather loosely. Take a minute and think about it. What does the word "unlimited" actually mean to you?
When Unlimited Really Isn't Unlimited
The Merriam-Webster dictionary defines unlimited as:
lacking any controls: unrestricted
boundless, infinite
not bounded by exceptions
So by that definition, unlimited means something that never ends and is without restriction. But in the wireless industry, unlimited generally goes hand and hand with restrictions and strings attached. And there can be so many strings attached to a particular phone plan that your head spins in confusion trying to understand them. So we're going to need to sort that out here. We'll look at some specific examples of how carriers just casually throw the word unlimited around and how confusing that can be.
Take the screenshot shown below for example, from an unnamed wireless provider's website. Can you spot the difference(s) between the two plans?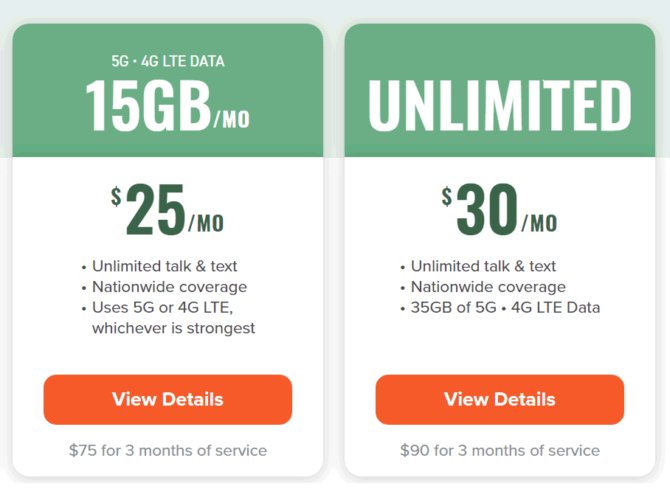 If you look at the two plans above, doesn't it seem that the plan on the right is unlimited and the plan on the left is not? That's certainly what's being implied here by the carrier, but that's really not the difference between the two plans at all. The plan on the left includes 15GB of 4G LTE/5G data while the one on the right includes 35GB. Do you know what happens after a subscriber reaches either of those data allotments?
Data speeds get slowed down dramatically until the next billing cycle starts!
In fact, both plans can slow down by a factor 1000 fold or more! So, by definition, neither of the plans in the screenshot above is a truly unlimited data plan. Neither plan is one where the data can be used endlessly without restriction. The dramatic slowing of data until the next billing cycle starts is a restriction. Plain and simple. And that brings us to the next point. Why is the plan on the right called "unlimited" and the plan on the left is not? Your guess is as good as mine, but it's fairly standard practice for the industry to do that. By this particular provider's definition of unlimited, both plans should be called unlimited as they both include unlimited slow data once their high-speed allotments have been consumed.
Moving along. Let's look at another example.
In the screengrab above, we have two plans from another wireless provider's website. Both of the plans say that they include unlimited talk, text, and data. But do they really? Not by the definition "infinite AND without restriction." The plan on the left offers 4GB of high-speed data and the one on the right 5GB. After those allotments are hit, data speeds slow down for the rest of the billing cycle by once again a factor of up 1000 fold and maybe more. Once data speeds become that slow they are unusable to do many things on the web. So if you get to a point where you can no longer use your data for everything you'd like, do you really have unlimited data? By the most technical of terms, data never gets shut-off with either plan, so in that sense both plans are unlimited. But then what are you left with when you can't really use your "unlimited" data?
Let's move along and take a look at yet another example. This one comes from T-Mobile, the self-proclaimed "Un-carrier."
Looking at this screenshot from T-Mobile's website, we see the company's "Essentials" plan. The table shows "yes*" next to the words "unlimited 5G & 4G LTE data on our network." So, does this plan offer truly unlimited data? That is, data that is infinite and without restriction? Well, there's an asterisk next to the word "yes" indicating there may be some restriction in place. And sure enough, by reading the next line in the table, we can sort of see what that restriction is. It says the plan includes 50GB of "premium data." But what does that even mean? It's another way that the industry causes confusion.
Premium data means the amount of monthly high-speed data the plan comes with before data speeds may be temporarily slowed down compared to other customers on the same network when the network is busy. Data speeds return to normal when the network is no longer busy. Another term for this type of data is called priority data. So T-Mobile's plan includes 50GB of priority data before speeds may temporarily slow down when the network is busy. Does that fit the definition of unlimited? No, it does not. If data speeds can slow after a certain amount of data has been consumed, even if it's only temporary, that is a restriction.
The Truth About Truly Unlimited Data Plans
The truth about truly unlimited data plans is that there are really only four such plans on the market, one each from AT&T, T-Mobile, Verizon Wireless, and AT&T's prepaid brand Cricket Wireless. But even then, if we are going to accept their plans as being truly unlimited, we must still be willing to accept some, eh hem, limitations.
While each provider offers a plan with data that will never slow down compared to other customers based on the amount of data consumed, data speeds can still slow down if a network is overcrowded. Speeds just won't slow by nearly as much as other customers on the network who don't have priority data. And this isn't a restriction put in place by the carriers, a cellular tower can only handle so much traffic at once. So the plans are without carrier-imposed restrictions on their on-device data speeds and usage, and thus they meet the definition of truly unlimited. Fortunately, overcrowded networks should become much less of a thing as 5G networks continue to be built out. Particularly as mid-band/c-band and mmWave 5G spectrum continue to be deployed.
While your on-device data may be truly unlimited, if you attempt to share your phone's cellular data connection with other devices by using its mobile hotspot, you will certainly face restrictions. No provider is offering a phone plan that allows hotspot usage with data speeds that never slow down due to carrier-imposed restrictions. Every truly unlimited data plan restricts how hotspot can be used. So the plans can really only be called truly unlimited if we are willing to accept that the only data from the plan that is infinite and without restriction is the data being used directly on the phone and not the data that is shared with another device by hotspot. Understanding those gotchas, here's a look at how the only four truly unlimited data plans on the market actually compare.
The Four Truly Unlimited Data Plans
List Of Truly Unlimited Data Plans

| | AT&T Unlimited Elite | T-Mobile Magenta Max | Verizon 5G Get More | Cricket More |
| --- | --- | --- | --- | --- |
| 1-Line Price | $85 | $85 | $90 | $60 |
| 4-Lines Price | $200 | $170 | $220 | $130 |
| Taxes & Fees Included | No | Yes | No | Yes |
| Hotspot Data | 40GB | 40GB | 50GB | 15GB |
| Hotspot Restrictions | Slowed to 128Kbps after 40GB | Slowed to 600Kbps after 40GB | After 50GB slowed to 3Mbps on 5G Ultra Wideband, or 600Kbps when on 5G Nationwide or 4G LTE | Requires Cricket branded phone |
| Streaming Resolution | 4K UHD | 4K UHD | 4K UHD | 480p |
| International Call/Text | No/Yes | No/Yes | No/Yes | No/Yes |
| Canada & Mexico Roam | Yes | Yes | Yes | Yes |
| Free Perks | Stadio Pro For 6-Months, HBO Max Subscription | Netflix, T-Mobile Tuesdays | Disney+, Hulu, ESPN+, Apple Music, 600GB cloud storage, choice between Apple Arcade or Google Play Pass, 1 TravelPass per month, up to 50% off Verizon home internet plan, 50% off tablet, watch or hotspot plan | HBO Max With Ads |
So What's Left Then? And How To Decide On The Best Unlimited Plan For You?
Now that you know that there are really only four truly unlimited data plans on the market, you might feel that your options are rather limited in your search for the perfect unlimited data plan. But that's not necessarily the case. If you are ok with an unlimited data plan that offers a certain amount of high-speed data before data speeds may temporarily slow down when compared to other customers when the network is busy, or if you don't mind a plan where data is unlimited but speeds may temporarily slow down compared to other customers at any time that the network is busy (also known as always deprioritized data), there are over 30 such plans for you to choose from on the market. And this page offers an in-depth comparison list of every single plan that is available. But before you can find the perfect plan for your needs, you're going to need to answer a few questions:
Which major carrier network do you need to use for coverage, AT&T, T-Mobile, US Cellular, or Verizon?
How many lines of service do you need?
Do you need a truly unlimited data plan, or are you ok with an unlimited data plan with a finite amount of premium (priority) data or always deprioritized data?
Do you need to use mobile hotspot?
Do you need any perks?
Do you care about the resolution of your video streams? Is SD streaming ok, or do you need HD or 4K UDH video streaming?
Once you have answers to the questions above, you can easily use and sort the table down below to find the best plan for you. And if you can't answer any or all of the questions above you may simply want to go with the cheapest unlimited data plan option available. Or you can take a free trial for some plans. Visible for instance, which uses Verizon's network for coverage, offers a free 15-day trial with no strings attached other than you have to have an iPhone that supports eSIM. You don't even need to have a credit card to take advantage of the free trial offer. T-Mobile offers a free 30-day trial too. T-Mobile's trial also requires the use of an iPhone with eSIM support. Android users can only take a trial using a hotspot device provided by T-Mobile. If you don't qualify for either of the free trial offers, you may want to take a look at RootMetrics coverage map to see which network has the fastest speeds in your area. You can also download the OpenSignal app (available for Android and iOS) to check data speeds and coverage in your area. But keep in mind, the data from those apps is sourced from consumers who like to run speed tests on their phones. And if consumers in your area haven't run speed tests or run them on specific blocks, it may make those areas look like they have no coverage from a particular provider, when in reality, there is coverage.
Complete List Of Unlimited Data Plans
The cell phone plans shown here represent what's really hard to come by at an affordable price. The plans listed all include unlimited, talk, and data with data being 4G LTE or 5G with no permanent data throttling.
If you don't know what data throttling is, it is that thing that happens to you when you use up all of your high-speed data in a month and it takes your phone impossibly long to load a website or your favorite videos.
There are very few providers out there that actually offer unlimited data at 4G LTE and 5G speeds. The table below compares all the unlimited data plans on the market from all the legitimate providers that offer them. You can compare pricing for single lines and multiple lines and sort them by the features that matter the most to you.
---
Follow BestMVNO
Did you know BestMVNO is available to follow for free in Google News? Follow BestMVNO in your Google News app and keep up to date on wireless. You can also follow on Twitter for additional wireless insights, deals, and even debates!
---
---