---
Cricket Wireless has long been one of the best values around for those looking for no contract phone service on AT&T's network.  In fact, the MVNO ended 2016 with a value award from BestMVNO for its $35 prepaid plan that at the time came with 2.5 GB of data. It was the highest amount of data that you could get at that price point from an AT&T MVNO.  Since then, the plan got a bump up in data so that it now includes 3 GB, but is it really enough?
Quite a lot has changed in the wireless world since the end of 2016.  A popular Sprint MVNO RingPlus had to close, Verizon went against its word and brought back an unlimited LTE data plan, Virgin Mobile launched a new plan lineup, and T-Mobile just got rid of many of its prepaid wireless plans.  That's not even all, AT&T also launched a new plan lineup eliminating nearly all of its postpaid plans in favor of 2 unlimited data plans.  The company also added more data to its GoPhone plans including the addition of one with unlimited "LTE" data.  Of course a move back towards offering unlimited LTE data plans has become the industries latest trend.
Be informed of the latest deals, plans and promotions from AT&T and every one of its MVNO's when you subscribe to the AT&T weekly newsletter. No spam and you can unsubscribe at any time!
It is the recent changes to AT&T's cell phone plans that warrant more of an examination, particularly when trying to analyze the state of Cricket Wireless and its current relevance in the prepaid market space.
Cricket Wireless's Current Cell Phone Plan Lineup
Cricket Wireless is currently offering 4 cell phone plans and they all include unlimited talk and text.  In brief, the plans are priced as follows:
Data download speeds with Cricket Wireless are limited to 8 Mbps while no restrictions are placed on upload speeds.  Taxes and fees are included with the prices listed.
What's Wrong With Those Cricket Wireless Plans?
Earlier I mentioned that a lot has changed in the wireless industry thus far this year and in particular that a good look needs to be taken at AT&T and it's cell phone plans.
AT&T now offers a $40 GoPhone plan (with autopay billing enabled) that includes 6 GB of high-speed data before throttling.  Unlike Cricket Wireless, AT&T's GoPhone plans come with full speed data access, which according to a recent study by PCMag should give AT&T's subscribers download speeds of around 20 Mbps.
Given these two facts, I have two problems with Cricket Wireless, and in particular with the companies $35 cell phone plan.
For just a little more than $5 per month, or slightly more than $60 per year (AT&T's GoPhone plan prices do not include taxes and fees) a subscriber to Cricket Wireless's $35 plan can switch over to this GoPhone plan and gain several perks.
Double the data at more than double the download speeds
International texting to over 100 countries
Full service roaming while traveling to Canada, or Mexico
To me, that is a lot to be gained for just a little over $5 per month, particularly when you consider that extra 3 GB of data that you'll receive.
At this point, some of you may be shaking your head saying $5/month is still more money and you don't need the extra data, download speed or benefits.  Fair enough, so let's take a look at another AT&T MVNO, H2O Wireless and see what they have to offer.
Since early December, H2O Wireless has been offering a promo where subscribers can signup for a plan and get double the amount of data that the plan normally comes with. The promotion is still running and will last until at least the end of April.  A period of 4 months is a relatively long time frame to run a promotion, so I hold out a glimmer of hope that this could indicate that the offer or something similar will eventually be made permanent.  But for now, let's see how the H2O Wireless's phone plans currently stack up against Cricket.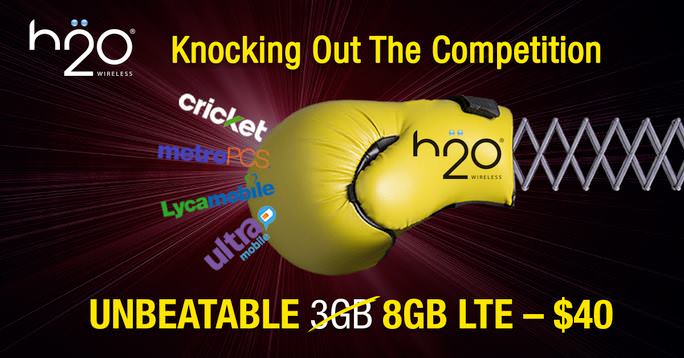 Like Cricket Wireless and GoPhone, H2O Wireless also offers a phone plan in the $35-$40 price point.  With H2O's current promotion, for just $36 a month (with autopay) you could get a phone plan with unlimited talk, text, and data with the first 8 GB at full 4G LTE data speeds.  Not only that, but the plan comes with unlimited global talk and text.  That is quite an advantage over Cricket's similarly priced plan!  Furthermore, H2O offers a plan for $27 (with autopay) that includes all the same features of their $36 plan but with 3 GB of 4G LTE data.  Again, this plan trounces Cricket's offering.
So, another question one might ask is how does Cricket's value plan compare to prepaid plans on other networks?
To answer this question, let's first take a look at a plan from a Verizon MVNO.  I think comparing an AT&T MVNO with a Verizon MVNO is a good place to start given that both networks are very close in size and thus what they can offer in terms of geographic coverage.
Verizon MVNO Total Wireless offers a phone plan in that $35-$40 price point as well.  For $35/month you can get a plan with unlimited talk and text, and 5 GB of hard capped data.  Like Cricket Wireless however, data speeds are not at full speed LTE and are limited to 5 Mbps download and 2 Mbps upload.  Still, that's a substantial amount of more usable data than what Cricket offers for the same price.
Last, we can take a look at and compare Cricket's value plan to plans from T-Mobile and Sprint MVNO's.
Sprint MVNO Virgin Mobile now offers a phone plan that includes unlimited talk, text, and data with the first 5 GB at full speed LTE for $35/month.  The plan also includes unlimited music streaming from select providers that doesn't count against your high speed data cap.
T-Mobile MVNO Simple Mobile offers a plan for $37.50/month, that includes unlimited talk, text and data with the first 4 GB at full LTE speeds.  Additionally, the plan includes unlimited global talk and text as well as full service roaming while traveling in Mexico.
Both the Simple Mobile and Virgin Mobile phone plans offer more value than what Cricket is currently offering to its subscribers.  Of course there is a trade off here in that network coverage from both providers is not as good as what Cricket offers, so these plans may not be suitable to everyone but I mention them for comparisons sake.
Although every comparison was not apples to apples, I think what's outlined here does show that at least one of Cricket Wireless's phone plans may be in need of a make over.
Ever since that GoPhone plan got a data increase and H2O Wireless's data promotion came out, I had been expecting some sort of response from Cricket Wireless.  However, to date there has been nothing, at least in regards to offering more data to subscribers.  Perhaps some sort of promotion would be useful to entice potential customers to join the network or stay with it at that $35 price point before more subscribers look elsewhere.
How many of you out there are former Cricket Wireless customers that either switched over to H2O Wireless due to their double data promotion, or AT&T's $40 GoPhone plan since they increased the included high speed data to 6 GB?  Have any of you switched over to one of the mentioned competing networks to get more data at about the same price point?
---
---