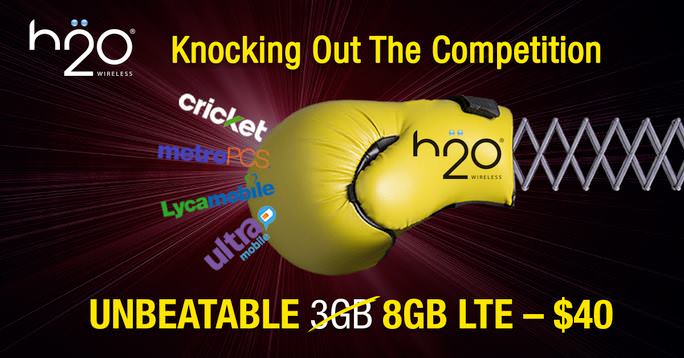 ---
H2O Wireless launched a new promotion today valid though 3/31/2017 for those who port in a new line of service and for existing customers who use auto recharge.  The new promotion is that eligible plans will come with a significant amount of bonus data.
Eligible plans include all of H2O Wireless's Monthly Unlimited Plans and they are as follows:
Be informed of the latest deals, plans and promotions from AT&T and every one of its MVNO's when you subscribe to the AT&T weekly newsletter. No spam and you can unsubscribe at any time!
Monthly Unlimited Plans With Bonus Data
All plans include unlimited talk, text, international talk, and international text as well as throttled 2G data once the plans high speed data is used up.
There is no word as to whether or not the extra data will be permanent for those customers who sign up for one of these plans during the promotional time period.  I have reached out to H2O Wireless for clarification but have not yet received a response at the time of publication.
(Update: 12/08/2016 - H2O has informed me that the plans will revert back to their regular data amounts after the promotional period ends.)
H2O Wireless is an AT&T MVNO which means it competes in the marketplace with Cricket Wireless among others.  With the promotion, H2O Wireless's plans currently provide a better value than nearly every other ATT MVNO plan.
Cricket Wireless for instance is charging $30 for a plan that includes just 1 GB of data, and $40 for a plan with 2.5 GB of data and neither plan includes international talk or text.  With this promotion, switching to H2O will offer you up to 3x more data than the competition does.
H2O Wireless plans are available at Amazon, and Walmart among other locations.
---
---