H2O Wireless Deals
Sorry, BestMVNO could not find any deals on a phone plan from H2O Wireless at this time
---
advertisement
---
H2O Wireless Data Only Plans
---
H2O Wireless Pay As You Go Plans
H2O Wireless PG 10 Network(s): AT&T

Calling Card

$10.00

Minutes/Data

$0.05/$0.1

SMS/MMS

$0.05/$0.1

Duration

90 days
H2O Wireless PG 20 Network(s): AT&T

Calling Card

$20.00

Minutes/Data

$0.05/$0.1

SMS/MMS

$0.05/$0.1

Duration

90 days
H2O Wireless PG 25 Network(s): AT&T

Calling Card

$25.00

Minutes/Data

2.5c/$0.1

SMS/MMS

2.5c/10c

Duration

30 days
H2O Wireless PG Network(s): AT&T

Calling Card

$30.00

Minutes/Data

$0.05/$0.1

SMS/MMS

$0.05/$0.1

Duration

90 days
H2O Wireless PG 100 Network(s): AT&T

Calling Card

$100.00

Minutes/Data

$0.05/$0.1

SMS/MMS

$0.05/$0.1

Duration

365 days
---
Things To Know About H2O Wireless
H2O Wireless At A Glance
Logo: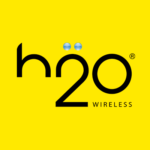 Year Founded:
2005
Networks Used:
AT&T
LTE Bands Used:
2,
4,
5,
12,
14,
17,
29,
30,
66,
Support For BYOD:
Yes
Sells Phones:
Yes
All Taxes And Fees Included In Price?
No
Online Payment Options:
Credit Cards, Debit Cards, Refill Cards
H2O Wireless An Overview
H2O Wireless is an MVNO that operates on AT&T's network and the company is one of several that are owned by Locus Telecommunications.
The MVNO launched service in 2005 as an independent provider.  In 2010 Locus Telecommunications was purchased by the KDDI Corporation which is a Fortune Global 500 company that generates billions of dollars in revenue annually.  KDDI is headquartered in Tokyo, Japan.
In January of 2019 it was announced that Locus Telecommunications and thus H2O Wireless was being sold to Telrite Holdings, INC.  Telrite Holdings, INC, also owns Pure TalkUSA.  At the time of its sale, Locus Telecommunications was said to have around one million subscribers.
If you are considering H2O Wireless, you should be aware that data speeds are throttled by the provider. Similar to Cricket Wireless, download speeds are limited to a maximum of 8 Mbps while there is no limit on upload speeds.
Before you make a final purchasing decision, you may want to read some reviews of H2O Wireless which includes a summary of my experience with them when I was one of their customers.
Where To Buy H2O Wireless Service Plans And SIM Cards
Plans can be purchased online and from several retailers such as
Amazon
 often at a discount to the H2O Wireless website.
Supported Phones And BYOD Devices
H2O Wireless allows customers to bring their own phones to the network as long as they are compatible with AT&T or unlocked and compatible with AT&T's network.  Most T-Mobile phones are compatible as long as they have been unlocked.  The company also sells select phones with device financing options available for those that need it.  Universally unlocked phones from manufacturer's such as Motorola and Samsung are compatible with the network.
H2O Wireless Customer Support
Customer support is available over the phone, through email and by online chat.  Customer support has a reputation of being very slow to respond to questions, so be prepared for potentially long wait times on the phone and in chat.
---
Porting Out From H2O Wireless
You must contact H2O Wireless and answer a series of questions to verify your identity. After which, H2O Wireless will send you a text message containing your account number. You then need to verify the account number with H2O Wireless and then they will send you your pin number.
---