In this guide, I will explain everything you need to know about Pure Talk before you subscribe. I want you to learn the ins and outs of Pure Talk so that you can make an informed decision on if this is the best place for you to spend your hard earned cash.
---
Pure Talk At A Glance
Logo:
Year Founded:
2004
Networks Used:
AT&T
LTE Bands Used:
2
4
5
12
14
17
29
30
66
5G Bands Used:
n5 (850MHz)
n77 (3.7GHz)
n260 (39GHz)
Support For BYOD:
Yes
Sells Phones:
Yes
All Taxes And Fees Included In Price?
No
Online Payment Options:
Credit Cards, Debit Cards
---
A Summary Of Pure Talk Phone Plans
Last Updated: Sep 6, 2023
No Credit Check Single Line Monthly Prepaid Plans
---
No Credit Check Prepaid Plans With Family Discounts
---
---
advertisement
---
---
Things To Know About Pure Talk Before You Subscribe
PureTalk was founded in 2004 originally as Pure TalkUSA and it is a subsidiary of Telrite Holdings as is its sister brand H2O Wireless. It is owned and operated by a USA veteran.  The company asserts that they "proudly support our active-duty military and veterans by partnering with numerous military organizations."
PureTalk operates as an AT&T MVNO, which means that if you signup for a plan with PureTalk you will get service on AT&T's network.
In early October of 2020, Pure TalkUSA launched a redesigned website, a new logo, and rebranded to just PureTalk. A new tagline was also launched: "Simply. Smarter. Wireless."
Risk-Free Guarantee
The company prides itself on being able to offer USA based customer service and a risk-free guarantee. New customers have until either their next month's bill or 500 minutes or 500MB of data usage, whichever comes first, to request a refund if they are unhappy with their service. Refunds are credited back to the original payment method. Service plans, SIM cards, and any applicable taxes are all eligible to be refunded. Customers must not port out to another provider before requesting a refund. Devices and phones are not included in the risk-free guarantee. However, devices can still be returned for a refund as long as the customer contacts customer service and requests a refund within 14 days of receiving the device. Customers must pay for return shipping.
Pure Talk Offers 7 Phone Plans
Pure Talk offers 7 standard phone plans.
$20/month –

 

3GB

 

high-speed data,

 

2GB of dedicated hotspot

 

data
$25/month –

 

5GB

 

high-speed data,

2GB of dedicated hotspot

 

data
$30/month –

 

10GB

 

high-speed data,

5GB of dedicated hotspot

 

data
$35/month –

 

15GB

 

high-speed data,

 

5GB of dedicated hotspot

 

data
$45/month –

 

25GB

 

high-speed data,

 

5GB dedicated hotspot data
$55/month –

 

60GB

 

high-speed data.

 

25GB dedicated hotspot

 

data.
$60/month –

 

60GB

 

high-speed data.

 

30GB dedicated hotspot

 

data.
Taxes and fees are not included in the prices and will cost extra. All plans include dedicated mobile hotspot data that does not count towards the plan's 5G/4G LTE on-device high-speed data usage.
All of the standard plans include the same basic features.
In late January of 2022, Pure Talk added support for eSIM devices on iPhones only.
Basic Features Included With Every Pure Talk Plan
Unlimited talk, text, and data
Mobile hotspot
WiFi calling
VoLTE HD voice calling
Ability to add international calling to a plan
1080p HD video streaming
No data prioritization policies
Fine Print You Need To Know About Every Plan Feature
Although all plans include unlimited data, data speeds are not unlimited at high-speeds. Each plan comes with a finite amount of high-speed data which is highlighted in the plans listed above and further down below. Once that threshold is reached, data speeds get reduced to 256Kbps for the remainder of the subscriber's billing cycle. Subscribers are billed on the same date every month. Data speeds at 256Kbps are best suited for emails, light web usage, basic social media, streaming audio, and possibly low-resolution video streaming. PureTalk updated and improved its throttled data speeds from 128Kbps to 256Kbps in January of 2022.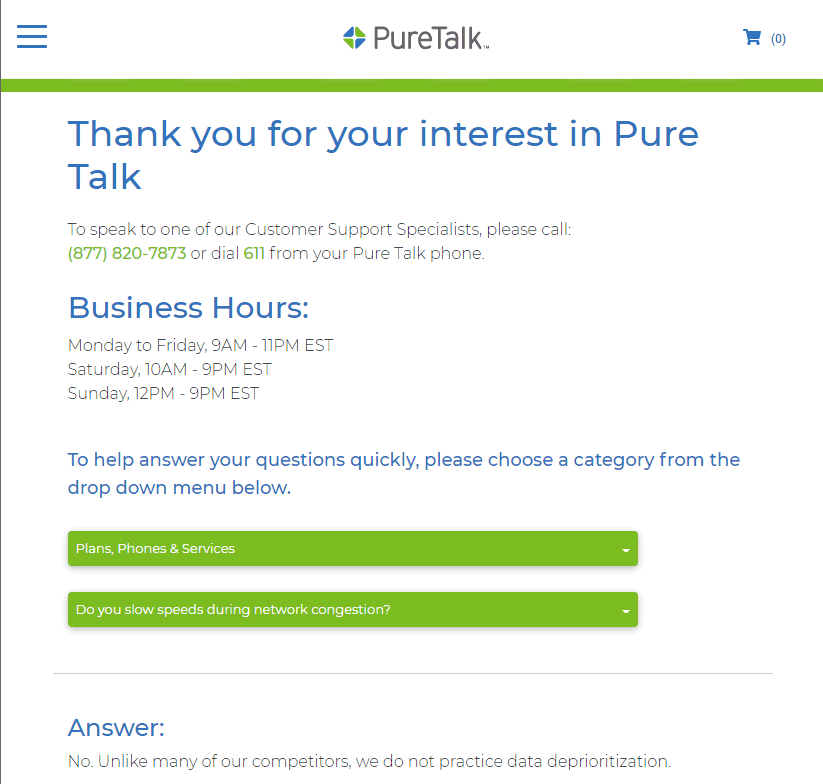 According to Pure Talk, customers can expect high-speed data speeds to be in the range of 1 to 35 Mbps. Download speeds should vary between 4 and 35Mbps and upload 1 to 5Mbps. Network latency should be less than 60ms. Data speeds are said to remain stable during network congestion as Pure Talk does not use data deprioritization. Data prioritization is typically used by other providers to temporarily slow a subscriber's data speeds down during times of heavy network traffic but Pure Talk says this won't happen to its subscribers.
WiFi calling is supported with all plans on both Androids and iPhones.
Mobile hotspot is also supported and enabled for all iPhones. Android users will need to contact Pure Talk to ask them if it can be enabled. Not all Android devices will support hotspot, and some Android phones bought from another carrier may have the feature blocked by the phone's firmware when attempting to use it with another provider.
International calling is supported but customers must contact customer support to purchase an international PIN to enable the feature. International texting is not supported.
Videos stream at a resolution of 1080p. Tablets plans are also available.
Customer Referral Program
Pure Talk runs a pretty generous referral program. Those that refer a friend receive a $20 account credit. The person signing up through the referral also receives a $20 account credit. Customers can accumulate an unlimited number of referral credits. Subscribers will not receive their referral credit until after their referee completes their second month of active service.
Multi-Line Discounts Are Available
Customers who have multiple lines are eligible for a group plan discount.  Adding a 2nd line gives 10% off, 3 lines 15% off and a 4th line 20% off the total cost of the combined plans price.
Secret Discounts, Plans, And Bonus Offers
Those who are members of the Association of Mature American Citizens (AMAC) are eligible for special plans and promos from Pure Talk. AMAC subscriptions start at $16/year. AMAC members have the option to purchase an additional Pure Talk phone plan that is not readily available directly through Pure Talk's website. The extra plan is the following:
$10/month – 400 minutes, 300 text messages, 300 MB of monthly data
Like Pure Talk's other plans, this AMAC exclusive plan does include unlimited data at 2G speeds or 128Kbps once the plan's high-speed data allotment gets consumed.
Besides the bonus phone plan, exclusive phone deals are sometimes available for AMAC members. One example has included the ability to get an iPhone SE for free, whereas on the Pure Talk website it was being offered for $149.99 to non-AMAC members. New Pure Talk subscribers that are currently AMAC subscribers can also get a 3-year renewal of their AMAC membership paid for by Pure Talk. The membership renewal fee is valued at $42.
The discounted plans can be purchased through AMAC or through a special page on Pure Talk's website.
---
Supported Phones And BYOD Devices
For those that need a device, a small selection of phones are available for purchase. Phones for every budget are sold, including premium offerings from Samsung and Apple. If you already own a phone that has been used on AT&T, it is compatible with the Pure Talk network as long as the device is out of contract, paid off in full, and not reported lost or stolen. Most GSM unlocked phones sold in the USA, including devices made for T-Mobile should also work. Most Verizon phones sold over the past few years should also work as will phones purchased unlocked directly from the manufacturer.
Pure Talk does offer a device trade-in service. So potential customers can trade-in their old phones and use them to purchase a new one from the provider.
---
Where To Buy Service Plans And SIM Cards
Phone plans are sold online exclusively through the Pure Talk website and possibly through AMAC. Some third-party sellers may sell service through eBay. The brand is carried in-store by independent dealers.
---
Pure Talk Customer Service
Unlike many other MVNO's, Pure Talk offers customer support that is based out of the USA. However, like other MVNO's, customer support hours are limited to the following:
Monday-Friday: 9AM-6PM EST
Saturday: 9AM-6PM EST
Sunday: CLOSED
---
Pure Talk Customer Reviews