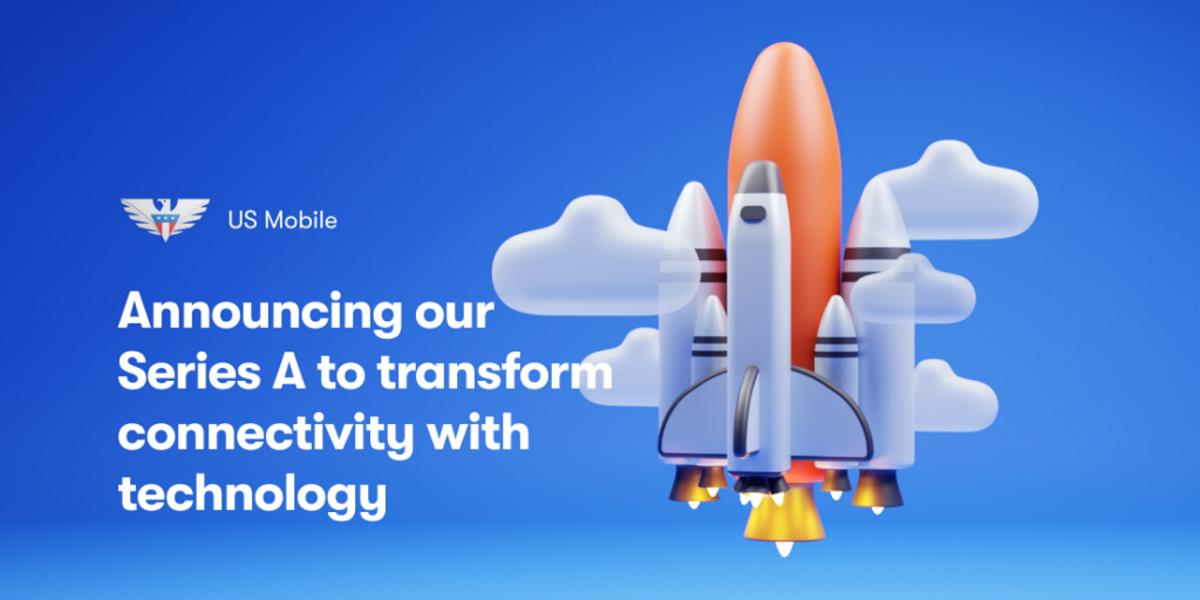 ---
Early last week, Volition Capital and US Mobile formerly announced a new partnership. Volition Capital, a growth equity firm out of Boston has invested $11.5 million in US Mobile through Series A funding.
Investopedia explains Series A funding as typically being used by companies to "further optimize" their "user base and product offerings." Furthermore, "opportunities may be taken to scale the product across different markets. In this round, it's important to have a plan for developing a business model that will generate long-term profit." And indeed, US Mobile has already begun to develop that business model. I recently had the opportunity to correspond with US Mobile's CEO Ahmed Khattak who you can find on Twitter @khattkoo, about those plans. But before we get into that, let's reexamine how US Mobile even got to this point.
A Brief History And Overview Of US Mobile
US Mobile launched in late 2014 as a T-Mobile based provider. I had the pleasure of covering the brand's launch. The MVNO is just one year younger than BestMVNO.
In the year 2017, US Mobile added a second network partner in Verizon. It launched plans on that network that were pretty unique. Customers got to choose their own data speeds between 1Mbps, 5Mbps and up to 150Mbps. Slower speeds of course meant lower prices. US Mobile called its Verizon based plans "Super LTE" plans, a name that still remains in place today despite those choose your own data speed plans being no longer available. Instead, US Mobile now offers an even wider variety of plans and benefits on that network.
Today, customers can subscribe to a truly unlimited data plan on the Super LTE network for just $45/month with all taxes and fees included, or for as low as $25/month per line with 3 or more lines on an account. Those with multiple lines also receive benefits such as having their Netflix subscription paid for. The MVNO also allows its customers to custom build their own phone plans by giving them the choice to pick their own talk, text, and/or data allotments.
In April of 2021, the company launched shared data plans that it also refers to as pooled data plans. Subscribers can add as many lines to their accounts as they want at a price of $9/line with each line getting unlimited talk and text. Data that is shared between all lines is then priced at $2/GB with hotspot included at no extra charge. Taxes and fees are minimal but do add more to the price of the plan. The pooled data plans are fairly unique in the market.
And then there's eSIM. US Mobile built out its own platform to support eSIM enabled devices, one of the few non-major network providers in the USA to do so. The company first made use of eSIM to enable international data connectivity. Both US Mobile and Volition Capital are pretty excited about the feature as Volition Capital recently posted in a blog entry: "Imagine being in the subway and seeing a US Mobile advertisement, scanning the ad's QR code on your phone, and instantly unlocking a 1-week free trial of US Mobile service."
US Mobile Subscriber Count And Growth
The fact that US Mobile has been in business for nearly 7 years is a testament to the company's drive, ambition, and willingness to look for ways to differentiate itself from the rest of the market leading to its sustainability and growth. It's always done that from day 1, and that seems to be a big reason why the company peaked the interest of Volition Capital.
Four years after launching, in 2018, US Mobile announced it had reached about 50,000 subscribers with projected revenue for the year of $10-$15 million. While not the fastest growing of its peers by subscriber counts, Tello had 100k subs after 4 years, and Mint Mobile whose exact subscriber count isn't known, amassed over 100,000 app installs in the Google Play Store after its first 4 years, US Mobile was named to INC's 2019 list of the 5000 fastest-growing privately held companies in America. Over a three year time frame leading up to that recognition, US Mobile grew its revenue by 3,388% earning it a ranking of 94 on that INC list. The company's revenue did fall short of projections for 2018 with the final tally totaling $7.3 million. The only other MVNO to make the INC list was Consumer Cellular which ranked 4,366 with revenue of $1 billion. Consumer Cellular later went on to be acquired by GTCR, a private equity firm out of Chicago for about $2.3 billion.
Today, US Mobile has grown to have over 100,000 subscribers with $10 million in annual recurring revenue. And that's a huge accomplishment for an independently owned MVNO and one that doesn't spend heavily on advertising. Still, US Mobile isn't quite the household name as powerhouse MVNO brands such as Straight Talk Wireless and Consumer Cellular are. The number of US Mobile app installs in the Google Play store stands at 10,000+.
A Brief Interview With US Mobile's CEO Ahmed Khattak
One of the questions I asked Khattak about was how he would like to use Volition Capital's investment to further drive awareness of the brand. I asked him about US Mobile's distribution strategy and if we'll start seeing TV or radio advertising like some of its peers do. Khattak tells me we can expect to see TV and radio advertising in some form over the next few quarters. However, Khattak says the primary capital spend objective will be on engineering, followed by product development with marketing coming in last. US Mobile's founder also says his company is in discussions about bringing the brand to major retail outlets, however he does not see the brand entering the dealer channel. Entry into retail coupled with a little bit of advertising should greatly help raise awareness of the brand among the general public and help with growth.
With traditional providers, handset deals also help to drive signups. Currently, US Mobile only offers 9 phones for purchase in its online store. Several of the offerings, such as the NUU X6 Plus and the Wisephone aren't even mainstream brands. That can make competing a little bit harder when prepaid brands such as Metro, Boost Mobile and Cricket can tout their free phone offerings from known brands. I asked Khattak if he intends to expand US Mobile's phone offerings, and if so, could we one day see them in retail? He told me it is a big part of their strategy, and Volition's investment will bring the rollout forward.
An $11.5 million capital infusion is nothing to sneeze at for a company the size of US Mobile. So I asked Ahmed what is the thing that he is most excited about with the investment and how he intends to use the funding to take US Mobile to the next level. He replied:
a) Getting to work with Larry. He's a true visionary. He found and pitched Facebook to his firm before anyone. He gave them $40 for a cab. It's no surprise that he has been a driving force behind companies like Chewy. [ Larry Cheng is a managing partner and co-founder of Volition Capital. He is a former chewy.com board member ].

b). US Mobile's success has been / continues to and will depend on the human capital we have. We have increased our team size by 25-30% since their investment. Having more room to hire brilliant minds is another thing that I am super excited about.
Volition Capital's investment in US Mobile is exciting news for those of us following the industry and consumers. With the possibility of a major independent non-carrier owned MVNO brand like Tracfone being taken over by Verizon, it will become even more important for brands like US Mobile to succeed. The success of brands such as US Mobile will help to provide better wireless pricing for consumers, and of course, real choice and competition in the market.
---
---