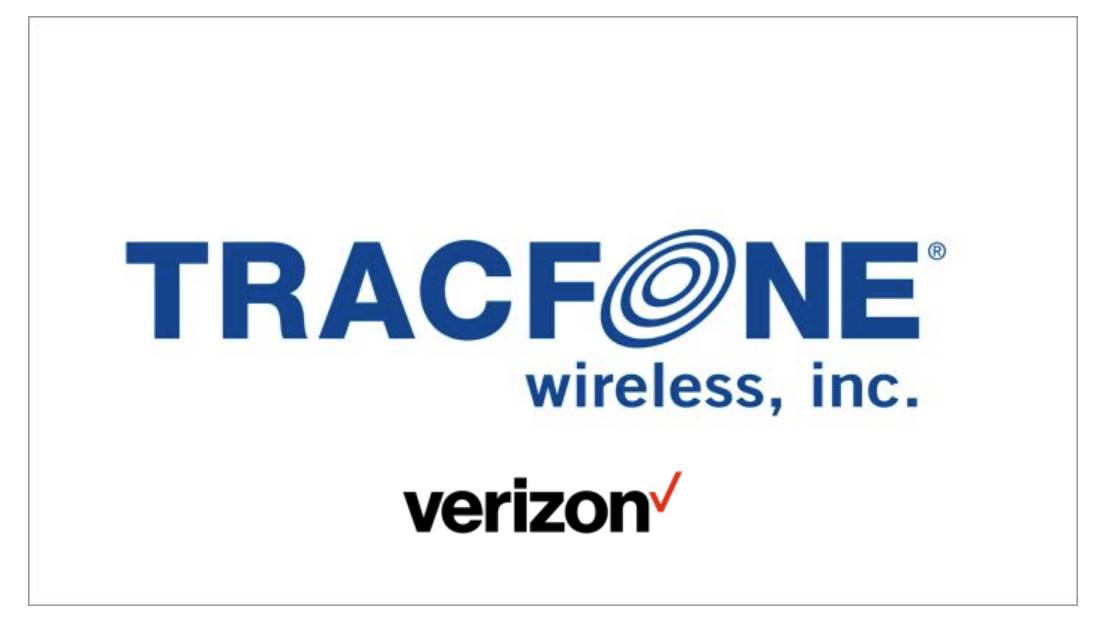 ---
Verizon announced that it has agreed to acquire Tracfone, the nation's largest prepaid wireless provider for a total of up to $6.9 billion. Verizon is paying for the transaction with $3.125 billion in cash and $3.125 billion in common stock. The deal also includes up to an additional $650 million in future cash considerations related to the achievement of unnamed performance measures and other commercial agreements. Tracfone is owned by America Movil. The deal isn't expected to close until the second half of 2021 subject to regulatory approval.
With the acquisition, Verizon gains access to more than 21 million prepaid wireless subscribers that are divided up among many different Tracfone owned prepaid brands. Tracfone's other major brands include Straight Talk Wireless, Total Wireless, Walmart Family Mobile, Simple Mobile, SafeLink, Page Plus, NET10 Wireless, and GoSmart Mobile. Straight Talk Wireless is the biggest of the bunch with 9.743 million subscribers. Outside of SafeLink and its 2 million subscribers, the subscriber counts of the other brands remain largely unknown as America Movil had not been reporting them with their quarterly earnings releases.
Be informed of the latest deals, plans and promotions from Verizon and every one of its MVNO's when you subscribe to the Verizon weekly newsletter. No spam and you can unsubscribe at any time!
Tracfone is what is known as a Mobile Virtual Network Operator or MVNO for short. It's a wireless provider that doesn't run its own network but rather provides service through the use of major carrier networks like Verizon.
According to Verizon's press release, of the 21 million Tracfone subscribers, 13 million are already on the Verizon network. Tracfone and its brands also provide service to their subscribers through the AT&T, T-Mobile, and former Sprint network as well. Some Tracfone owned brands such as Walmart Family Mobile and Simple Mobile provide cellular access exclusively through the T-Mobile network. It is unknown what will ultimately happen to subscribers with those brands. Given the price paid for the purchase and the number of subscribers acquired, Verizon more than likely will choose to hang onto the brands while aggressively trying to fully push customers over to Verizon based service, although there may be additional costs associated with such a move. Perhaps a less likely alternative is that Verizon could elect to sell them off to another T-Mobile based provider looking for growth such as DISH. DISH has long term aspirations to become the nation's 4th largest major carrier and picking up a few million more subscribers could help with those plans.
"This transaction is aligned with what we do best: providing reliable wireless service alongside a best-in-class customer experience," boasted Hans Vestberg, Chairman and CEO of Verizon. "We are excited about the opportunity to bring Tracfone and its brands into the Verizon family where we can put the full support of Verizon behind this business and provide exciting and compelling products into this attractive segment of the market. We are pursuing this important strategic acquisition from a position of strength given our very strong and prudent financial profile."
Ronan Dunne, Executive Vice President and Group CEO, Verizon Consumer Group added: "Since its launch, Tracfone has developed strong consumer brands and has established itself as a clear leader in the value mobile segment. This transaction firmly establishes Verizon, through the Tracfone brands, as the provider of choice in the value segment, which complements our clear leadership in the premium segment."
Verizon says it plans to bring its 4G LTE and 5G networks as well as other innovator technologies to Tracfone customers while also further developing Tracfone's distribution channels. Tracfone and its brands are currently sold in a variety of stores that include Best Buy, Walmart, Dollar General, Target, CVS, Family Dollar, and Sam's Club among many other locations.
Why Verizon Needed To Acquire Tracfone
Over the last several years, Verizon had paid little attention to the prepaid wireless market. Dating back to quarter 1 of 2015 through quarter 1 of 2020, Verizon had posted subscriber count losses for prepaid in 18 out of 21 quarters. More recently, Verizon actually went through a period of 10 straight quarters, or 2.5 years of losses in that market segment. The losses finally came to an end in quarter 2 of 2020, when Verizon announced it had added 12,000 new prepaid subscribers. The change in fortunes could be attributed to a variety of reasons. One being the Covid-19 pandemic, with people losing jobs a move to prepaid helps consumers to save money. But perhaps most importantly, during quarter 2 of 2020, Verizon began for the first time to spend heavily on its prepaid wireless brand Visible through the airing of national TV ads. Verizon also hired a celebrity endorser for the brand at the end of quarter 1 of 2020 in Dan Levy. A new prepaid brand, Yahoo Mobile, was also launched by Verizon during that time to target its millions of Yahoo email and website users. At the end of quarter 2 of 2020, Verizon also updated its own branded prepaid wireless plans by incentivizing its subscribers to stay subscribed through the use of loyalty discounts. All of these things no doubt contributed to Verizon's 2nd quarter turnaround. But still, a net add of 12,000 subscribers paled in comparison to how other major carrier prepaid brands and MVNO brands fared. AT&T had 165,000 net prepaid adds during the quarter, T-Mobile had 133,000 while Straight Talk had 214,000. Verizon's total prepaid subscriber count at the end of quarter 2 stood at 4 million, while AT&T and T-Mobile towered over Verizon with 18 million and 20.7 million subscribers respectively.
Verizon could have elected to continue to grow its prepaid market share moving forward by further supporting its prepaid brand holdings. More and continued advertising would certainly help. But most importantly, advertising and making Visible available in its stores or in national retail would certainly push the brand's growth trajectory upward. Verizon offering more and bigger support to its limited number of prepaid dealers would also have helped. But it seems Verizon was in a big hurry to catch up to and surpass the market share of its competitors, hence the acquisition. But despite Verizon's claims, this acquisition could be detrimental to consumers.
Could Consumers Ultimately See Higher Prices And Less Competition Due To Verizon's Acquisition Of Tracfone?
I do believe the sale of Tracfone to a major carrier could cause major harm to consumers and the prepaid wireless market space. Verizon's purchase reduces the number of major independent wireless providers that are available. And in general, having less choice in the market tends to lead to higher prices for consumers. Verizon has historically been the least competitive prepaid and wholesale provider based on price.
Jeff Moore, Principal of Wave7 Research agrees and believes the acquisition will cause great harm to consumers by creating a prepaid duopoly in national retail owned by Verizon and AT&T.
Wow. @Verizon is buying @TracFone in a $7B purchase, including @SIMPLEMobile, @MyStraightTalk, @Net10Wireless, @PagePlus, @TotalWireless, @FamilyMobile, and @GoSmartMobile? This will turn national retail prepaid into a duopoly. @Sprint is gone and @tmobile mostly isn't there.

— Jeff Moore (@wave7jeff) September 14, 2020
Moore also added "If approved, this will be devastating in the independent multi-carrier dealer channel, where Simple Mobile is the top dog. Other TracFone brands sold in this channel include Net10, PagePlus, Total Wireless, and the TracFone brand itself. And what becomes of the 176 Total Wireless Stores?"
Verizon Appears To Charge Its MVNO Partners The Most Money
Peter Adderton, the founder of Boost Mobile and its former owner believes Verizon's purchase of Tracfone could have a negative trickle-down effect on the entire MVNO market. Since Tracfone is the largest independent MVNO prepaid provider in the country and works with all major carriers, it has the ability and leverage to negotiate great rates with its parent carrier partner networks. The rates that Tracfone negotiates may be used by other MVNOs to negotiate their own terms with the carriers. According to my own study detailed further down, Verizon charges higher rates to its MVNO partners than other carriers do. And with Verizon's purchase of Tracfone, this could potentially get worse.
This could possibly have a Neg impact on the wholesale market and other MVNOs ,as they for sure leverage there carriers for better deals based on what Trac got and the reliance on MVNOs to target prepaid for carriers is now gone, don't forget Dish long term plan is not as a mvno

— Peter Adderton (@peter_adderton) September 14, 2020
Using the BestMVNO phone plan database I did a brief competitive analysis of how AT&T, Sprint, T-Mobile and Verizon MVNO phone plans stack up against one another on a price charge per GB of data offered. I looked at the top 10 cheapest single line prepaid and MVNO phone plans to offer at least 2GB of data and unlimited talk and text. On average, Verizon based providers charged $8.36 per GB of data, AT&T providers averaged a cost of $8.00 per GB, T-Mobile providers averaged $7.42/GB while Sprint based providers averaged $5.37/GB. Unsurprisingly, my analysis showed that Verizon based MVNOs charge their customers more than any other carrier MVNO partner does. This an indication, but not definitive proof, that Verizon charges its MVNO partners more to access its network than other carriers such as AT&T and T-Mobile do. My analysis excluded multi-month discount plans in which case Verizon based service would cost even more compared to competing network plans. I also excluded a few plans from the analysis from networks such as PIX Silver and Teltik which are no longer accepting new customers. Finally, if more data points were used, it's possible the discrepancies between the networks could narrow or grow further apart. You can view the plans used for the analysis in the chart below. But the bottom line here does appear to be that unless Verizon changes course, the low end of the market could negatively be impacted price-wise.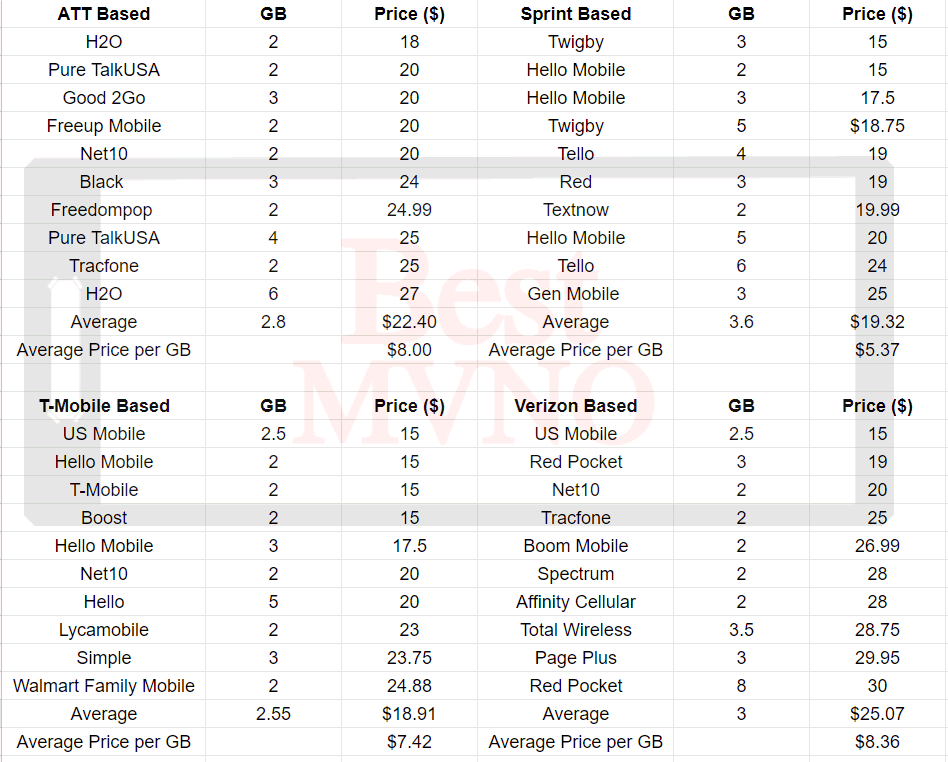 The Loss Of Tracfone's Independence May Reduce Innovation
Furthermore, earlier in the year Tracfone revealed its intent to launch a new and innovative product into the market under the name SmartSIM. SmartSIM was believed to be a revolutionary product that would "allow subscribers to automatically connect to and use whatever major big 4 carrier network is giving them the best coverage at any given moment in time." Imagine owning one phone and having one phone plan but being able to automatically connect to whatever network between Verizon, T-Mobile or AT&T that is offering you the best coverage. Unfortunately, any hopes of such a product eventually be launched are likely dead with this deal. 
The Purchase Is Further Validation Of The MVNO Concept And Marketplace
Others believe the acquisition of Tracfone is further vindication of the Carrier-MVNO business model. Joshua Gordon, CEO of Red Pocket Mobile, a leading MVNO that also owns the FreedomPop and UNREAL Mobile brands told BestMVNO that "This transaction provides further evidence that mobile virtual network operators are creating tremendous value." He continued "Every day, more Americans discover providers like Red Pocket Mobile and Tracfone because they drive innovation in the wireless space. With the advent of 5G, I expect this trend to accelerate."
---
---