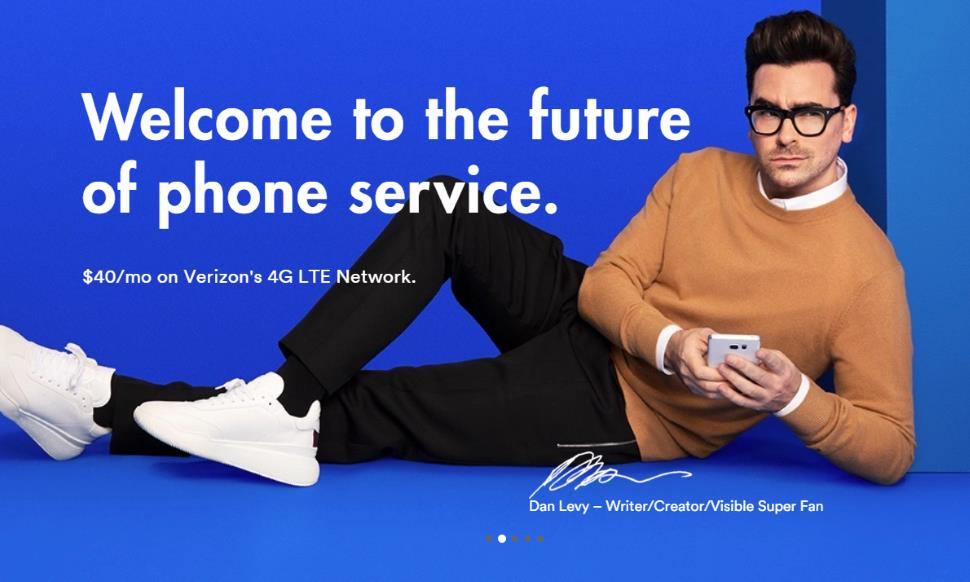 ---
Verizon owned prepaid brand Visible has a new celebrity endorser in Dan Levy.  Levy is the son of actor Eugene Levy who starred in the American Pie series of movies among a plethora of other TV shows and movies.  His son Dan is an actor and writer on the Canadian television sitcom Schitt's Creek which airs on Netflix and also stars his father.
Visible currently has a pinned Tweet that features a video ad starring Levy and the actor can also be seen on Visible's website.  The ad, which you can view below, touts Visible's "$40 a month all-in phone service" and makes a point to note that it's on Verizon's 4G LTE network.
Chances of you watching a phone service commercial? Slim. Chances of you watching one with @DanJLevy in it? 100%. Probably. https://t.co/eRhMTpHQ0W pic.twitter.com/SOAi1cueg8

— Visible (@Visible) March 3, 2020
The calling out of Verizon's 4G LTE network is extremely important to highlight.  Other brands that operate by using Verizon towers are not allowed to call out the network by name.  So that helps to give Visible a competitive edge and perhaps an unfair advantage compared to other Verizon based prepaid and postpaid providers.
Verizon has yet to do any heavy marketing of the Visible brand which remains largely unknown to the general public.
"Visible has always focused its marketing efforts on online advertising, social media, outdoor advertising, and publicity stunts, as the carrier has mostly avoided traditional TV, radio, and print advertising," said Jeff Moore, Principal of Wave7 Research.
But with a new celebrity endorser in tow, that seems destined to change.  According to a recent report from Wave7 Research, a TV ad is likely to launch featuring Levy.
This isn't the first time that a prepaid provider has sought the help of a celebrity to endorse their brand.  Back in November of 2019, actor Ryan Reynolds took an ownership stake in Mint Mobile.  Reynolds can now be found regularly promoting the brand online to his more than 15 million Twitter followers.  Tracfone owned Straight Talk Wireless has long used Ed O'Neill, star of shows such as Modern Family and Married With Children to pitch the brand.  However, O'Neill is never seen on screen, but his voice is used to narrate TV and radio ads.  T-Mobile owned Metro By-T-Mobile previously used Ronda Rousey to endorse the brand.
More About Visible
Visible is a prepaid wireless brand that offers just one phone plan for $40/month with taxes and fees included in the price.  The plan includes unlimited talk, text, 4G LTE data, and mobile hotspot.  Mobile hotspot speeds are limited to a maximum of 5Mbps and only one device can be connected to the hotspot at a time.  WiFi calling is available on select devices.  Like all other unlimited plans on the market, there is a data prioritization policy in place.  During times of heavy network congestion data speeds may be temporarily slowed down. New customers can get Visible for just $25 for their first month of service, and so can customers who join Visible's through the use of their Party Pay multi-line discount program.
---
---