Verizon Launches Yahoo Mobile, Will It Be A Success?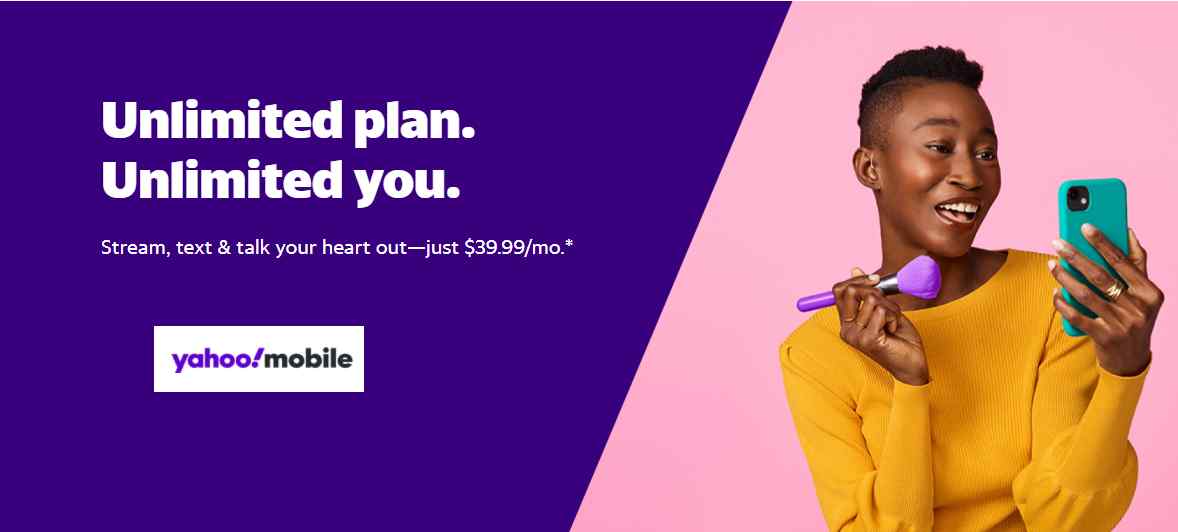 Verizon is making a move to try and further monetize its Yahoo user base with the launch of a new wireless brand, Yahoo Mobile.  Yahoo is owned by Verizon and according to Alexa Site Info, it is the 5th most popular website in the USA as measured by traffic and engagement.  The brand launch does seem peculiar to me, and not everyone is confident it will be successful.  Jeff Moore, wireless analyst, and Principal of Wave7 Research shared his opinion of the launch with BestMVNO.
"When I heard about the launch of Yahoo Mobile, I thought Verizon was celebrating April Fool's Day a bit early," said Jeff Moore, Principal of Wave7 Research. "Yahoo Mobile is not differentiated from Verizon's Visible service." "Verizon prepaid has been losing customers at a rapid rate and this is not likely to halt that trend, short of a retail launch and major ad support."
The issues with the brand launch are multiple, and Moore summed them up nicely.
Verizon already has a prepaid wireless brand called Visible.  Visible was launched in the Spring of 2018 but Verizon has invested minimally it.  But that may be about to change now that Visible has hired a celebrity spokesperson in Dan Levy.  Still, the brand is only available online and cannot be found at any dealership or in any Verizon Wireless store. So if Yahoo! Mobile is to succeed, it may have to take a different approach than what it's done thus far with Visible.
Those issues aside, Verizon Wireless will also have to sell to the public why a news, search, and email provider needs to offer wireless services.  Then again, the strategy worked just fine for Google.  Google runs the Fi wireless brand which seems to have found itself a nice market niche.  But Fi also offers its wireless subscribers several industry-unique features one of which includes the ability to use whatever network, including WiFi, that has the best signal for a subscriber in any given location.  In the USA Fi operates on T-Mobile, US Cellular, and Sprint networks, as well as over WiFi.  Fi also has partners across the globe.  At launch, Verizon doesn't seem like it is going to be doing anything too unique to support and differentiate Yahoo Mobile.
What Service Plans Will Yahoo! Mobile Will Provide?
According to a press release today, "Yahoo Mobile will bring together the capabilities of Verizon's assets including its superior 4G LTE network and the trusted Yahoo brand, its content and scale to create the best experience and connectivity for consumers."
"We are constantly looking for new ways to drive product innovation and synergy that unlocks value for our consumers," said Guru Gowrappan, CEO of Verizon Media.
Yahoo Mobile will offer its subscribers just one plan featuring unlimited talk, text, and data for $39.99/month with the taxes and fees included in the price.  The plan also comes with a Yahoo Mail Pro ad-free email account and Account Pro for 24/7 Yahoo account customer service.  Unlimited mobile hotspot is included with data speeds capped at 5Mbps.  There is a data prioritization policy in place that states that during times of network congestion, data speeds may be temporarily slowed until the congestion gets relieved.
If this sounds familiar to some of you, it's because it's the same plan that Visible sells except that Yahoo Mobile is a penny cheaper and comes with the added feature of a Yahoo Mail Pro account.  Yahoo Mobile is even using the same device protection plan name that Visible does, called Visible Protect ($10-$12/month).  Both sites even feature the same FAQs and answers such as:
"Are there any physical Yahoo Mobile stores?
No! Not now, not ever. Everything you need is in the app."
The same phones are also sold and supported by each brand.  Devices from Apple, Google, LG, Motorola, Samsung, and ZTE are carried.  A limited number of phones are also supported for bring your own device.
So looking at the whole picture, it seems that Yahoo Mobile is simply Visible repackaged with a different name.  And to me, it seems hard to find a reason for it to exist.
Perhaps Verizon thinks it will be easier to sell the service to its Yahoo user base if the wireless service contains the brand name Yahoo in it?
Whatever the case may be, if it's not marketed properly Verizon's Yahoo Mobile may have a hard time finding success just like the familiar brand names that came before it.
Remember Mobile ESPN?
How about Disney Mobile?
---
---