Straight Talk Wireless's New No Fees Phone Payment Plan Featured In New TV Commercial
Straight Talk Wireless is the largest of the Tracfone owned brands and its subscriber count continues to grow. In quarter 2 of 2020, Straight Talk added 270,000 new subscribers bringing the MVNO's total subscriber count to 9.743 million, up from 9.473 million in quarter 1. Year over year Straight Talk added 414,000 total subscribers. Straight Talk is such a dominant force for Tracfone that Straight Talk's subscriber count represents 46.6% of the total subscriber count of all the Tracfone brands combined. More than half a dozen brands fall under the Tracfone umbrella where the total number of subscribers is 20.918 million.
It seems that for quarter 3, Straight Talk will look to continue to grow its subscriber count through the launch of new commercials and a new "No Fees Phone Payment Plan." Wave7 Research recently reported to its subscribers that Straight Talk began airing new commercials on 7/13. One of them, shown immediately below, appears to be a back to school ad that tells viewers that they can switch to Straight Talk Wireless and get a "new phone payment plan with no fees, no contract, and no deposits."
Viewers are told they can pick up a Samsung phone starting at less than $7/month. A Samsung Galaxy A20 is depicted in the ad for $7/month, a Galaxy A50 for $13/month, and a Galaxy S10e for $25/month.
Straight Talk's website now tells visitors that they can get the phone they want starting at less than $5/month. The Samsung Galaxy A10E is featured for $4.12/month. Customers wishing to get one of the deals will have to agree to a 24-month lease-to-own payment plan. No deposit is required. Not all customers will qualify for the plan and it is not available in the following states, Minnesota, New Jersey, Wisconsin, and Wyoming. The phone payment plan is offered through Smartpay.
Longtime Straight Talk Wireless users will note that the brand has long offered phone payment plans. However, 0% financing for the lease-to-own program appears to be new.
Straight Talk isn't the only Tracfone brand to now offer a no fees phone payment plan. Twitter's @Kingoftechdeals noticed in late June that Total Wireless began to promote the payment plans at his local Walmart. The Total Wireless website homepage is now telling visitors to "discover our no fees phone payment plan" and features the Samsung Galaxy A20 for $6.21/month and the iPhone SE for $14.58/month.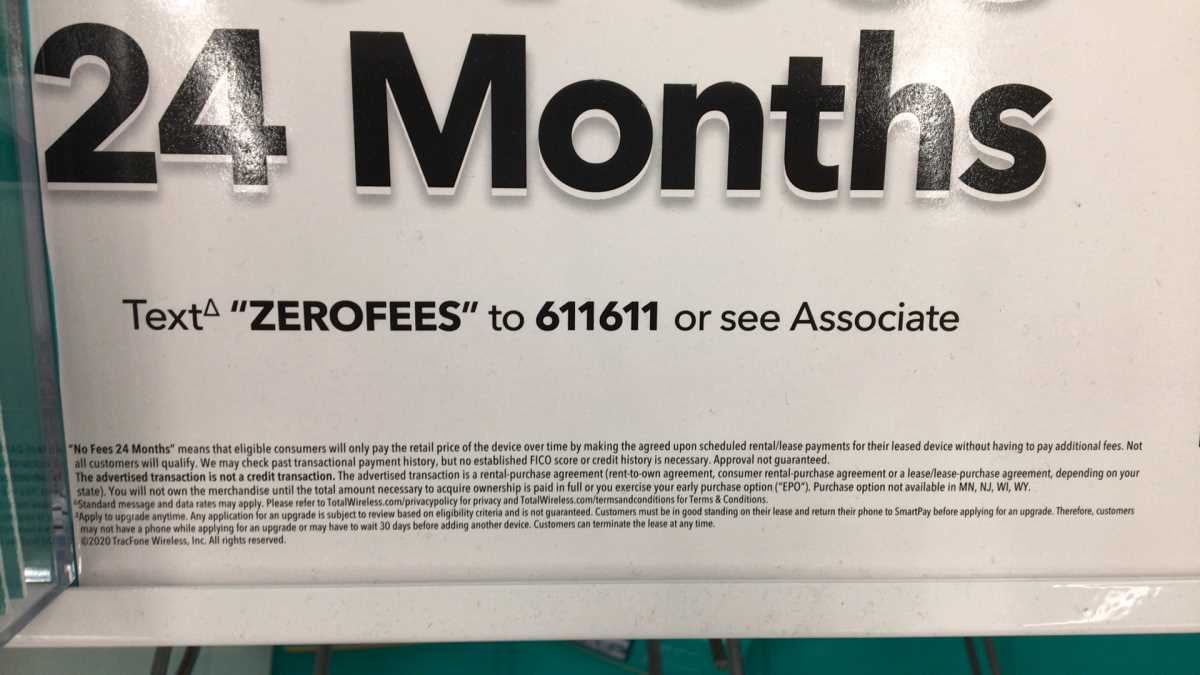 Simple Mobile and Tracfone are also offering phone payment plans with 0% APR, but they are not prominently on display on their respective website homepages like they are for Total Wireless and Straight Talk.
Wave7 Research reports that signage for Straight Talk's No Fees Phone Payment Plan is also now being displayed at Walmart as is signage that switchers can earn points towards free service through the Straight Talk Rewards program.
More New Straight Talk Commercials
In addition to the commercial depicted above, Straight Talk launched three other commercials also on July 13th, including one other for TV and two radio ads. The two radio ads largely mirror the TV ads.
Straight Talk's second TV ad highlights to viewers that they can get the "Same Networks For Less." It informs viewers that the big wireless companies aren't the only way for customers to get the best networks. The audience is told that Straight Talk runs on the same network towers all across the country that the big carriers use. Straight Talk's $45 plan with unlimited everything and 25GB of high-speed data is featured in the ad. You can watch it below.
---
---