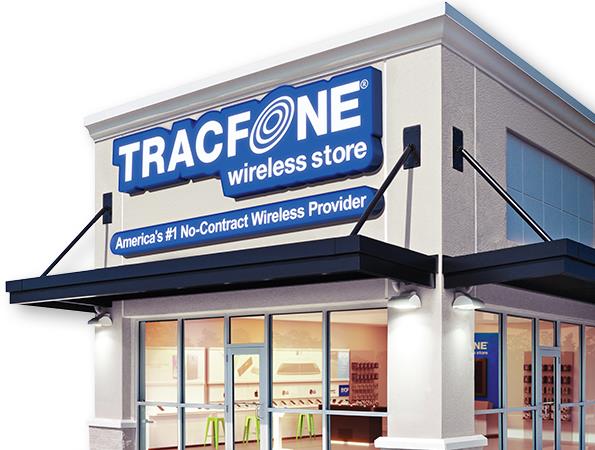 In this guide, I will explain everything you need to know about Tracfone before you subscribe. I want you to learn the ins and outs of Tracfone so that you can make an informed decision on if this is the best place for you to spend your hard earned cash.
---
Tracfone At A Glance
Logo: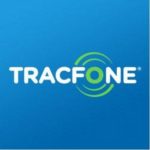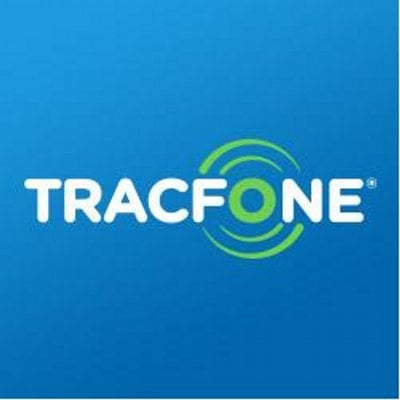 Year Founded:
1996
Networks Used:
AT&T, T-Mobile, Verizon
LTE Bands Used:
2
4
5
12
14
17
29
30
66
2
4
5
12
66
71
2
4
13
66
5G Bands Used:
n5 (850MHz)
n77 (3.7GHz)
n260 (39GHz)
n41 (2500MHz)
n71 (600MHz)
n258 (24GHz)
n260 (39GHz)
n261 (28GHz)
n2 (1900MHz)
n5(850MHz)
n66(1700MHz/2100MHz)
n77(3.7GHz)
n261 (28GHz)
n260 (39GHz)
Support For BYOD:
Yes
Sells Phones:
Yes
All Taxes And Fees Included In Price?
No
Online Payment Options:
Credit Cards, Refill Cards
---
A Summary Of Tracfone Phone Plans
Last Updated: Sep 16, 2022
No Credit Check Single Line Monthly Prepaid Plans
---
No Credit Check Multi-Month Plans
---
---
advertisement
---
---
Tracfone Pay As You Go Plans
TracFone PG Network(s): AT&T, T-Mobile, Verizon

Calling Card

$25

Minutes/Data

500/500 MB

SMS/MMS

1,000

Duration

60 days
TracFone PG 35 Network(s): AT&T, T-Mobile, Verizon

Calling Card

$35

Minutes/Data

750/1 GB

SMS/MMS

1,000

Duration

60 days
TracFone PG 45 Network(s): AT&T, T-Mobile, Verizon

Calling Card

$45

Minutes/Data

750/1.5 GB

SMS/MMS

1,000

Duration

90 days
TracFone PG 50 Network(s): AT&T, T-Mobile, Verizon

Calling Card

$50

Minutes/Data

750/2 GB

SMS/MMS

1,500

Duration

90 days
TracFone PG 365 Network(s): AT&T, T-Mobile, Verizon

Calling Card

$125

Minutes/Data

1500/1.5 GB

SMS/MMS

1,500

Duration

365 days
TracFone PG 199 Network(s): AT&T, T-Mobile, Verizon

Calling Card

$199

Minutes/Data

Unlimited/12 GB

SMS/MMS

Unlimited

Duration

365 days
---
Things To Know About Tracfone Before You Subscribe
TracFone is a subsidiary of América Móvil, which is Mexico's largest telecommunications company. América Móvil is owned by Carlos Slim, who was according to Forbes at one time the richest man in the world. He still ranks today as one of the top ten wealthiest persons alive.
TracFone is an MVNO that provides service to its customers using the Verizon, AT&T, and T-Mobile networks. It's been around for more than 20 years and is one of the most well known prepaid brands on the market.
Besides offering phone plans directly, the TracFone brand also owns several other prepaid brand names in the USA, and those include Total Wireless, Simple Mobile, Page Plus Cellular, SafeLink Wireless, Walmart Family Mobile, Net10 Wireless, Straight Talk Wireless, and GoSmart Mobile.  Collectively, the brands account for roughly 21 million prepaid wireless subscribers.
In September of 2020, Verizon Wireless agreed to acquire Tracfone and all of its associated brands from América Móvil. The deal will have to clear regulatory hurdles to allow Verizon to take full ownership. Closure isn't expected to happen until the latter half of 2021.
In November of 2021, Verizon formally announced the closure of its deal and it officially acquired Tracfone.
Phone Plan Details
TracFone specializes in offering pay as you go service where customers have the ability to purchase prepaid cards that last up to a full year before expiring. That has long been Tracfone's primary business model. However, more recently, the company has also begun to offer monthly prepaid plans.
Pay As You Go Plan Details
Tracfone's Pay As You Go plans are available in 60, 90, and 365-day increments. Pricing starts at $25 or $23.75 with autopay enabled for a plan with 500 minutes, 500 MB of data, and 1,000 text messages.
The plans are structured such that the total amount of minutes, data, and text messages are what you get for the duration of the plan, as opposed to monthly allotments that renew every 30 days. So if a customer were to buy the 60-day plan and use up all 500 minutes of talk in their first 15-days, they would not be able to place or receive any more calls for their remaining 45-days of service. Fortunately, allotment top-ups are available for this type of situation. Tracfone charges $10 for an additional 500 minutes of airtime, $5 for an additional 1,000 text messages, and $10 for an additional 1GB of data. A $10 global calling card is also available.
If a subscriber does not use all of their allotted minutes, data, or text message either from a top-up or from their plans service allotments, they will roll over to the next billing cycle and possibly beyond. Tracfone customers get unlimited carryover as long as they keep their service active. So if a subscriber still has 400 minutes left after 60-days of service and they renew their 60-day plan they'll have 900 minutes that they can use over the next 60 days. Likewise, if they have all 900 minutes left after that next 60-day cycle and renew again, they'll have 1,400 minutes to use over the course of their subsequent billing cycle.
The Limitations
Tracfone's Pay As You Go plans have multiple limitations. As already mentioned, the service allotments are finite, and if not managed properly can become costly.
Second of all, since you are buying multiple months of service you are locked in no matter what. If you leave before the plan expires without using up all of its service allotments, that is money down the drain. And the longer a person signs up for service, the more reluctant they may be to leave for a better deal elsewhere not wanting to burn the money already invested in their Tracfone plan.
Last, Tracfone's Pay As You Go plans are no longer the value that they used to be. Many providers now offer monthly phone plans that provide superior value and are cheaper compared to Tracfone's Pay Go plans without the need for a longer-term commitment. Still, great hard to beat Tracfone Pay As You Go plan deals can often be found on the HSN and QVC. Through those outlets, Tracfone often bundles phones, car chargers, and cases with an annual plan that costs less than the price of buying Tracfone's annual Pay Go plan directly from Tracfone itself.
Monthly Plans
Tracfone released monthly phone plans around July of 2019. A month is defined as 30 days of cellular service.
A total of 5 plans are offered, 4 of the plans include unlimited talk and text. All plans include a finite amount of hard-capped data where data gets turned off once the given allotment has been reached. Autopay discounts are available for the first two months of service only and are only available on select plans. All plans also support WiFi calling, but to gain access to the feature customers have to first enroll in it. Mobile hotspot is not allowed. Unlimited carryover of unused service allotments is included with all Tracfone monthly plans.
The cheapest monthly Tracfone plan costs $15/month. The price gets reduced down to $10/month with auto-refill enabled. This is a limited plan as it includes just unlimited talk and text but no data.
You can view Tracfone's 3 other monthly plans below with the available auto-refill discounts highlighted :
$20 – 2GB of data, price gets reduced to $15 if you enable auto-refill
$25 – 3GB of data, price gets reduced to $20 if you enable auto-refill
$30 – 4GB of data, price gets reduced to $25 if you enable auto-refill
$40 – 8GB of data, priced reduced to $35 with auto-refill, also allows hotpost
All monthly Tracfone plans have a data-add on card available priced at $10 for an extra 1GB of data. The autopay discount available on the 3 plans listed above is only for the customer's first 2-months of wireless service.
Tracfone Also Offers A Car Plan And An Emergency Connect Safety Plan
Tracfone also sells two other plans, one for the connected car and another geared towards those that would like to keep an eye on a loved one.
The Emergency Connect plan is the plan designed for those that have someone they'd like to keep an eye on. It costs $15/month or $14.25 with auto-refill enabled. It requires the purchase of the 4G LTE enabled Moxee Tracker & Safety device. The device and associated plan can then be used to send caretaker's alerts and the subscriber's location. It can also be used to share the subscriber's location with first responders.
The Car Smart plan costs $99 a year and gives subscribers 2GB of data per month to use while on the road through the use of a KonnectONE Car Smart device. The KonnectONE attaches to the OBD port of a car. Besides supplying subscribers with hotspot data while they are traveling, the KonnectONE allows subscribers to keep an eye on their car's health. According to Tracfone's website, some of the device and plan features include:
Keep your car running smoothly: Get maintenance reminders, recall information, fuel levels, battery life, car trouble alerts, and more are sent straight to their phone.
Locates their car or loved ones: GPS tracking quickly and easily locates their car, or monitors their family's whereabouts.
Monitors what happens to their car when they're not around: Sends notifications if their parked car gets hit or towed.
Keeps drivers safe: Monitors drivers with driving analytics, trips taken, speed, brake frequency, and more. Customers can set speed and geo-fencing thresholds.
Customer Rewards And Referral Programs
Tracfone does offer a customer rewards program. Over time, subscribers can earn free service or even a free phone. Rewards points are earned by purchasing or renewing a Tracfone plan and also presumably by purchasing a phone. The amount of rewards points earned vary based on the plan being purchased. For example, the $15 monthly plan includes 15 rewards points when purchased. However, subscribers must accumulate 1,500 points to earn 1 free month of service with the plan. The $30 plan on the other hand yields 30 points but requires an accumulation of 3,000 points to get it for free.
The rewards program also includes a customer referral program. A subscriber that refers 1 friend gets a free month of service for both themself and their referred friend.
Tracfone rewards points cannot be redeemed under the new program until after November of 2020.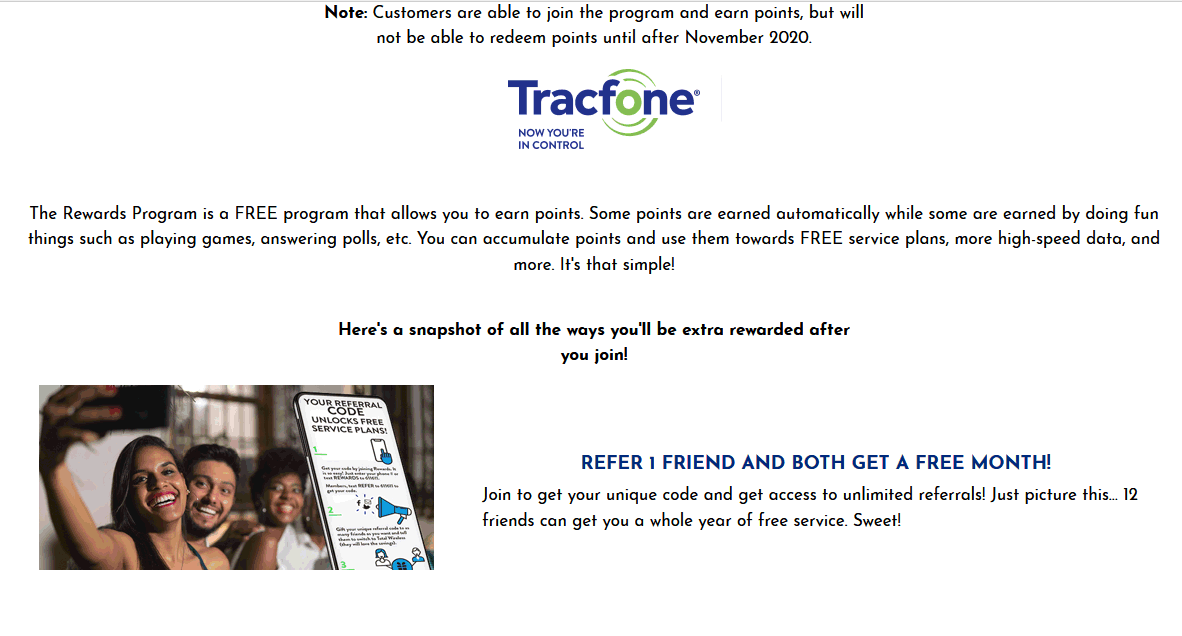 ---
Supported Phones And BYOD Devices
TracFone offers a variety of phones available for purchase. The network also supports bring your own device. Any AT&T, T-Mobile or Verizon compatible device should work, as should most unlocked GSM devices.
---
Where To Buy Service Plans And SIM Cards
Tracfone phones and SIM card kits with service are sold at numerous retail stores throughout the country, including Walmart, Target and Best Buy. The brand is also carried by online retailers such as Amazon, the Home Shopping Network, and of course TracFone.  The Home Shopping Network often has by far the best deals on airtime and phone service bundles.
---
Tracfone Customer Service
Customer support is available over the phone and by online chat.  Support hours are as follows: 7 days a week from 8AM – 11:45PM (EST)
---
Tracfone Customer Reviews