In this guide, I will explain everything you need to know about Straight Talk before you subscribe. I want you to learn the ins and outs of Straight Talk so that you can make an informed decision on if this is the best place for you to spend your hard earned cash.
---
Straight Talk At A Glance
Logo: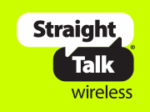 Year Founded:
2009
Subscribers:
9,511,000
Networks Used:
Verizon
5G Bands Used:
n2 (1900MHz)
n5(850MHz)
n66(1700MHz/2100MHz)
n77(3.7GHz)
n261 (28GHz)
n260 (39GHz)
Support For BYOD:
Yes
Sells Phones:
Yes
All Taxes And Fees Included In Price?
No
Online Payment Options:
Credit Cards, Debit Cards, PayPal, Refill Cards
---
A Summary Of Straight Talk Phone Plans
Last Updated: Aug 16, 2023
No Credit Check Single Line Monthly Prepaid Plans
---
No Credit Check Prepaid Plans With Family Discounts
---
---
advertisement
---
---
Things To Know About Straight Talk Before You Subscribe
Straight Talk Wireless was launched in 2009. It is one of several brands owned by Carlos Slim, founder of América Móvil, a Mexican telecommunications corporation. América Móvil is also the company behind TracFone and all of Tracfone's associated brands which also include Walmart Family Mobile, Total by Verizon, and Simple Mobile among others. Straight Talk is the largest of the brands closing in on 10 million subscribers.
In September of 2020, Verizon announced that it agreed to purchase Tracfone and all of its related brands from América Móvil for up to $6.9 billion. The deal formally closed in November of 2021.
Straight Talk's Phone Plans Explained
The Straight Talk Wireless website exclaims "there's a plan for everyone." But due to their prices, I'm not sure they have a plan for everyone's needs. There are certainly cheaper phone plans out on the market. Straight Talk does however have plans at different price points. There are 6 base phone plans, a special 2-line plan, and a buy more save more extended plan.
The absolute cheapest Straight Talk base phone plan costs $30/month. Customers on the plan get unlimited texts, 1500 minutes, and 100MB of hard capped data. That means data shuts off once a customer consumes 100MB of data in a billing cycle. Subscribers that enable auto-refill on their accounts get 50% more data, 150MB total, to use each month. Customers interested in this plan would be better served to take a hard look elsewhere as there are better values available.
Straight Talk's other five base phone plans are priced as follows:
$35/month ($34 with auto-refill) – 10GB of high-speed data
$45/month ($44 with auto-refill) – *unlimited high-speed data, 5GB hotspot, SD video streaming limited to a resolution of 480p, calling to Mexico and Canada
$55/month – *unlimited high-speed data,15GB hotspot, SD video streaming, calling to Canada and Mexico, 100GB cloud storage
$60/month ($59 with auto-refill) – *unlimited high-speed data, international calling, 5GB hotspot
$65/month – *unlimited high-speed data, plus 20GB hotspot & 100GB cloud storage, Mobile protect device insurance, HD video streaming at a resolution of 720p, international calling
Family Plan Discount Option
Straight Talk Wireless does not offer true group discount family plans. However, a 2-line plan is available for $90/month. The 2-line plan comes with all the same features as Straight Talk's single line $55 plan. It includes:
*unlimited high-speed data
15GB hotspot per line
SD video streaming at a resolution of 480p
Calling to Canada and Mexico
100GB of cloud storage per line
Extended Multi-Month Plan Option
Straight Talk's $45 plan with unlimited high-speed data is also available as a multi-month discount plan. Customers can get 3-months of service for $130, 6-months for $255 or 12-months for $495. The 3-month plan offers a savings of $5 vs paying by the month. The 6-month plan offers a savings of $15 and the 12-month plan offers savings of $45.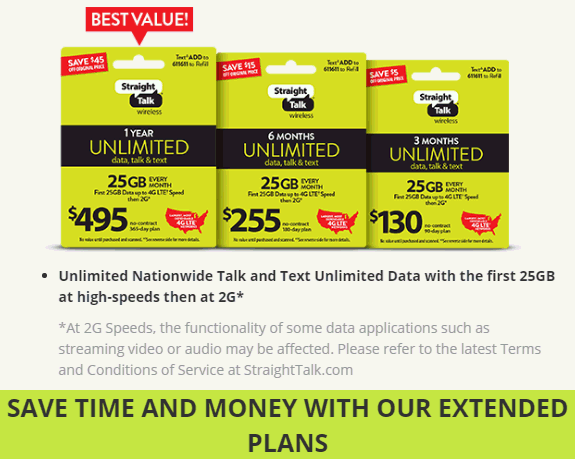 What Plan Features Are Supported By Straight Talk Wireless
Straight Talk's phone plans support a variety of features, but some features may be limited to specific plans. Depending on their plan, Straight Talk customers may have access to the following at no extra charge:
Mobile hotspot
Cloud storage – 100GB of cloud storage available to store all your files and photos, only available on the $55 and $65 plans
International calling – unlimited international calling included with $60 and $65 plan. Unlimited mobile to mobile to Mexico, China, Canada, and India plus calling to over 1000 landline destinations. Full list available here.
Unlimited slow data at 2G data speeds – applicable to $35 plan
Available Add-Ons
If you run out of high-speed data during a billing cycle, you can always add more. Straight Talk has two data add-ons available:
$5 – 1GB additional high-speed data
$10 – 2GB additional high-speed data
Unused add-on data does rollover to the next billing cycle.
A $10 international calling card option is also available. International calling rates are as low as 1¢ per minute.
Coverage
Straight Talk is owned by Verizon Wireless and thus provides cellular service through Verizon.
Data Speeds
In general, customers should expect data speeds on Straight Talk to be comparable to that of the underlying network's. So if a subscriber has Straight Talk using Verizon's network, data speeds will be similar to what they would be if the subscriber was a Verizon Wireless customer. Of course, there are exceptions to this.
Customers that live in an area where the underlying network is under constant duress will experience slower data speeds compared to if they were subscribed directly to the parent carrier network. As an example, a customer subscribed to Straight Talk using Verizon's network may experience slower speeds during times of network congestion than they would if they had just subscribed to Verizon.
Straight Talk Also Sells Tablet Plans
If you have a tablet or hotspot, you can bring it to Straight Talk. The tablet must be compatible with Verizon's network. There are 5 available tablet/hotspot plans, and they really aren't cheap. Pricing starts at $15 for 2GB of data. The full list of data only tablet/hotspot plans is below.
$15 – 2GB data
$25 – 4GB data
$40 – 8GB data
$50 – 10GB data
$75 – 20GB data
The data only plans are good for 30-days of service.
Customer Rewards And Referral Program
Straight Talk offers its subscribers a referral and rewards program. Customers that refer friends can earn reward points. The reward points can then be used to purchase a phone plan or a new phone. The reward point system operates on a sliding scale. A subscriber that refers one friend earns 5,000 points for the referral. But if they refer 2-4 friends they earn 9,000 points per each referral. New customers that signup for Straight Talk through someone's referral also earn rewards points.
Subscribers can also earn Straight Talk Rewards points just by renewing their plans. Points can also be earned by performing simple tasks such as playing games, answering surveys and more. The Rewards program also gives customers access to free perks and local discounts to save on dining, shopping, and entertainment.
---
Supported Phones And BYOD Devices
Straight Talk Wireless fully supports those that have their own device to bring to the network.  Verizon phones are all compatible as long as they are not under contract and have no financial obligations on them.  Universally unlocked phones from manufacturers such as Motorola and Samsung are also compatible with the network.
Straight Talk also sells all the latest high end phones such as iPhones and Samsung Galaxy devices. A selection of mid range and budget phones are also available.
Phone Trade-In Program
Straight Talk Wireless does offer a phone trade-in program. If you are interested in getting cash for your old phone you can do that by visiting Straight Talk's phone appraisal website. The handsets being traded-in must be in working condition. Customers that trade-in their phones will get paid by either check or PayPal.
Phone Payment Plan Options
There are two types of financing options available for customers who would like to pick up a phone from Straight Talk Wireless. There's a financing program offered by Smartpay and one offered by Affirm. Smartpay is more of a lease-to-own program. Both financing options will require an application to be filled out.
---
Where To Buy Service Plans And SIM Cards
Plans, phones and SIM cards can be purchased through the Straight Talk Wireless website or from Walmart, an exclusive retail partner of Straight Talk.
---
Straight Talk Customer Service
Customer support is available by online chat, over the phone and through social media.  Call center hours are as follows:
Sunday-Saturday: 8 AM – 11:45 PM EST.  Online chat likely has the same hours.
---
Straight Talk Customer Reviews