US Mobile Launches On The Verizon Network, Offers Unlimited Data Plans With Choose Your Own Speed!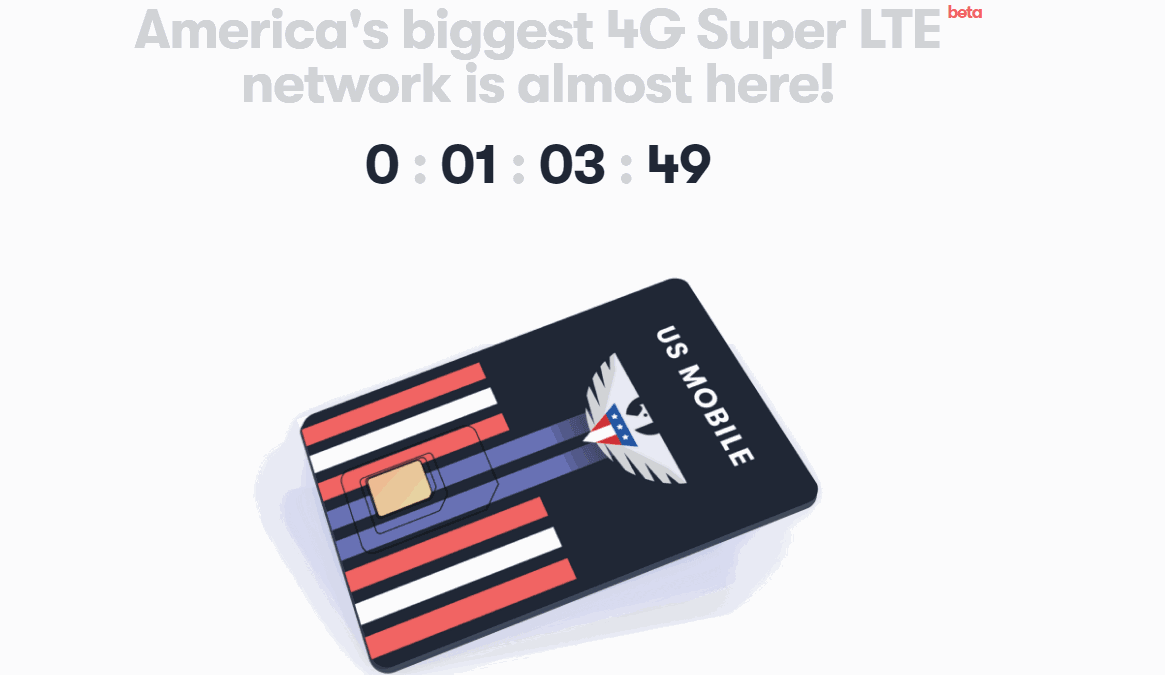 ---
Did you know BestMVNO is available to follow for free in Google News? Follow BestMVNO in your Google News app and keep up to date on wireless.
Follow BestMVNO In Google News
---
---
Several months ago US Mobile said it was going to launch on the nations largest LTE network over the summer.  Summer came and went without an actual launch leaving some to wonder if the plan had fallen through.
I now have confirmation that today, US Mobile is launching on what is likely the Verizon network.  With the launch comes a brand new set of plans that feature several industry firsts, including the ability to choose your own data speeds.
US Mobile is touting the following new features on its new network:
Unlimited data plans starting at $35/month
Smaller minimum talk and text buckets
Reduced prices for 1 GB and 2 GB plans
Additionally, visual voicemail, international calling, call forwarding, mobile hotspot, and top up rollover are supported.  International calling however, won't be immediately available at launch.
Pricing
US Mobile is offering two types of plans on its new network.  One set of plans allows subscribers to custom build their own plan by choosing from separate allotments of talk, text and data.  The MVNO is referring to the plans as "Super LTE Customized Plans."
The other set of plans all include unlimited data at varying speeds with an option to choose between unlimited talk and text, or 100 minutes of talk and text.  A mobile hotspot option is also available.  US Mobile calls this set of plans "Super LTE Unlimited Plans."
Super LTE Customized Plans
Talk
$2.50
40 min
$3
100 min
$5
300 min
$6
500 min
$8.00
1,000 min
$10
2,000 min
$15
5,000 min
Text
 $1
40 text
$2
100 text
 $3
300 text
$4
500 text
 $5
1,000 text
 $6
2,000 text
 $7
10,000 text
Data
 $2
100 MB
 $5
300 MB
 $8
500 MB
 $11
1 GB
 $16
2 GB
 $20
3 GB
 $26
5 GB
All custom built plans with data contain mobile hotspot.
Super LTE Unlimited Plans
All plans include unlimited data
Standard
1 Mbps
$35
100 min + 100 text
$42
unlimited talk + text
$47
unlimited talk, text + hotspot
Fast
5 Mbps
$45
100 min + 100 text
$52
unlimited talk + text
$57
unlimited talk, text + hotspot
Ludicrous
Up To 150 Mbps
$65
100 min + 100 text
$70
unlimited talk + text
$75
unlimited talk, text + hotspot
No matter which set of plans that you choose from, US Mobile is also charging a $4/month service fee in addition to taxes.  So as an example, that means the $35 standard plan will cost you $39/month plus tax.  On all the unlimited data plans mobile hotspot is limited to the same speed as the data is for that plan.  There is no mobile hotspot or data speed restrictions in place for those who custom build their own plan.
Like all unlimited data plans, US Mobile has a data prioritization policy in place for its unlimited plans.  Those that consume over a certain amount of high speed data in a month may see their data speeds temporarily slowed during times of heavy network congestion.  The Standard plan may be temporarily slowed after 12 GB, the Fast plan after 14 GB and the Ludicrous plan after 16 GB.  Mobile hotspot is unlimited but subject to the same data prioritization policy.
Special Offer For iPhone X Users
US Mobile also has a special offer in store for those who have just purchased an iPhone X.  Subscribers who bring their own Verizon or Sprint compatible iPhone X to the new network will receive $200 cash back.  The cash back will come in the form of a monthly account refund and will be spread out over 6 months.  So those on a $40/month plan will receive a refund of $33.34 each month after they pay their bill.  Those who leave the network before the 6 months is up, will not receive the full $200 account credit.
Supported Phones
The new network plans support all mainstream iPhones and Android devices.  Less popular phones may not be supported.  US Mobile asks you to use their IMEI checker to see if your phone is compatible.
Analysis
US Mobile's new plans on its new network are full of industry firsts.
US Mobile is now the first MVNO to use Verizon's network and offer its customers the ability to custom build their own phone plans.  It is also the first MVNO on any network to offer tiered data speeds with unlimited data and separate pricing for each speed to go along with unlimited hotspot.
US Mobile is the only Verizon based MVNO to offer unlimited mobile hotspot at speeds of at least 1 Mbps.
It is the first Non-TracFone based Verizon MVNO brand to offer full speed LTE data on Verizon.
US Mobile's data prices are competitively priced and may be worth checking out if you want service on Verizon's network without having to pay a premium price for it.  The company will continue to offer service on its GSM network which is powered by T-Mobile.  Prices on that network remain unchanged.
---
Be sure to follow BestMVNO on Twitter for additional wireless coverage, deals, insights, and even debates!
Follow @BestMVNO Twitter
---
---