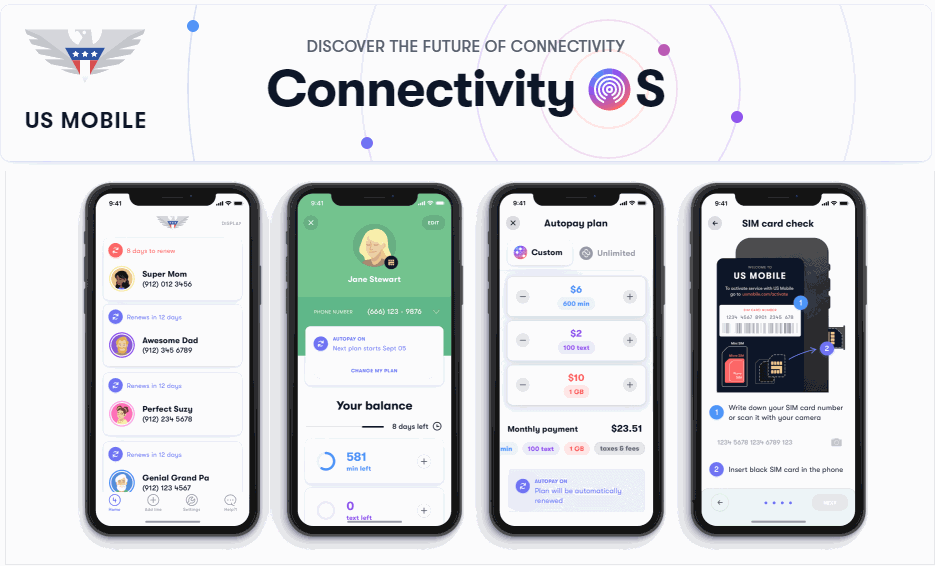 ---
US Mobile launched as an MVNO nearly 5 years ago, and since that time the company has been growing at a rapid pace.  US Mobile is growing so fast that it just made INC's 2019 list of the 5000 fastest-growing privately held companies in America.  Over the past 3 years, the company grew revenue by an astounding 3,388%.  That got the company to rank number 94 on the list.  Revenue in 2018 came in at $7.3 million.  US Mobile employees 65 people and was one of just two MVNO's to make the list.  The other was Consumer Cellular which ranked number 4,366.  Consumer Cellular is a much more mature company having been founded in 1995, it generated $1 billion in revenue in 2018.
In order to make the INC. 5000 list, companies must be USA based, privately held, for-profit, and as of December 31, 2018 independent and not a subsidiary or division of another company.  Businesses had to generate at least $100,000 in revenue in 2015 and $2 million in 2018.  Companies that qualify, are then ranked according to percentage revenue growth from 2015 to 2018.
For an MVNO to make that list, it has to be doing something right to be successful.  US Mobile says it got there for a variety of reasons.  For starters, the company offers plans on "America's best network." US Mobile does not disclose what that network is, but with a little digging on the company's website, there are hints that it is Verizon.  US Mobile actually offers plans on two different networks, one called a GSM LTE network and the other a Super LTE network.  The Super LTE network plans are said to offer the "most reliable 4G LTE coverage."  Verizon touts itself as having the nation's largest and most reliable 4G LTE network.  The GSM LTE network name is used to represent T-Mobile.
Besides offering service on two networks, US Mobile offers its customers the ability to custom build their own phone plan.  US Mobile is the only MVNO on the Verizon network to offer that feature.  Custom-built phone plans start at less than $5/month.  Subscribers can also pick an unlimited plan where they can choose their own data speeds.  For instance, for $25/month subscribers can get a plan with unlimited talk and text and 5GB of high-speed data with data speeds limited to 1Mbps.  Customers can upgrade that plan to data speeds of 5Mbps for $5 more per month, or they can upgrade to uncapped data speeds for an additional $15/month.  US Mobile also innovates here by being the only MVNO to offer customers the ability to choose their own data speeds.  The company's wireless plans can also be used to power data-only devices such as a smartwatch or a fitness tracker.
US Mobile also claims that it has an excellent customer support team.  The company says that its support team has access to all the tools needed to fix things for customers without requiring an escalation and long wait times.
Connectivity OS
US Mobile has a software platform known as Connectivity OS.  It was launched in 2014 at the same time the MVNO began to offer wireless service.  Connectivity OS is used to power the customer's account dashboard and to pick and change plans.  It's also used to analyze how much talk, text, and data customer devices are using each month to make suggestions for a better plan for each device in a customer's account.
Palm Phone
Now US Mobile wants to use its Connectivity OS to help power its next growth phase.  US Mobile wants to focus on creating plans specific for the internet of things and different types of devices.  The first set of device specific customized plans are now available for those who own a Palm phone.  US Mobile has partnered with Palm to offer the following plans:
US Mobile Palm Light Plan Options
Includes 60 minutes, 200 text messages and 200 MB of 4G LTE data.
$7.5 each month
$18 for a 3-month plan ( average cost $6/month)
$60 for annual plan ( average cost $5/month)
US Mobile Palm Moderate Plan Options
Includes 250 minutes, 1,000 text messages and 1GB of 4G LTE data.
$15 each month
$36 for 3-month plan ( average cost $12/month)
$120 for annual plan ( average cost $10/month)
US Mobile Palm Ultimate Plan Options
Includes unlimited talk and text with 8GB of 4G LTE data.
$30 each month
$72 for 3-month plan ( average cost $24/month)
$240 for annual plan ( average cost $20/month)
For a limited time, customers who activate on a Palm Ultimate plan will get their first month of service free of charge.
As you can see, not only has US Mobile created device-specific plans for the Palm phone, it has also joined the growing number of providers who are now offering multi-month plans. The multi-month plan options have become more popular with providers because they are a guaranteed source of revenue for a set period of time for the provider offering them and they also help to reduce customer churn.  Subscribers benefit from the multi-month plans by getting better pricing on their service.
US Mobile is looking to continue to grow its Connectivity OS platform to power everything from enterprise security sytems and industrial sensors to vehicle and pet tracking plans.  The company is currently offering $2500 in free internet of things connectivity to select enterprise partners.
---
---