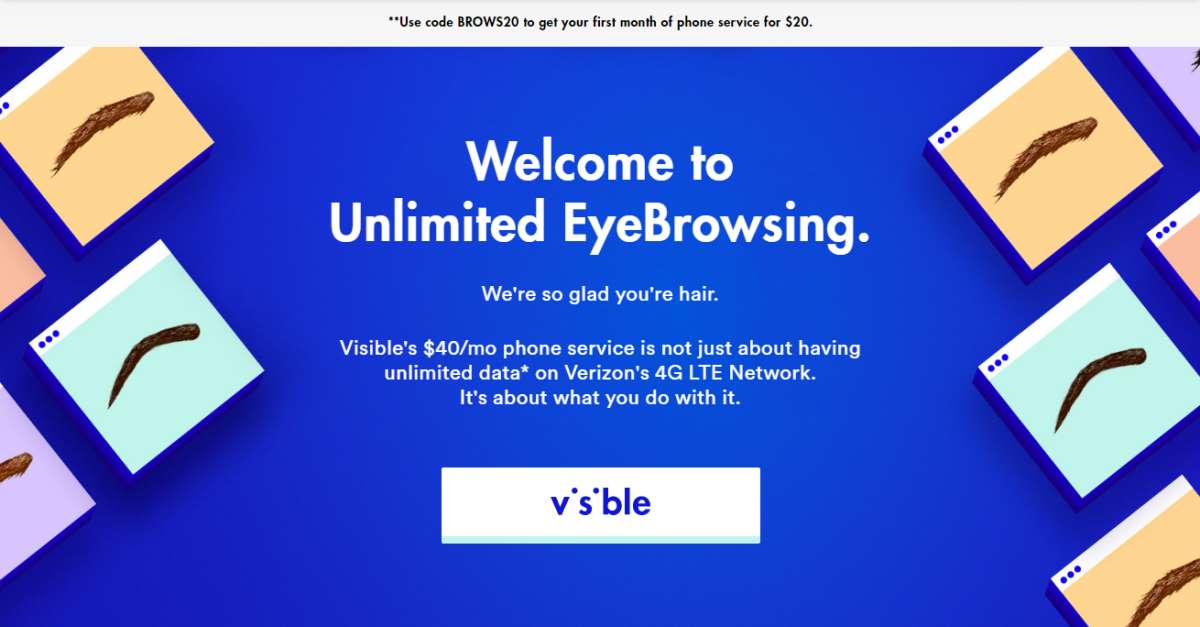 ---
This holiday shopping season has seen an increase in the number of prepaid wireless brands investing in the marketing of their services. Consumer Cellular, Cricket Wireless, Metro by T-Mobile, Mint Mobile, Straight Talk Wireless, TextNow, and Visible have all launched new video advertising campaigns. While most have focused on traditional TV commercials as the advertising medium of choice, Visible has elected to take a different route. A prepaid report recently issued by Wave7 Research detailed that a trio of ads launched by Visible all featuring actor Dan Levy amassed more than 13 million views on YouTube. The ads were all launched between October 1st and November 10th. Visible's YouTube channel only has 3.67k subscribers signaling the videos were made for more than just their channel subscribers.
A Look At Visible's Less Conventional Video Advertising Campaign
It's not entirely clear exactly how Visible has managed to get so many views to its three recently launched YouTube videos. But a Visible spokesperson confirmed to Wave7 Research that the ads have been running in "paid media channels for digital advertising," but not on TV. The spokesperson was unable to elaborate beyond that. I can confirm that at least one of the ads is airing on PlutoTV as I've watched it there myself.
Visible has put together two different ads that play on Dan Levy's prominent eyebrows. One is a 30-second ad while the other is 15 seconds. The 15-second clip is the one I can confirm airing on PlutoTV. The video first appeared on Visible's YouTube channel on November 10th and has since garnered nearly 2.7 million views. Watch it below.
Visible even set up a new website at unlimitedeyebrowsing.com to use with its new ads. New subscribers can use code BROWS20 to get $20 off their first month of service on the only plan that the company offers, a $40/month unlimited everything plan.
Visible also had two 15-second video ads launch on October 1st. One entitled "Subliminal Messaging With Dan Levy" has over 7.5 million views and the other entitled "Normal Conversations With Dan Levy" has 4.6 million. Both are shown below.
Mint Mobile's New Holiday Ad
Visible isn't the only prepaid wireless provider to use an actor as a celebrity endorser. Mint Mobile has done a fair number of ads featuring actor Ryan Reynolds who also happens to co-own the brand.
A few weeks ago Mint Mobile launched an offer allowing new customers to get 3-free months of service with the purchase of any 3-month Mint Mobile plan. The company has launched a new TV ad featuring Ryan Reynolds that's airing nationwide to support the offer. A virtually identical ad was also recently launched through Mint Mobile's Youtube channel. Check it out below.
Mint Mobile's marketing efforts extend beyond its TV advertising campaign. Fierce Wireless reported that the company has expanded further into Best Buy stores where it has also gained increased visibility. Mint Mobile has signage and more display space at about half of the stores checked by the firm Wave7 Research. Mint's new 35GB "unlimited plan" is now being carried in the store.
Metro by T-Mobile "Rule Your Holiday"
A couple of weeks ago Metro by T-Mobile released its holiday offers alongside an updated marketing slogan "Rule Your Holiday." The new offers tout that there are now zero fees to switch to Metro during the holiday season and that you can get free phones with no activation fees or rebates needed. Metro is offering more than 10 phones for free to switchers and brought back its 4 unlimited lines for $100 promo. Metro has a TV commercial airing nationwide supporting the new offers with an emphasis that customers can get 4 free Samsung Galaxy phones when they switch. Here is the commercial:
Cricket Wireless "Holidays: Snowflake" & "Holidays: Lights"
Cricket Wireless released some of its holiday seasonal deals on November 20th. The AT&T owned prepaid provider also made more than 10 Android phones available for free to switchers, lowered the switcher price of the iPhone SE down to $49.99, and discounted some 5G devices. Upgrade and new line pricing were also further reduced for several budget devices.
Cricket now has two new holiday commercials out. One of the commercials entitled "Holidays: Snowflake" singles out some of those free Android phone switcher deals by pointing out that the LG Stylo 6, Samsung Galaxy A11, and the Nokia C5 Endi are all free. Check it out below.
The other commercial "Holidays: Lights" informs viewers that Cricket Wireless offers "nationwide 5G you can afford for the moments you can't afford to miss." The recently launched LG K92 is highlighted in the ad. The LG K92 is now Cricket's most affordable 5G device available online to switchers for $159.99 and it's $199.99 for new customers and current customers wishing to upgrade. The original price is $359.99. The ad does not make mention of any pricing, but Cricket's website says discount pricing will be available until 1/7/2021.
Straight Talk Wireless "Life's Mishaps"
At the end of September, Straight Talk Wireless released a new unlimited phone plan called Platinum Unlimited. The plan costs $65/month and includes unlimited everything. The plan also offers HD video streaming, 20GB of hotspot data, international calling, 100GB of cloud storage and device insurance. Straight Talk is using the included insurance as a selling point as it's heavily featured in a new TV commercial. Viewers are reminded that mishaps happen all the time, phones get dropped and screens break and that's why Straight Talk's new Platinum Unlimited plan comes with mobile protect device insurance.
Consumer Cellular Leads The Way In Number Of Ads Airing
Perhaps surprising is that Consumer Cellular leads the way among all brands in the number of ad creatives that it has airing. The company, recently acquired for $2.3 billion by the Chicago firm GTCR, is now airing 6 different commercials. All commercials make mention of the same basic themes that Consumer Cellular features "premium wireless for less" and that talk, text and data are available for just $20/month. Consumer's new customer $25 account credit holiday offer is also highlighted.
With all of the different advertising campaigns and approaches to digest, Jeff Moore, Principal of Wave7 Research added:
"For direct-to-consumer prepaid wireless, we're seeing different approaches to marketing. Mint Mobile has boosted its visibility at Best Buy and has TV advertising. Visible has no TV advertising currently, but has "paid media channels for digital advertising" via services such as Pluto TV, driving millions of views via YouTube. It will be interesting to see which approach wins the day."
---
---