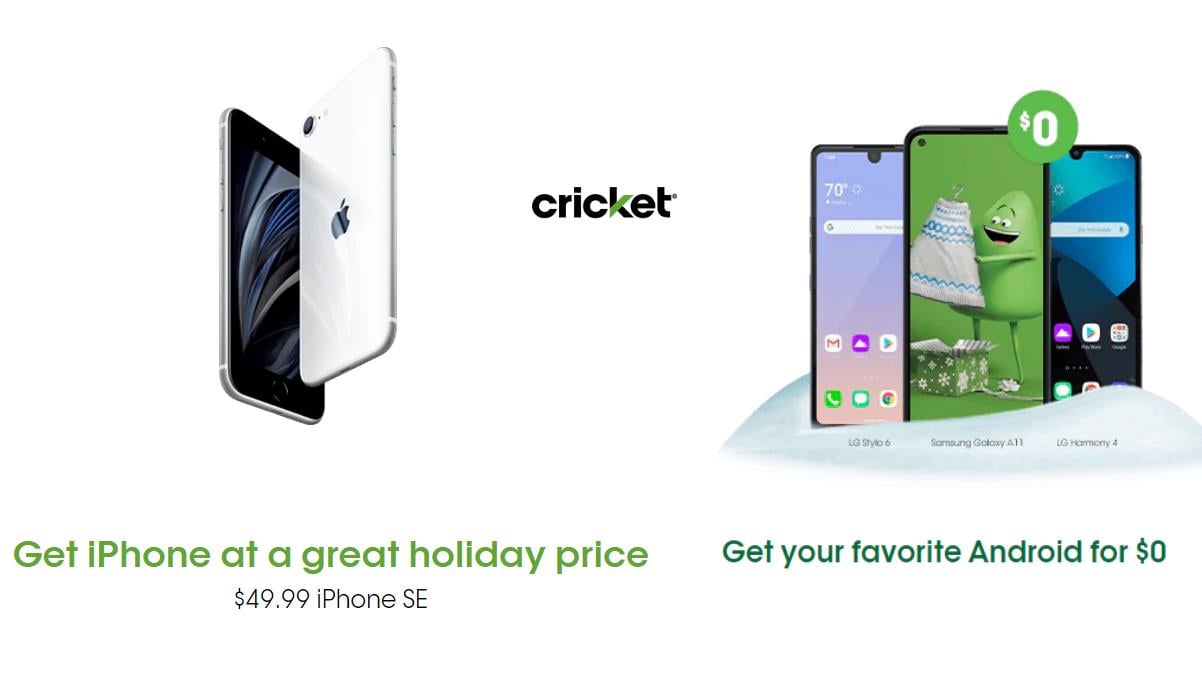 ---
Cricket Wireless has announced its holiday shopping season phone deals for 2020. There are offers for everyone. Whether you are a new customer porting in or a current customer looking to upgrade Cricket has you covered. There are deals on both Android and iOS devices featuring the iPhone SE for $49.99 and a free LG Stylo 6 offer.
Free Cricket Android Phone Deals
Cricket has made 10 different Android phones available for free to switchers. And there are also some deep discounts available for current customers looking to upgrade and customers adding a line. Here's a table of all the available Android discounts.
Featured Cricket Android Free Phone Deals November 2020 - December 2020
Phone
Original Price
Upgrade/
New Line Price
Port-In Pricing
Alcatel APPRISE
$69.99
$9.99
Free3
Alcatel INSIGHT
$79.99
$9.99
Free3
Cricket Icon
$79.99
$9.99
Free3
Cricket Icon 2
$89.99
$9.99
Free3
Cricket Ovation
$129.99
$79.99
Free6
LG Fortune 3
$99.99
$19.99
Free6
LG Harmony 4
$139.99
$99.99
Free6
LG Stylo 6
$229.99
$149..99
Free6
Nokia C2 Tava
$109.99
$9.99
Free6
Nokia C5 Endi
$169.99
$129.99
Free6
Samsung A01
$109.99
$19.99
Free6
Samsung A11
$149.99
$109.99
Free6
Discounted iPhones
iPhone fans also have deals to take advantage of that are primarily geared towards switchers. Here are Cricket's iPhone holiday offers:
Featured Cricket iPhone Deals
Phone
Original
Retail Price
Upgrade/
New Line Price
Port-In
Pricing
iPhone SE
$349.99
$249.99
$49.996
iPhone XR
$499.99
$399.99
$299.996
iPhone 11
$599.99
$599.99
$499.996
iPhone 11 Pro
$899.99
$899.99
$799.996
iPhone 11 Pro Max
$999.99
$999.99
$899.996
iPhone 12 Mini
$729.99
$729.99
$629.996
iPhone 12
 $829.99
$829.99
$729.996
iPhone 12 Pro
$999.99
$999.99
$899.996
iPhone 12 Pro Max
$1099.99
$1099.99
$999.996
6Must subscribe to Cricket's $60 unlimited plan to claim the deal
3Cans subscribe to any Cricket plan to claim the deal
Holiday Offers Fine Print
There is a bit of fine print to know that applies to the offers. Switcher and new line pricing is only available to customers once every 180 days. That means if you are with another carrier now, but had Cricket Wireless at any time in the past 180 days, you are not eligible for new-line and switcher promo pricing. Also, the offers are not available to customers wishing to port-in from AT&T.
All phones are sold locked to Cricket Wireless and remain locked until they have been used with the network for a period of 6-months. Some offers, like the iPhone SE deal, may require a valid ID if you are purchasing through a dealer.
If you are purchasing a 5G capable phone like a new iPhone 12 model, one thing to be aware of at this time is that you will only have access to the 5G network if you subscribe to Cricket's $60 unlimited plan. For all other plans, network access will be on the 4G LTE network. I suspect this limitation will change in the coming months, but that is the way it is right now.
Hidden Deals
Cricket also has some hidden deals running that are only available in-stores. YouTuber Lady Red's Tech Reviews went over those hidden deals and all the rest in a live stream this morning. You can watch a replay below to learn more about them such as an offer for the LG K92 5G for $199.99. The offer is available to both current customers looking to upgrade and switchers. The phone is currently available online for $349.99, so that's a pretty big discount.
Update 11/30/2020: Cricket is now offering the LG K92 for $149.99 online to switchers and the phone is available as a current customer upgrade option for $199.99.
---
---