Once Again Market Force Study Reveals T-Mobile And Consumer Cellular To Be America's Favorite Carrier And MVNO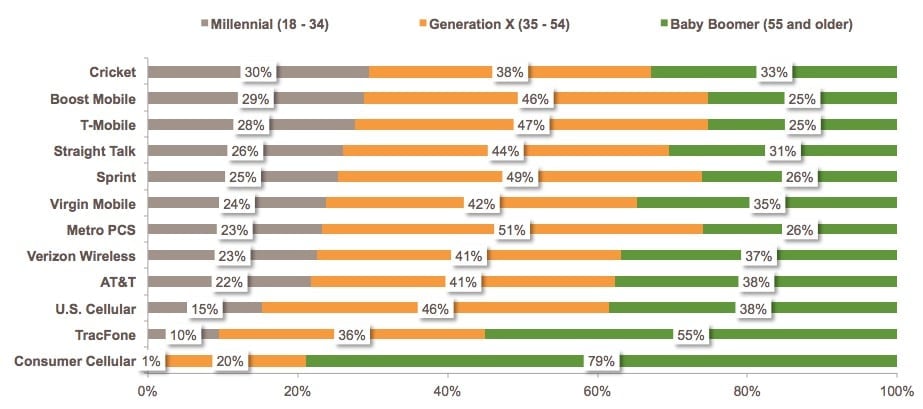 Market Force Information (Market Force), a customer experience management and research company conducted a large scale consumer study in May of 2017 polling over 8,200 consumers with the intent of uncovering trends in the wireless industry. The study focused on carrier performance, in store experience and service usage among other variables and was conducted through an online survey.
Respondents' ages ranged from 18 to over 65 with over 72% being woman and 27% being men.  Fifty-three percent of respondents reported annual household income as greater than $50,000.
Major Carriers Performance
To determine rankings, Market Force asked participants to rate their satisfaction with their primary wireless carrier and its services, as well as their likelihood to refer that brand to others. The results were averaged to attain a score that Market Force refers to as the Composite Loyalty Index (CLI).
Just like last year, T-Mobile was rated as the nations number 1 wireless carrier and their CLI rating of 43% was actually an improvement over their 2016 CLI ranking.  T-Mobile was in fact the only major carrier to show an improvement over the previous years ranking.  Verizon Wireless finished the survey in second, followed by AT&T with Sprint ranking last.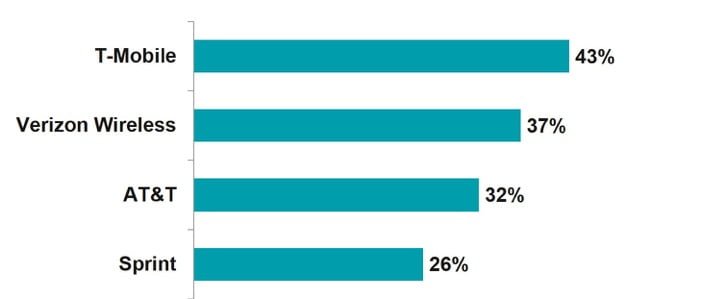 In term of network coverage, Verizon Wireless ranked tops, and its users were the most satisfied with call quality compared to those on other networks.  T-Mobile again ranked last in frequency of dropped calls but it did rank the highest for value, plan flexibility, ease of changing plans, new technology and in store customer service.
Small Carrier And MVNO Performance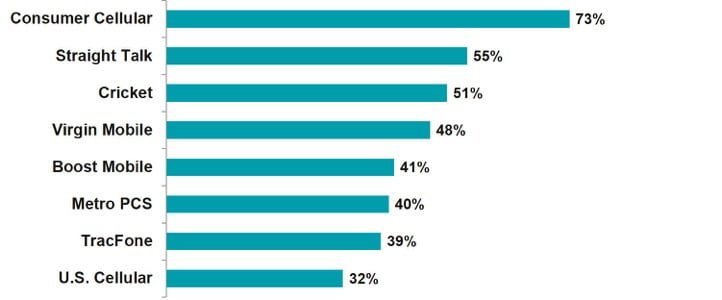 Once again as they did in 2016, Consumer Cellular was rated the top provider in 2017.  The AT&T and T-Mobile MVNO actually ranked number 1 in every category tested, except for in-store experience.  The fact that they did not rank for in-store experience is not surprising given that the company does not operate any nationwide stores.  Consumer Cellular has however recently reached an agreement with Target to allow Target to become an in store service center for the MVNO.
Cricket Wireless was the MVNO that ranked the highest for in-store experience.
Other top overall providers were Straight Talk Wireless which finished in 2nd place by displacing Cricket Wireless which fell back one spot to 3rd place.  Virgin Mobile jumped up several spots to finish in 4th place.
You can see how your favorite MVNO rated in each of the categories tested by viewing the following infographic:
Prepaid Use Is On The Rise, And The In Store Experience Matters
The Market Force survey also unveiled that prepaid use is on the rise.  The number of prepaid users doubled going from 5% in 2016 to 10% in 2017.  At BestMVNO.com the expectation is that this number will continue to rise as MVNO phone plans begin to offer more data at lower prices and also once subscribers realize that they don't all need an unlimited LTE data plan.
Of all the prepaid brands studied, Straight Talk Wireless and TracFone were the most widely used by consumers.
The Market Force study has also shown that the in store experience is still important to subscribers, which is perhaps why TracFone has started to build out stores and Consumer Cellular has started using Target as a customer service center.
Over 1/3 of those surveyed reported that they visited a carriers retail store over the past three months.  Twenty-four percent went to buy a new phone, 16% to fix their phone and 15% to change their plan.
About Market Force Information
Founded in 2005, Market Force Information® provides location-level measurement solutions that help businesses protect their brand reputation, delight customers and make more money. Solutions include customer experience surveys, mystery shopping and contact center data integrated on one technology and analytics platform. It serves over 350 clients that operate multi-location businesses, including major retailers, restaurants, grocery and convenience stores, financial institutions and entertainment. For more information visit www.marketforce.com.
---
---