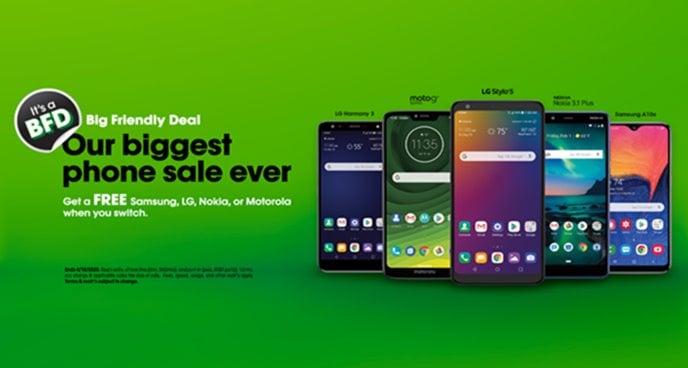 ---
Cricket Wireless has some new deals launching tomorrow, February 14th.  New customers will have the option to pick up one of 12 free Android devices or to get a discount on one of several different iPhone models.  Cricket is marketing the new sale as being a BFD or Bing Friendly Deal.  The company states that this will be their biggest phone sale ever.  Also being released are some new data-only plans.
Offers Fine Print
All offers are scheduled to be available from February 14 to March 12.  Each individual offer does have its own fine print associated with it.  You can check them out below.
Be informed of the latest deals, plans and promotions from AT&T and every one of its MVNO's when you subscribe to the AT&T weekly newsletter. No spam and you can unsubscribe at any time!
12 Free Android Phones
Cricket Wireless says that this is the first time that they are offering 12 free phones on sale all at once and that is the reason why this is their biggest phone sale ever.  The free phones are available to both new and existing customers who port in their number and activate a new line of service.  Those porting from AT&T or an AT&T MVNO are not eligible for the free deals.  The available free phone offers are as follows:
Port To A Plan Priced $30 Or Higher And Get A Free
Cricket Icon (Regular Price $19.99)
Alcatel INSIGHT ($29.99)
LG Fortune 2 ($39.99)
Samsung J2 Pure ($39.99)
Port To A Plan Priced $55 Or Higher And Get A Free
Regular pricing is shown in parenthesis.
Alcatel Onyx ($49.99)
Nokia 3.1C - ($49.99)
LG Escape Plus ($49.99)
Port To The $60 Unlimited LTE Data Plan And Get A Free
Regular pricing is shown in parenthesis.
LG Harmony 3 ($69.99)
Samsung Galaxy A10E ($79.99)
Nokia 3.1 Plus ($99.99)
Moto G7 Supra ($119.99)
LG Stylo 5 ($149.99)
Take $150 Off Any iPhone Model 7 Or Higher
Cricket Wireless is offering $150 off any iPhone model that is an iPhone 7 or newer.  The offer is for new customers and switchers who activate a line of service on the $60 unlimited plan.  Available models with the discounted prices shown include the following:
iPhone 7 - $49.99
iPhone 7 Plus - $99.99
iPhone 8 - $299.99
iPhone 8 Plus - $399.99
iPhone XR - $449.99
iPhone 11 - $549.99
iPhone 11 Pro - $849.99
The iPhone offers will likely require ID verification if purchased in-store.  Those porting from AT&T or an AT&T MVNO are ineligible for the discounts.
New Simply Data Plans
Cricket has updated its Simply Data, data only plans to the following options:
$35/month - 20GB
$50/month - 40GB
Data is hard-capped with each plan.
UPDATE 2/24/2020: Cricket has also announced that customers can get their third month of service for free when they activate a new line of service on the $50 plan and keep their account in good standing for 60 days.  YouTuber Lady Red's Tech Reviews is covering all the new deals and more today in a live stream.
Cricket's new Simply Data Plans will replace the ones shown below:
$25/month - 3GB
$35/month - 10GB
$70/month - 30GB
Editor's Take
There are definitely some good phone deals here, particularly when it comes to pricing on the iPhone 7.  It seems Cricket had to make some moves to keep up with the competition.  Boost Mobile has been offering it for $29.99 and Metro just released a $49.99 BOGO offer on it.  While Cricket still doesn't have the best overall deal on the device, they did just undercut Tracfone brands such as Total Wireless and Straight Talk where the iPhone 7 is still being sold for $199.99.  AT&T Prepaid is still selling it for $99.99 exclusively at Walmart.
Cricket's new data-only plans are much improved compared to what they previously offered.  The plans also compare well against other data-only plans that are available on the market.  Still, they may not be much of a bargain when compared to some phone plans that include hotspot data.  Verizon's Visible for instance offers unlimited hotspot data at the $40/month price point.  And Mango Mobile just announced a $25/month plan that includes 20GB of hotspot data but that plan does require customers to purchase several months of service in advance to get that price.
---
---