AT&T Prepaid Walmart Exclusive Promo Is An iPhone 7 For $99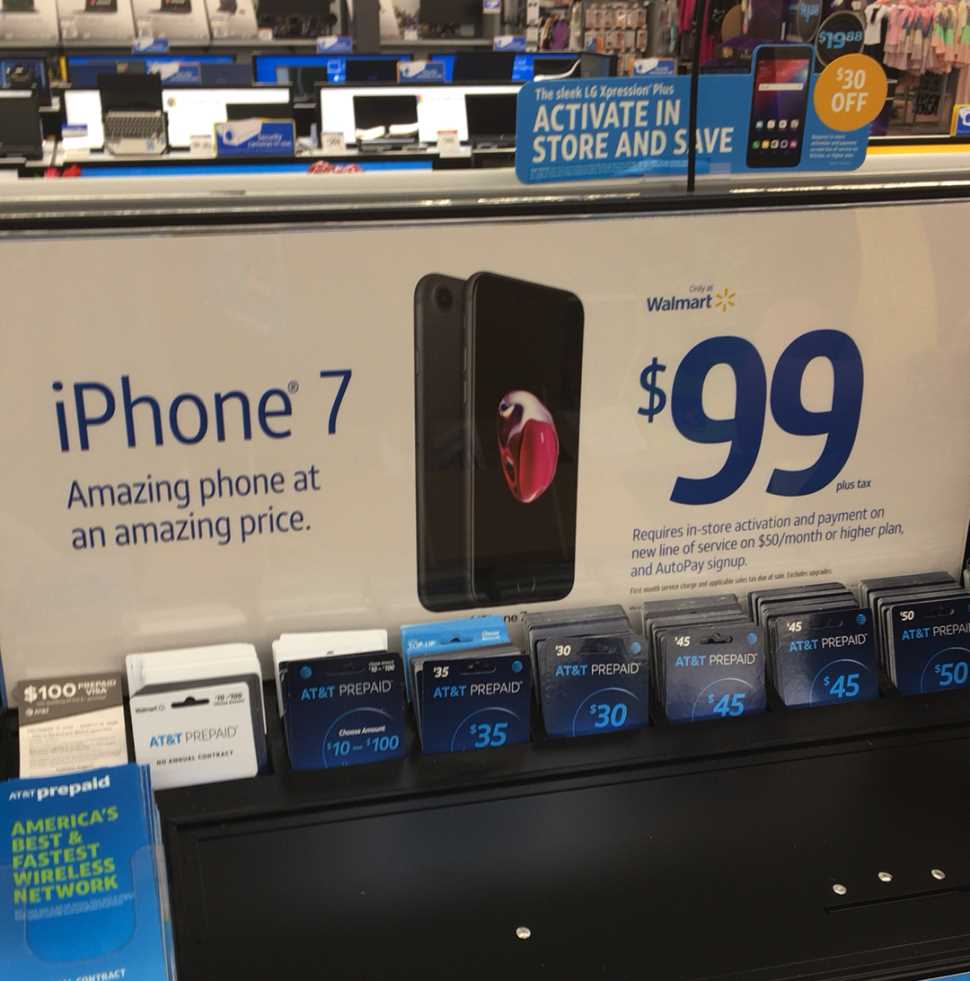 ---
Did you know BestMVNO is available to follow for free in Google News? Follow BestMVNO in your Google News app and keep up to date on wireless.
Follow BestMVNO In Google News
---
---
It looks like the iPhone 7 is going to be the device that prepaid providers push hard this season.  Metro and Boost Mobile are already doing it by offering the phone for $99 and $29.99 respectively to new customers.  Now AT&T Prepaid has joined the mix through an exclusive "only at Walmart" offer.  Customers that activate a new line of service on AT&T Prepaid can now get the device for $99.
Walmart AT&T Prepaid iPhone 7 $99 Offer Fine Print
This offer requires an in-store purchase and in-store activation on an AT&T Prepaid plan priced $50 or higher with AutoPay billing enabled.  It is scheduled to be available until 6/14/2020.  First month of service charges are due at the time of the sale as are applicable taxes.  Current customers looking for a device upgrade are excluded from the promo.
Eligible Phone Plans
There are 3 AT&T Prepaid plans that customers can choose from if they'd like to take advantage of the iPhone 7 deal.  The plans are highlighted below:
| | | | |
| --- | --- | --- | --- |
| Price | $50 ($40  w/AutoPay) | $65 ($45 w/AutoPay) | $75 ($55 w/AutoPay) |
| High-Speed Data | 8GB | Unlimited | Unlimited |
| Data Rollover | Yes | NA | NA |
| Hotspot | Yes | Costs Extra (5GB for $10) | 10GB US usage only |
| HD Video Streaming | Yes | No | Yes |
All plans include unlimited talk and text to Mexico and Canada.  Free talk, text, and data roaming are also available while traveling in either country.  All plans also include unlimited texting to over 100 countries and multi-line discounts are available.
Be informed of the latest deals, plans and promotions from AT&T and every one of its MVNO's when you subscribe to the AT&T weekly newsletter. No spam and you can unsubscribe at any time!
Additional lines on the $50 plan are priced at $30/month.  Additional lines on the $65 plan are priced at $35/month and additional lines on the $75 plan are priced at $45/month.  All plan pricing discounts just described are with AutoPay billing enabled.
AT&T Prepaid has a special multi-line promo pricing available on the $65 plan.  Customers can get 2 lines on the plan for $80/month.  That promo is scheduled to be available until 4/20/2020.  Taxes and fees cost extra with all plans, and customers with multiple lines can mix and match plans and still receive multi-line discount pricing.
AT&T Prepaid Walmart Exclusive Android Offers
For those who don't want an iPhone, AT&T Prepaid and Walmart have also teamed up to offer a few Android devices at a discount.  The 32GB Nokia 3.1A and 32GB Lg Xpression Plus 2 are both now $49 plus tax.  The Nokia 3.1A is regularly priced at $89 and the Lg Xpression Plus 2 at $99.  The original LG Xpression Plus is also available in-store for $19.88 down from $49.88.
The same fine print from the Apple iPhone 7 offer applies to the Android phone offers.  They're only available in-store and require activation on a plan priced $50 or higher.
---
Be sure to follow BestMVNO on Twitter for additional wireless coverage, deals, insights, and even debates!
Follow @BestMVNO Twitter
---
---