Best Deal In Wireless? Mango Mobile Offers 50GB 4G LTE Data For $25/Month, Black Wireless $16.67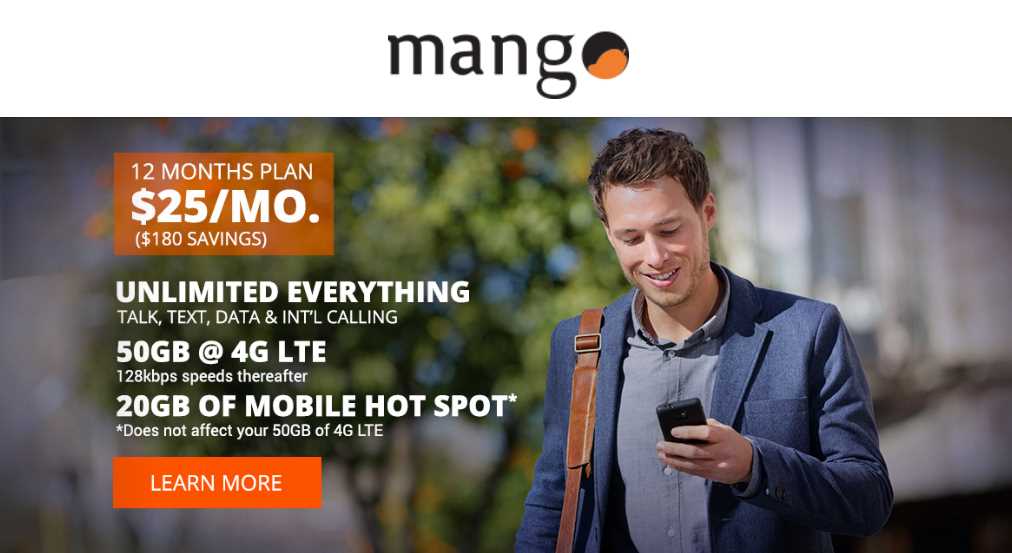 Multi-month plan provider Mint Mobile is up against some serious competition.  Detailed in a recent report from Wave7 Research, Mango Mobile has just relaunched with a new single multi-month plan that may just be the best deal in wireless.  Subscribers to the brand can now pick up an unlimited talk, text, and data plan with the first 50GB of data each month at 4G LTE data speeds before throttling to 128Kbps for just $25/month.  The plan also includes 20GB of mobile hotspot.  But the real kicker, and an industry-first as far as I'm aware of, is that the hotspot data does not count against the plan's high-speed data allotment.  So that means subscribers get 50GB of 4G LTE data just to use with their phone, and another 20GB to use just for mobile hotspot.  The plan also comes with international calling to up to 50 countries, but no international texting.
Update 2/15/2020 - Black Wireless has the same plan available for $16.67/month if purchased 6 months in advance.
Update 2/17/2020 - Mango Mobile now has the same 6-month offer available as Black Wireless.
Update 2/20/2020: Mango Mobile has discontinued the 50GB phone plan offer, however, it is still available from Black Wireless.
Like all great offers, there is some fine print associated with it, so let's take a look.
The Fine Print With Mango Mobile's 50GB Unlimited Plan
To start, the plan is only available to new customers and/or first time port-ins.  Current customers cannot subscribe to it.
Service on Mango Mobile is provided by the T-Mobile network.  Ports from any T-Mobile postpaid or T-Mobile prepaid service provider are prohibited.
Customers who use international calling are restricted to dialing up to 10 unique international phone numbers per month.  Mango Mobile considers one month to be equal to 30 days.
According to an online support specialist I spoke to, the plan may only be available for a limited time.  I reached out to another representative from the company for further clarification but have yet to hear back.
In order to get the plan at the $25/month price point, customers will have to subscribe to and prepay for up to one year of service at a time.  Mango Mobile offers subscriptions for 3, 6, and 12 month time frames but all are priced to costs $25/month.  So customers can get:
3 months for $75
6 months for $150
12 months for $300
Sales tax is not included in the price shown and may cost extra depending on the subscriber's location.
Mango Mobile is advertising the plan as regularly costing $40/month.
Editor's Take
In terms of value and availability, this is probably the best deal that is currently on the market particularly for single line plans.
Mint Mobile has long been heralded as a great multi-month value provider on the T-Mobile network, but their plans cannot compete with this new offer from Mango Mobile.  Mint Mobile's top plan includes 12GB of 4G LTE data at the $25/month price point.  So you can see Mango Mobile is being very aggressive right now with pricing in going after that customer and potential customer base.
The only other provider that I'm aware of on the market that can provide better value is Altice Mobile.  Altice Mobile offers 50GB of 4G LTE data primarily on the Sprint network for $20/month.  But the problem with that offer is that is limited to a very select customer base.  Only Optimum and Suddenlink customers can get the plan at that price point.  Customers without either service pay $30/month for the plan.  Furthermore, the plan is only available to customers in areas where Optimum and Suddenlink offer service.  Last, the $20/month price point is a limited time offer currently set to expire on 2/19/2020.
Mango Mobile was quietly launched in 2016 and is one of several brands owned by Red Pocket Mobile.  Red Pocket also owns Black Wireless, FreedomPop and Unreal Mobile.  The Mango Mobile brand had largely been neglected since its initial launch, but that seems poised to change with the unveiling of this new plan.
Update: This exact same offer with usage on the T-Mobile network is also available through Black Wireless.
---
---