In this guide, I will explain everything you need to know about Mint Mobile before you subscribe. I want you to learn the ins and outs of Mint Mobile so that you can make an informed decision on if this is the best place for you to spend your hard earned cash.
Mint Mobile Deals
Mint Mobile Buy 3 Get 3 Deal
Buy any 3-month Mint Mobile starter trial plan from Best Buy and get 3-months free. Plus get a free copy of the Ryan Reynolds film Free Guy! Get 35GB of monthly data for just $15/month!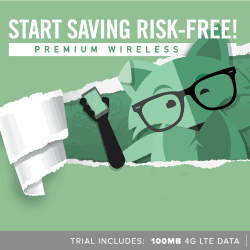 Mint Mobile Trial Plan
Get a 1-week trial plan for free! Includes 250 minutes, 250 text messages, and 250MB of high-speed data. Can be activated instantly via eSIM.
Here's Everything You Should Know Before Subscribing
---
Mint Mobile At A Glance
Logo:
Year Founded:
2016
Networks Used:
T-Mobile
LTE Bands Used:
2
4
5
12
66
71
5G Bands Used:
n71 (600MHz)
n260 (39GHz)
n261 (28GHz)
n41 (2500MHz)
Support For BYOD:
Yes
Sells Phones:
Yes
All Taxes And Fees Included In Price?
No
Online Payment Options:
Credit Cards, Debit Cards, PayPal
---
Follow BestMVNO
Did you know BestMVNO is available to follow for free in Google News? Follow BestMVNO in your Google News app and keep up to date on wireless. You can also follow on Twitter for additional wireless insights, deals, and even debates!
---
Overview
Mint Mobile was originally launched as Mint SIM in 2016 by the wireless provider Ultra Mobile. Ultra Mobile is an MVNO of T-Mobile which means it uses the T-Mobile network for coverage. Not surprisingly, Mint Mobile is also an MVNO that uses T-Mobile network towers for coverage with all of its wireless plans.
In May of 2018, Mint SIM re-branded as Mint Mobile. In November of 2019, it was announced that actor Ryan Reynolds purchased an ownership stake in the company.
Newest @_MintMobile customer. Also, owner of the company. To keep things above board, I'll be paying myself $15 a month. #MintOwner pic.twitter.com/hrzd8t8T2H

— Ryan Reynolds (@VancityReynolds) November 25, 2019
Mint Mobile's Phone Plans Explained
Unlike traditional providers, Mint Mobile does not charge by the month. Instead, customers are required to pay for service either 3, 6, or 12 months in advance. Since they are pay in advance plans, they do not require a credit check. Mint Mobile did at one time offer pay by the month phone plans, but those were quietly discontinued in late 2018 and were never a point of emphasis.
Mint Mobile currently offers 4 phone plans, and all are available for purchase at the 3, 6, and 12-month interval time frames. Pricing for each plan option looks like this:
4GB Multi-Month Plans
3-month pricing- $25/month paid in full with a $75 payment in advance
6-month pricing – $20/month paid in full with a $120 payment in advance
12-month pricing – $15/month paid in full with a $180 payment in advance
10GB Multi-Month Plans
3-month pricing – $35/month paid in full with a $105 payment in advance
6-month pricing – $25/month paid in full with a $150 payment in advance
12-month pricing – $20/month paid in full with a $240 payment in advance
15GB Multi-Month Plans
3-month pricing – $45/month paid in full with a $135 payment in advance
6-month pricing – $35/month paid in full with a $210 payment in advance
12-month pricing – $25/month paid in full with a $300 payment in advance
35GB Multi-Month Plans
3-month pricing – $40/month paid in full with a $120 payment in advance
6-month pricing – $35/month paid in full with a $210 payment in advance
12-month pricing – $30/month paid in full with a $360 payment in advance
Potential Mint Mobile subscribers should be aware that Mint Mobile considers one month to be equal to 30 days of service. So the 12-month annual plan is for 360 days of service, not 365 days.
All Plans Come With Special Introductory Pricing
Mint Mobile always offers special introductory pricing on its 3-month plans for new subscribers only. You can check out the introductory rates for each 3-month plan in the list below.
4GB plan – $15/month, $45 paid in full
10GB plan – $20/month, $60 paid in full
15GB plan- $25/month, $75 paid in full
35GB plan – $30/month, $90 paid in full
A 7-Day Trial Plan Is Available
If you're not sure you want to go all-in on a longer-term plan you can buy their starter plan. Mint Mobile's starter plan offers prospective customers 7 days of service that includes 250 minutes, 250MB of 4G LTE/5G data, and 250 text messages for $5. The kit comes with a 3-in-1 SIM card. At the conclusion of the trial if the subscriber is not happy with their service they can request a refund. If the customer is happy with the service, the $5 they spent on the trial kit can be applied towards the purchase of any multi-month plan they like, including the introductory offers that Mint Mobile makes available to new subscribers. The trial kit can often be found on Amazon on sale for $0.99 and directly through the Mint Mobile website at its regular rate. At the moment, the Amazon listing states the trial plan comes with 100 minutes, 100 texts, and 100MB of data, however, the reviews confirm it now has 250 units of each as does the Mint Mobile website.
What Plan Features Are Supported By Mint Mobile
Mint Mobile offers all the same basic standard features that are offered by most providers and a few others that are not. All Mint Mobile subscribers get the following features included with their plans:
Unlimited text messaging
Unlimited calling
Hotspot/tethering
WiFi calling – use WiFi for your phone calls and text messages when you have no cell signal
HD Voice/VoLTE calling – high definition voice calls
International calling to Mexico and Canada
Unlimited data at 2G data speeds once the high-speed allotment is consumed
Text message spam filters
There's an app available on both iOS and Android that can be used to manage your account
Money back guarantee
Plan recommendations – users on Mint Mobile's 35GB unlimited plan will receive a notification if they aren't using enough data to warrant subscribing to the plan
unliMINTed pic.twitter.com/4BfCpAErFG

— MintMobile (@Mintmobile) November 9, 2020
A word about Mint Mobile's spam filters. Under section 8.4 of their terms and conditions, Mint states that they use filters to block spam messages. They also state that they cannot guarantee that customers will not receive spam or other unsolicited messages and absolve themselves of any liability for such messages that a customer may receive.
The money back guarantee states that customers who cancel service for any reason within 7 days of activation can get a full refund which includes the refund of any applicable fees or taxes. Any applicable shipping charges will not be refunded.
Plan Add-Ons
A few different plan add-ons are available. Customers that run out of high-speed data during a billing cycle can add more. A 1GB data top-up is available priced at $10 and there is a 3GB top-up for $20. Data top-ups are only good for one 30-day plan cycle and do not rollover. The data top-ups are available for use on all plans except for the 35GB data plan.
Add-ons are also available to call more countries internationally. International calling rates vary by country.
Mint Mobile supports international roaming. So if you'd like to use your phone in another country you can but it will cost you extra money. If you need international roaming you'll have to purchase an UpRoam plan add-on. UpRoam add-ons are available for $5, $10 and $20 denominations. With international roaming enabled, subscribers will pay $0.05 to send SMS text messages, $0.25 per minute, and $0.20 per MB of data consumed while traveling abroad. Receiving SMS text messages are free. There are special roaming rates available while traveling in either Canada or Mexico. It costs $0.06 per MB of data consumed, $0.02 per SMS text message, and $0.06 per minute to use your phone in either of those two countries. International roaming credits do not expire and roll over to your next billing cycle.
Plan Feature Limitations
All plans include hotspot, however, customers on the plan with 35GB of high-speed data can only use 5GB of their monthly data allotment for hotspot. On all other plans, customers can use all their data for hotspot if they'd like.
Unlimited Is Not Unlimited!
Mint Mobile has named each of its phone plans by the amount of high-speed data that includes. The only plan that is not named this way is their 35GB data plan. Mint calls this plan "Unlimited." Many people would consider an "unlimited plan" to be one that includes unlimited high-speed data. This plan does not. Another thing to note about this 35GB data plan is that video streaming is limited to a resolution of 480p.
There's An Odd Data Throttling Policy
Nearly all carriers have a data throttling policy where customers' data speeds slow down for the remainder of their billing cycles if they go over their high-speed data allotments. Mint Mobile is no different in having such a policy, but it does have a different policy in place depending on the plan a customer is subscribed to. For all plans but Mint Mobile's 35GB data plan, data speeds get reduced to 128Kbps after the plans high-speed allotment gets reached. For the 35GB plan, data speeds get reduced to 128Kbps after the high-speed data threshold is reached but can be further reduced to 64Kbps if Mint Mobile determines a customer is using data excessively.
Common to nearly all wireless providers, including Mint, is that during times of network congestion, data speeds may be slowed down until the network congestion gets relieved. In a very limited number of locations where the network is always congested, subscribers may have permanently slower data speeds than they may be used to.
Hidden Taxes And Fees
Mint Mobile does not charge an activation fee, but they do charge taxes and fees not listed in their advertised prices. The type of taxes and fees assessed include:
Recovery Fee – assessed to help Mint recover costs associated with various federal and state programs
Federal Universal Service Fund Fee
State Universal Service Fund Fee
Sales and Use Taxes
911 Fee
Mint Mobile's recovery fee is explained in their terms and conditions. Briefly, for the 3GB, 8GB and 12GB plans the Recovery Fee is calculated as a flat fee of $3.75 for a 3-month plan; $6.75 for a 6-month plan; and $11.75 for a 12-month plan. For the "Unlimited data" plan, the Recovery Fee is calculated as a flat fee of $5.50 for a 3-month plan; $8.75 for a 6-month plan; and $16.25 for a 12-month plan. A flat per transaction fee ($0.50 for service charges of $10.00 or less and $1.00 for service charges of $10.01 or more) may apply for non-plan service purchases (e.g., 4G LTE/5G data add-ons). A flat fee per transaction of 2.5% will also be applied to help recover other administrative fees.
Family Plan Options
Unfortunately, Mint Mobile does not offer family plans or group discounts. However, subscribers that have multiple lines can manage them all under a single account.
Mint Mobile Coverage
Mint Mobile has access to and uses T-Mobile's entire network to provide coverage to subscribers.  Coverage is identical to what a T-Mobile Prepaid customer would have but is different than what a T-Mobile Postpaid customer would have.  This is a very important distinction to make and understand. T-Mobile's Postpaid customers, of course, have access to all of T-Mobile's network but they also have access to other carrier networks such as AT&T. AT&T's network is used to provide coverage to T-Mobile's Postpaid customers in areas where T-Mobile does not have its own network towers. This coverage feature is called roaming.  Mint Mobile and T-Mobile Prepaid customers don't have roaming access and are restricted to using T-Mobile's native network for coverage. So there is a small difference in coverage between being a Mint Mobile customer and T-Mobile Postpaid customer. Mint Mobile does have a coverage map set up on their website so you can check out exactly where you'll have coverage if you switch over to their service.
Refer-A-Friend Program
Mint Mobile does offer a refer-a-friend program. Subscribers that like to share referral codes online can earn themselves a year or more of free service. A maximum of 10 referral credits can be earned by a subscriber per calendar year. Mint Mobile offers more money for each friend that gets referred.
Subscribers that refer one friend will earn a $25 account credit. If a second friend is referred the account credit increases to $30. For a third friend the credit increases to $35, friend number four is $40 and friend number five is $110. If five friends are referred the subscriber earns a total of $240 in account credits which is good for a free year of service on the 8GB plan. If a sixth friend is then referred, the credits reset back to the beginning so that the sixth friend is equal in value to the first one ($25). The credits then go back up for referrals 7-10 as they would for referrals 2-5.
Each friend that signs up through a Mint Mobile referral link earns themself a $15 account credit.
Some Potential Drawbacks To Consider Before Subscribing
Customers are free to leave the Mint Mobile network at any time. But if they do it before their plan expires, they will forfeit their remaining months of service and effectively lose money since those months were paid for in advance.
Other drawbacks subscribers may want to consider before making a long term commitment to a multi-month plan provider are the opportunity costs that may be involved. This is especially true if the 12-month plan is being considered.
Every few weeks new and exciting offers come out from competing providers.  Sometimes those offers may provide for a better deal than a Mint Mobile multi-month plan. For instance, it's fairly common for wireless providers to offer new subscribers a free month of service or even $50 to $200 in cash back or rewards/gift cards just for subscribing. Free phone and bonus data offers are also common. New service providers also come into the market from time to time and they could potentially offer better rates. And of course, spending big money upfront on a phone plan is money that could potentially be spent elsewhere, or saved and invested. Those are some of the opportunity costs one must consider before deciding to commit to a multi-month wireless plan.
Review
I took a test run of Mint Mobile by subscribing to one of their plans for over 3 months. If you are not sure if Mint Mobile is for you, perhaps this review can help.
---
advertisement
---
Supported Phones And BYOD Devices
Any phone that is compatible with T-Mobile will also work on Mint Mobile, as long as it is out of contract and paid off in full.  Most phones used on either AT&T, Sprint, or Verizon will also work as long as they have been unlocked.  Universally unlocked phones from manufacturers such as Motorola and Samsung are also compatible.  If you are not sure if your device is compatible with Mint Mobile, you can use their IMEI checker to confirm it.
Where To Buy Service Plans And SIM Cards
Mint Mobile phone plans can either be purchased through the Mint Mobile website, Best Buy or Amazon. A few other smaller online retailers also carry the brand.
SIM Expiration
You've Got 45 Days
Customers that pick up a Mint Mobile SIM card in a retail store or order one online need to keep in mind one very important fact. You can't order a SIM card and just sit on it. According to Mint Mobile's terms and conditions, customers must activate their SIMs within 45 days of purchasing. If they are not activated within that time frame, Mint Mobile states that they reserve the right to suspend or terminate service. For SIM cards that are not subjected to the 45-day rule, Mint reserves the right to inactivate SIMs 3-months after their original purchase.
Customer Support
Customer support is available over the phone at 1-(800) 683-7392, by email, through an online forum and virtual chat. Support is active during the following hours:
Sunday – Saturday : 5 AM – 7 PM PST
Virtual chat is available 24-7.  Virtual chat uses artificial intelligence to try and answer your questions, and if they cannot be resolved the questions get forwarded to a live agent.
---
How To Port Out
In order to port out of Mint Mobile you'll need to know your account number and PIN number. To get those you need to call Mint Mobile and ask for them. You will be asked a series of security questions before they'll give you your account and PIN numbers. The PIN number is typically the last 4 digits of your phone number.
---
Mint Mobile Customer Reviews