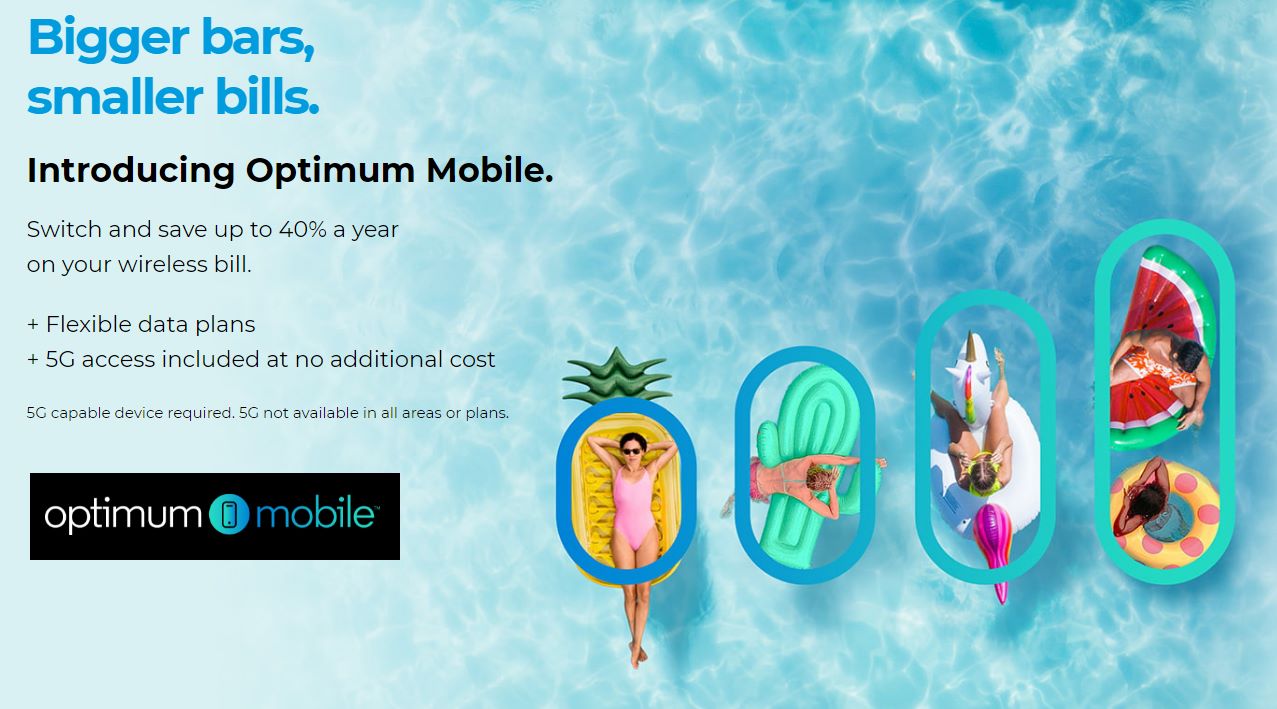 In this guide, I will explain everything you need to know about Optimum Mobile before you subscribe. I want you to learn the ins and outs of Optimum Mobile so that you can make an informed decision on if this is the best place for you to spend your hard earned cash.
---
Optimum Mobile At A Glance
Logo:

Year Founded:
2019
Subscribers:
264,000
Networks Used:
T-Mobile
LTE Bands Used:
2
4
5
12
66
71
5G Bands Used:
n41 (2500MHz)
n71 (600MHz)
n258 (24GHz)
n260 (39GHz)
n261 (28GHz)
Support For BYOD:
Yes
Sells Phones:
Yes
All Taxes And Fees Included In Price?
No
Online Payment Options:
---
A Summary Of Optimum Mobile Phone Plans
Last Updated: Oct 20, 2023
No Credit Check Single Line Monthly Prepaid Plans
---
No Credit Check Prepaid Plans With Family Discounts
---
---
advertisement
---
Things To Know About Optimum Mobile Before You Subscribe
Optimum Mobile first officially launched as Altice Mobile in September of 2019 and it is run by the cable operator Altice USA. In July of 2021, Altice Mobile was rebranded to Optimum Mobile. The brand is unique among all other MVNOs in that it does partially have its own network infrastructure. The company partnered with Sprint for the network build-out.
Through the partnership, Sprint used Altice USA's broadband infrastructure to deploy more than 19,000 small cells around the greater New York City area which includes Long Island. Small cells are necessary to lay the groundwork for a 5G network. The partnership allowed Altice to gain access to Sprint's wireless network while maintaining the ability to run its own underlying core network infrastructure.
When T-Mobile and Sprint merged, Altice's contractual agreement with Sprint expanded to include T-Mobile. The updated contract granted Altice USA's Optimum Mobile brand access to T-Mobile's 4G LTE and 5G networks for a period of 7 years, 3 more years than what Altice had with Sprint alone.
The company also has a roaming agreement in place with AT&T.
Optimum Mobile Offers 3 Basic Phone Plans
When Altice Mobile first launched, only an unlimited plan was available. It launched for $20 and was by far the best outright wireless plan deal around. Since then the service was expanded to include more plans. In September of 2020, two plans with a limited amount of data were launched starting at $12/month but later increased to $14/month.
Optimum Mobile gives a $10/month discount on all phone plans to those who also subscribe to either Optimum or Suddenlink internet packages. The plans are shown on the company's website already including this discount. The plans are displayed the same way here.
A quick look at Optimum Mobile's three phone plans reveal the following options and price points:
Free for new lines – 1GB high-speed data. Free for one year then renews at $14/month, maximum of 5-lines allowed on plan
$14/month ($29 w/o Optimum or Suddenlink subscription) – 1GB high-speed data
$22/month ($32 w/o Optimum or Suddenlink subscription) – 3GB high-speed data
$45/month ($55 w/o Optimum or Suddenlink subscription) – 20GB high-speed data
No multi-line discounts except for on the $45/month plan. Subscribers can manage multiple lines under one account. A maximum of 5 lines is allowed under a residential customer's account. A business account can have a maximum of 10 lines. Taxes and fees cost extra.
If a customer runs out of high-speed data on the $14 or $22 plan they can add more. Data top-ups are priced at a cost of $6 for 1GB and last for up to 30 days. The top-ups are not available on the $30 plan.
All plans include the ability for the subscriber to use their phone as a mobile hotspot. Unlimited international texting and calling add-ons are available starting at $20/month. Customers can also add international talk, text, and data roaming to their plans starting at $10/day for a daily pass or $40 for a weekly pass. International add-on rates vary based on where a customer is traveling and where they need to call. Travel passes DO NOT include unlimited talk, text, or data.
Altice phones also use Suddenlink and Optimum WiFi hotspots for further expanded coverage. Subscribers should be able to automatically connect from LTE/5G networks to WiFi hotspots to get the strongest signal available at their given location.
Optimum Mobile's Phone Plans Come With Fine Print
Unfortunately, Optimum Mobile phone plans come with quite a deal of hidden and not so hidden fine print.
For starters, Optimum Mobile is advertising the $45 plan as an "unlimited GB" plan. But as detailed above, the plan only has 20GB of high-speed data. Most consumers in the know, including myself, would argue that unlimited GB means unlimited high-speed data. But Altice elected to take a lax approach here with the meaning of the word unlimited. Technically speaking, all plans do include unlimited data. Once each plan's monthly high-speed data allotment runs out, data speeds are reduced to 2G or about 128Kbps for the remainder of the customer's billing cycle. But at that speed, video streaming is just about impossible and loading websites will be extremely slow if they can even load at all.
Although the plans all support mobile hotspot, data speeds when a plan is being used for hotspot tethering are limited to a maximum of 600Kbps. Video streaming on all plans is also limited to a maximum resolution of 480p which should be about 1Mbps.
According to Optimum Mobile's terms of service, those on the 4G LTE network can expect data download speeds in the range of 4 to 47 Mbps and upload speeds of 1 to 20 Mbps. If a customer has 5G service, download data speeds can be expected to be in the range of 30 to 75 Mbps and upload speeds between 3 and 15 Mbps.
Unfortunately, Altice Mobile's phone plans are not available to everyone nationwide. Altice only serves subscribers in markets that are also serviced by either Suddenlink or Optimum cable. Less than two dozen states have access to those services including parts of New York, California, Texas, Ohio, New Jersey, Kentucky, Kansas, Nevada, and Oklahoma among several others. Altice Mobile doesn't really explain the location limitations on their website. However, once you pick a plan to begin the signup process, they'll let you know if you are eligible to subscribe or not.
Although Altice's phone plans are not available to everyone nationwide, service is available across the country. The primary network used for service is now T-Mobile. AT&T is used for roaming. Domestic data roaming is limited to 2G data speeds.
---
Supported Phones And BYOD Devices
Optimum Mobile supports a wide variety of phones.  Most unlocked phones will work on the network.  Optimum and Suddenlink customers will have the option to purchase a variety of phones paid in full or through device financing.  Financing options include zero-down, zero-interest, 36-month agreements.
---
Where To Buy Service Plans And SIM Cards
SIM cards and plan are available online through Altice Mobile and through Altice USA Optimum and Suddenlink stores.
---
Optimum Mobile Customer Service
Customer support is currently unavailable over the phone but is available in-store and through the Optimum Mobile website and Altice Mobile self care app.
---
Optimum Mobile Customer Reviews