Optimum Mobile Adds New 50GB "Unlimited Max" Plan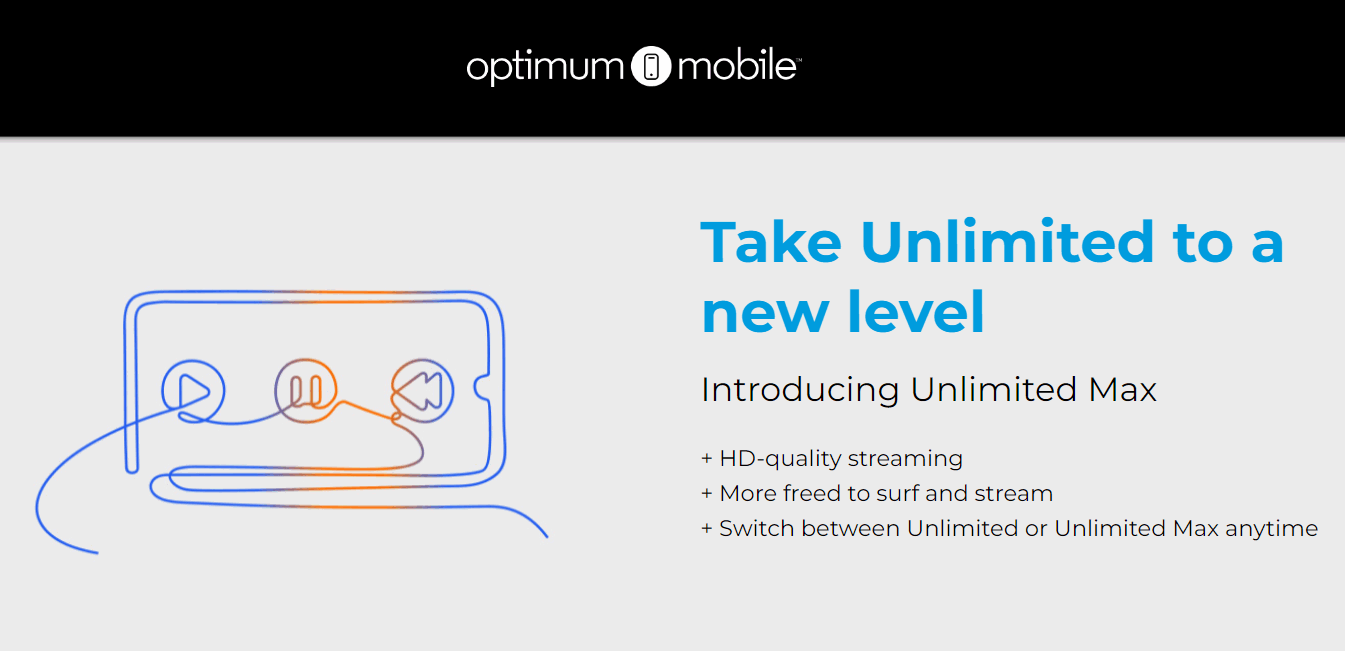 Optimum Mobile has added a new flagship wireless plan. The new plan is called "Unlimited Max," and it is yet another misleading titled plan on the market. The plan does not include unlimited high-speed data.
Like all other Optimum Mobile phone plans, it comes with a fixed amount of high-speed data. The Unlimited Max plan offers 50GB of monthly high-speed data at up to 5G data speeds. After that threshold is passed data speeds get slowed to 512Kbps for the remainder of the subscriber's billing cycle.
Unlimited Max is priced at $55/month for Optimum and Suddenlink Internet subscribers. Those who are not subscribed to either service will pay $70/month for the plan. It does come with multi-line discounts. Pricing for multiple lines is as follows (in parenthesis is the price subscribers will pay if they don't have Optimum/Suddenlink Internet):
2-lines - $80 ($110)
3-lines - $120 ($165)
4-lines - $160 ($220)
5-lines - $175 ($250)
Taxes and fees are extra. Autopay billing is required.
The plan does allow for hotspot usage. A total of 15GB of data can be used for hotspot before hotspot data speeds are throttled to 512Kbps for the remainder of a monthly billing cycle. Video streams at a resolution of 720p. Domestic roaming data is at 2G data speeds.
With the new Unlimited Max plan in place, Optimum Mobile now has a total of 4 wireless plans. Below, is a table summarizing the main differences between each plan.
List Of Optimum Mobile Phone Plans
1GB
3GB
Unlimited
Unlimited Max
Price 1-Line
$5*
$22
$45
$55
4G LTE/5G Data
1GB
3GB
20GB
50GB
Throttled Data
Speed
128Kbps
128Kbps
512Kbps
512Kbps
Add-On Data
$6/GB
$6/GB
NA
NA
Video Res.
480p
480p
480p
720p
Hotspot
1GB
3GB
5GB
15GB
Hotspot Speed
600Kbps
600Kbps
Slowed to 512Kbps
after 5GB
Slowed to 512Kbps
after 15GB
Pricing shown is for Optimum/Suddenlink Internet customers. Without being a subscriber to either service, 3GB plan is $10/month higher, and Unlimited plans are $15/mo higher.
*Price is for the first 12-months of service for new lines, then $14/month for Optimum/Suddenlink subscribers and $19/month for those who are not internet subscribers.
There is a $20 plus tax SIM Kit/activation fee.
Optimum Mobile provides service as a T-Mobile MVNO.
---
---