Walmart Family Mobile has launched a new plan that includes unlimited talk, text, and data with 10GB at 4G LTE speeds for $49.88/month.  The...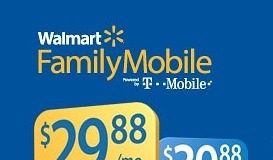 Walmart Family Mobile offers 3 cell phone plans that operate on the T-Mobile network.  Plans are priced at $24.88, $29.88 and $39.88.  Each...
      It seems lately that every day I have to add a new member to the cheapest cell phone plan list.  Hooray for the...