Walmart Family Mobile Recently Updated Plans, Unlimited Plan Now Has 30GB Mobile Hotspot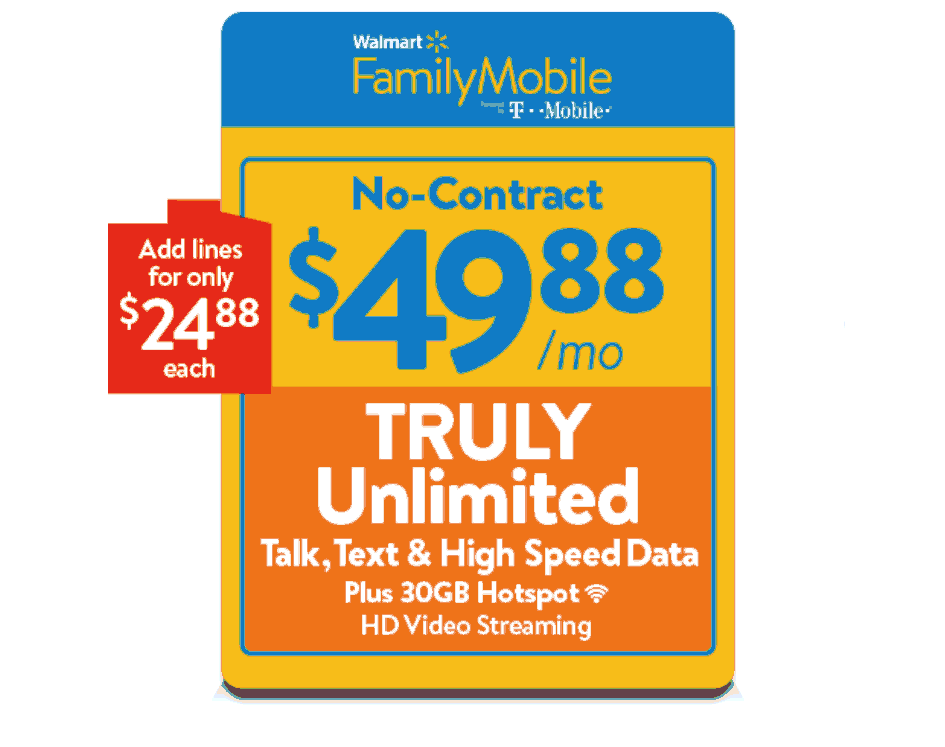 Walmart Family Mobile has made a few different changes to its phone plans over the last several weeks. Mil Hustles (@kingoftechdeals) just sent in a tip that Walmart Family Mobile's $49.88 unlimited plan now includes 30GB of mobile hotspot. The plan previously came with 10GB. Customers with two lines can get the plan for $74.76.
But that's not the only recent change at the Tracfone owned brand. Dennis Bournique of Prepaidcompare.net noted the $39.88 plan got a high-speed data bump in mid to late September increasing the allotment to 20GB. The plan previously came with 14GB of high-speed data. But the plan may have actually been downgraded in the hotspot department. I believe customers on the old plan could have used their entire high-speed data allotment for mobile hotspot if they chose to do so. However, hotspot is now limited to just 10GB. The updated plan is being featured on the Walmart Family Mobile website and it is also now available for purchase from Walmart online.
The two plan changes follow an earlier in the year change when Walmart updated its $29.88 plan to include 5GB of high-speed data up from 4GB.
Walmart Family Mobile's Updated Phone Plan Lineup Explained
Walmart's complete and updated full phone plan lineup is now structured as follows:
$24.88/month - 2GB high-speed data
$29.88/month - 5GB high-speed data
$39.88/month - 20GB high-speed data, 10GB can be used for mobile hotspot
$49.88/month - unlimited high-speed data, 30GB can be used for mobile hotspot, also possibly includes HD video streaming
All plans include unlimited talk and text, and unless stated otherwise, unlimited 2G data once the plans high-speed data allotment runs out. Customers can add up to 4 additional lines to any plan at a cost of $24.88 per line. Single line customers with autopay enabled can get up to a $2.50/month autopay discount. Taxes and fees cost extra.
Subscribers can add additional high-speed data to their plans billed at a rate of $9.88 per 1GB. A $10 international calling and roaming add-on is also available.
The $39.88 and $49.88 plans include unlimited calling to Mexico and Canada.
According to Walmart Family Mobile's terms of service, all plans by default will have video streaming limited to a resolution of 480p. The terms state that you can request to have the feature turned off by customer support. The $49.88 plan is being advertised in two different ways on the Walmart Family Mobile website. In one section it says video streams at DVD quality, but in another section it says HD. So it's not clear if this plan has a video streaming resolution limitation or not.
Also according to the terms of service, the $49.88 plan features always-on data prioritization with further deprioritization if a customer consumes more than 40GB of high-speed data during a billing cycle. Quoted directly from those terms:
"Walmart Family Mobile customers are de-prioritized as compared to T-Mobile customers, and if more than 40GB of data is used, Walmart Family Mobile customers will be further de-prioritized. Customers may not notice any reduction in speed if they are de-prioritized. However, during times of congestion, meaning when the network is experiencing high traffic volume, de-prioritization may result in slower data speeds. Once the high traffic volume is reduced, the data speed will be resumed at your normal speeds."
Editor's Take
Although not quite top of the barrel, Walmart Family Mobile's phone plans have always been competitively priced. The increased data allotment at the $39.88/month price point makes it one of the top values at that price for providers that use T-Mobile's network. Although there are some multi-month plan providers out there that offer better value to those willing to make a long-term commitment to a provider. Mint Mobile's latest annual plan offering includes 35GB of high-speed data for an average cost of $30/month.
Per Jeff Moore of Wave7 Research:
"What's intriguing about this change is the huge increase of hotspot data at the $49.88 price point from 10GB to 30GB. Straight Talk just launched a $65/month plan that provides 20GB of data. More hotspot is a trend."
---
---