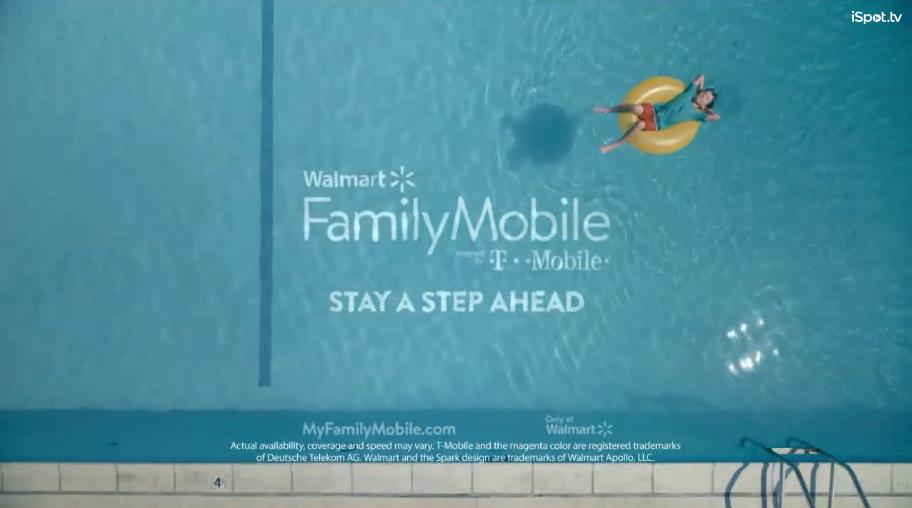 ---
Walmart Family Mobile has launched two new television commercials both featuring a new tagline for the brand, "stay a step ahead."  According to Wave7 Research, the ads began airing exclusively in Atlanta, Indianapolis, Oklahoma, and Salt Lake City on 9/9/19.  Despite airing only in a limited set of markets, this is the first time Walmart Family Mobile has aired any new television commercials since 2016.
Both of the ads highlight that Walmart Family Mobile runs on the T-Mobile network.  Full network disclosure is not always something that carriers allow their MVNO partners to divulge.
The ads also tout Walmart Family Mobile's $50 eGift card offer.  Customers who purchase a phone priced $49 or higher and a Walmart Family Mobile plan at the same time are eligible to receive the $50 Walmart eGift card.
Walmart Family Mobile's $49.88/month phone plan is also mentioned in the ads.  The plan comes with unlimited talk, text, and data with 5GB of mobile hotspot.
The first ad, which you can view below was filmed poolside.
The other ad viewable below,is based around a camping trip.
Walmart Family Mobile Promotions
Samsung Galaxy J2 Discount
In addition to the new ads, Walmart Family Mobile also has a couple of deals running.  The Samsung Galaxy J2 is now $59 online with the purchase of a $29.88 service plan.  The phone regularly sells for $99.  The $29.88 service plan includes unlimited talk, text, and data with the first 4GB of data each month at 4G LTE data speeds.  At article publication time, the phone was noted to be out of stock online.  I'm not sure if it will be made available again as Walmart Family Mobile may be trying to clear out inventory of the device to make room for some newer models.  The wireless provider may be gearing up to launch the Samsung Galaxy A20.  A device corresponding to that model is now listed in the support section of the Walmart Family Mobile website.  If the J2 deal does become available again online, you are probably better off going to your local Walmart store to pick it up.  @KingOfTechDeals observed in his local Walmart that the device is available for just $29.88 with in-store activation of a plan.  The offer cannot be combined with the $50 eGift card promo.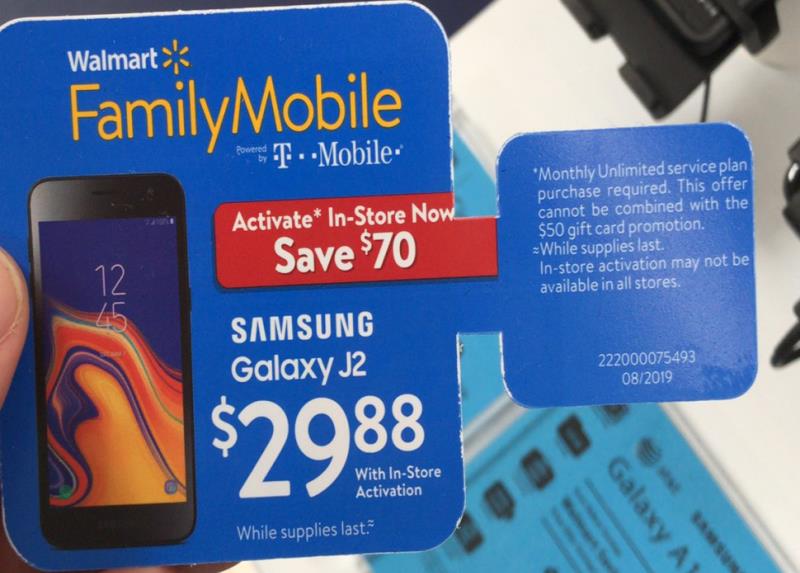 Samsung J3 Luna Pro BOGO Bundle
Walmart Family Mobile continues to offer a buy one get one promo on the Samsung Galaxy J3 Luna Pro.  The J3 Luna Pro normally sells for $79.99, however, customers who purchase two with a 2-line unlimited data plan can get their second one for free.  The 2-line service plan costs $74.76/month plus tax and gives each line unlimited talk, text, and LTE data with 5GB of mobile hotspot.  The total cost of the bundle deal is $149.99.  Like other unlimited LTE data plans on the market, there is a data prioritization policy in place with this plan.  Customers who consume more than 40GB of data in a month may have their data speeds temporarily slowed down during times of heavy network congestion.  Walmart does not specify if this offer can be combined with the $50 eGift card offer.
---
---