Walmart Drops Prices On Several Tracfone Inc Devices, Including Samsung Galaxy A10e For $99 On Total Wireless & Family Mobile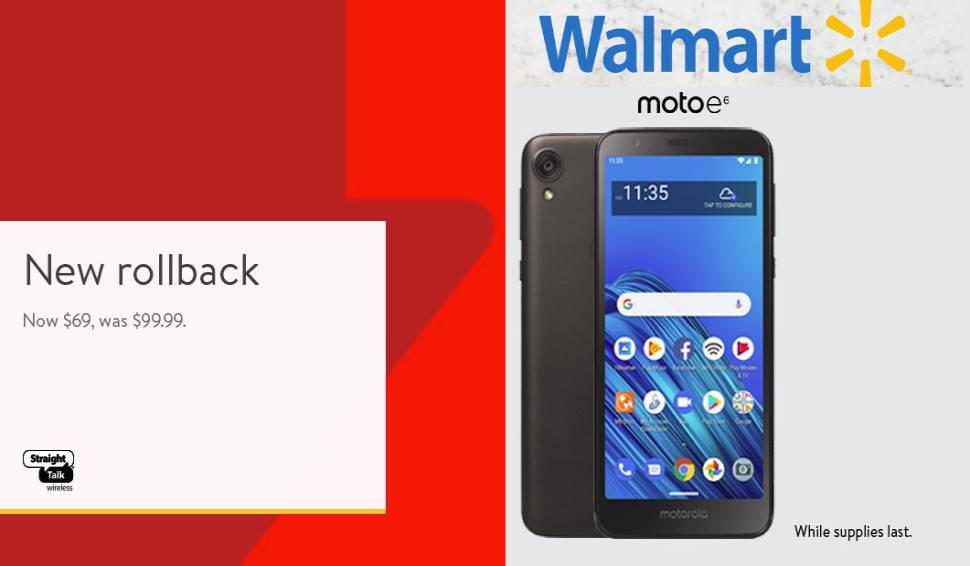 A few days removed from the holidays and only weeks away from the beginning of Tax Season, Walmart has started to slash prices on several devices on Tracfone Inc's subsidiaries Straight Talk, Total Wireless, Family Mobile, and Simple Mobile. The price changes took effect on 1/5/2020.  Some more device changes are expected soon.
New Pricing
Straight Talk
Galaxy A20 lowered to $179 from $229 (Only on StraightTalk.com)
LG Journey lowered to $49 from $99
LG Solo lowered to $69 from $99
LG Stylo 5 lowered to $129 from $199
Moto E6 lowered to $49 from $69
Walmart Family Mobile
LG Journey $49 from $79
Galaxy A10E $99 from $139
Total Wireless
Galaxy A20 $179 from $229 (Only on Totalwireless.com)
Galaxy A10e $99 from $139
LG Solo $69 from $99
Simple Mobile
The Galaxy A20 dropped in price from $229 to $179. This offer is only at the Straight Talk and Total Wireless websites. I expect these prices to reflect at WalMart's, as well as in-store in the very very near future.
The A10e is still $99 on Straight Talk. TracFone usually prices phones on Straight Talk & Total Wireless wireless equally. For some reason, recently, this has not been the case in particular for the Galaxy A10e until now. Family Mobile pricing is separate & Simple Mobile pricing is usually separate on most devices, but the A10e matches across-the-board this time around.
You can still pick up a Space Grey iPhone 6S for $99, and Space Grey 6S+ for $149 on Straight Talk & Total Wireless.  Family Mobile only has the Rose Gold 6S for $99 in-store. These were prices on Black Friday, which returned a few days after the holiday. Other excellent options are the Moto G7 Optimo ($99) & Moto G7 Optimo Maxx ($129). Both Optimo phones came out not long before the Moto E6. However, these devices are far superior to the Moto E6 in every...single...aspect!
Phone Specs
LG Solo LTE
USAGE TIME Talk time up to 12 Hrs
DISPLAY 5.7'' HD+ FullVision Display
STORAGE 16GB ROM - 2GB RAM
CAMERA 8MP Rear camera / 5AM front camera Wide-Angle
DIMENSIONS 6.02'' (H) x 2.83'' (W) x 0.32'' (D) inches
LG Journey
USAGE TIME Talk time up to 14 Hrs
DISPLAY 5.45'' HD+ FullVision Display
STORAGE Internal Memory 16 GB (8 GB usable)
CAMERA 8 MP Autofocus Rear Camera with Fast Catch
DIMENSIONS 5.78'' (H) x 2.81'' (W) x 0.32'' (D) inches
LG Stylo 5
USAGE TIME Talk time up to 21 Hrs
DISPLAY 6.2'' FullVision FHD+ (2160 x 1080)
STORAGE 3 GB RAM / 32 GB ROM
CAMERA Primary Camera is 13MP and secondary Camera 5MP
DIMENSIONS 6.33 x 3.09 x 0.34 inches
Moto E6
USAGE TIME Up to 12.8 days
DISPLAY 5.5'' HD+, 296 ppi, aspect ratio 18:9 (1440 x 720)
STORAGE 16GB 2GB RAM
CAMERA Rear camera 13 MP, f/2.0, 1/3.1'', PDAF. Front camera 5 MP, f/2.0, 1/5''
DIMENSIONS 149.7 x72.3 x 8.6 mm
Samsung Galaxy A10e
USAGE TIME up to 18.2 hours
DISPLAY Display 5.83'' HD+ 720 x 1560
STORAGE 2GB RAM - 32GB ROM
CAMERA 8MP main camera, 5MP front-facing camera
DIMENSIONS 5.8'' Screen Display
Samsung Galaxy A20
USAGE TIME up to 31 hours
DISPLAY 6.4'' HD+ Super AMOLED Display 720 x 1560
STORAGE 3GB RAM - 32GB ROM
CAMERA Dual 13MP main camera + 5MP Camera / 8MP Front Facing Camera
DIMENSIONS 6.24'' x 2.94'' x 0.31'' inches
The Fine Print
Walmart may restrict the number of devices you can purchase to 2.
Prices and offers may vary between Walmart.com, Walmart stores, as well as carrier websites.
All devices are locked to their respective networks.  One year of uninterrupted service is required to be eligible for device unlock to work on another network.
My Thoughts
I love what TracFone inc has been doing the last 6 months with its brands, specifically with their flurry of new devices, their prices, dozens of plan changes, and new features.
With Virgin Mobile ceasing operations, TracFone may be something to consider, should you choose not to stick around for the Boost Mobile migration.
Shop Tracfone Brands At Walmart
---
---