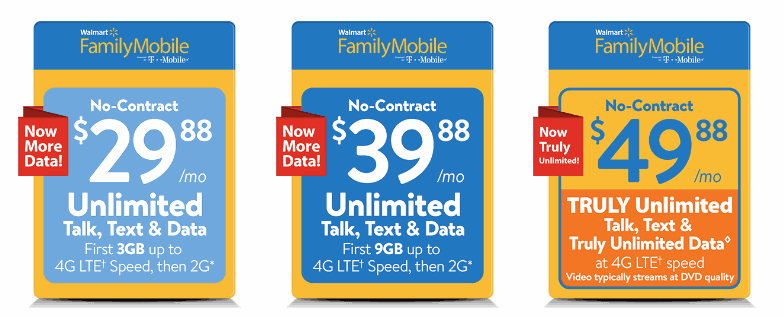 ---
Walmart Family Mobile has made some major changes to its cell phone plans as the MVNO industry continues to shift towards offering more data at lower prices.
The T-Mobile powered brand has increased the amount of high speed data included with its $39.88/month plan going from 6 GB of 4G LTE data to 9 GB before throttling to 2G speeds. The MVNO's $49.88/month plan got bumped up to unlimited high speed data whereas it previously contained 15 GB of LTE data before data throttling.
Be informed of the latest deals, plans and promotions from T-Mobile and every one of its MVNO's when you subscribe to the T-Mobile weekly newsletter. No spam and you can unsubscribe at any time!
Like all unlimited data plans, there is a data deprioritization policy in place. The Walmart Family Mobile website says that those who currently fall into the top 3% of data consumers in a month, will see their speeds temporarily reduced during times of heavy network traffic once they consume more than 32 GB of high speed data in a month.  For those of you that are T-Mobile fans, you will notice that this is the same policy that T-Mobile has long had in place.  Today however, T-Mobile increased the amount of high speed data included with its unlimited LTE data plan to 50 GB before the deprioritization policy gets applied.  It is not known at this time if other T-Mobile MVNO's will be allowed to have the same 50 GB threshold that T-Mobile does or if they'll have to keep a lower amount.  One possible clue as to what may happen is that T-Mobile owned MetroPCS now allows 35 GB of high speed data to be consumed before deprioritization, so perhaps that's the same number we'll soon see from Walmart Family Mobile and other T-Mobile MVNO's.
The changes made to Walmart Family Mobile's cell phone plans marks the 3rd time in 5 months that the brand has altered its plans to the benefit of the consumer.
Walmart Family Mobile is a TracFone owned wireless brand that operates on the T-Mobile network.  The company's cell phone plans do not include taxes and fees in their advertised prices and they do cost extra.  Mobile hotspot is prohibited.  Multi line discounts are available with each plan at a discounted rate of $5 off per line.
---
---