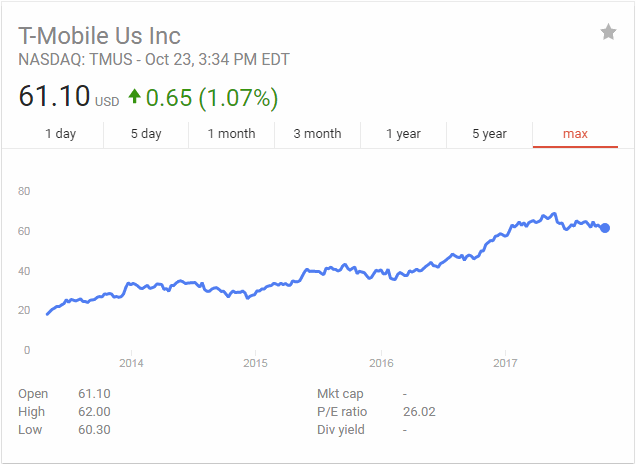 ---
T-Mobile has been on a tear.  Today's 3rd quarter earning's release marks the 18 straight time that T-Mobile has added over 1 million subscribers in a quarter.  That's a time span of 4.5 years.
Total subscriber additions came in at 1.33 million with 817,000 being postpaid, 226,000 prepaid, and 286,000 wholesale.  T-Mobile closed the quarter with 70.7 million subscribers. Postpaid churn, otherwise known as the customer turnover rate, decreased to 1.23% down 0.09% year over year.  Branded prepaid churn increased to 4.25% up 0.34% year over year primarily driven by MetroPCS.  T-Mobile cites increased competition in the market place as a factor in the prepaid churn rate increase.
Be informed of the latest deals, plans and promotions from T-Mobile and every one of its MVNO's when you subscribe to the T-Mobile weekly newsletter. No spam and you can unsubscribe at any time!
Big Magenta also reported an increase in year over year total revenue for the quarter which grew to $10 billion up from $9.3 billion in the prior years quarter.  Net income grew to $550 million, or 63 cents per share, up from $366 million or 42 cents a share the prior year.
Postpaid average revenue per user (ARPU) came in at $46.93.  This was down 2.5% compared to the prior year.  T-Mobile says that the change was driven by the continued adoption of T-Mobile ONE , dilution from promotional activities and negative hurricane related impacts of $0.19, partially offset by the impact of the MVNO transaction (( On September 1, 2016, T-Mobile sold the marketing and distribution rights to certain existing T-Mobile co-branded customers to a current Mobile Virtual Network Operators ("MVNO") partner for nominal consideration.  T-Mobile refers to this as the "MVNO Transaction". The partner is believed to be TracFone.  The MVNO Transaction shifted Branded postpaid revenues to Wholesale revenues, but did not materially impact total revenues.))  and Data Stash for the year-over-year period.  T-Mobile continues to expect that postpaid phone ARPU for the full year of 2017 will be generally stable compared to 2016's full year results.
Prepaid ARPU came in at a record high of $38.93.   This was up by 2.4% compared to the prior year, and was primarily driven by MetroPCS.
During quarter 3 of 2017, T-Mobile said it has continued to expand and improve its network by clearing and deploying its 600 MHz spectrum.  The company says that at least 10 MHz covering over 1.2 million square miles will be cleared and ready to deploy by the end of the year.  Currently, only one device, the LG V30 supports T-Mobile's 600 MHz spectrum, but the carrier did announce a second device to support the frequency is due out before the years end.
T-Mobile also plans to extend its overall network to cover 321 million Americans, up from its current level of 315 million.
Editor's Take
T-Mobile's growth over the past several years has certainly been something to marvel at.  For instance in Q3 of 2013, the carrier had just 45 million customers.  At 70.7 million subscribers today, that's an increase of nearly 1.6 fold over 4 years.  Total revenue of $10 billion represents an increase of nearly 33% compared to 2013 when revenues came in at $6.7 billion.   EBIDTA came in at a record $2.8 billion for the quarter.  This was more than double the 2013 result of $1.344 billion.
All this has led T-Mobile's stock price to more than double over the past 4 years and its market cap to nearly triple.
Despite T-Mobile's success over the past several years, rumors persist that the carrier is close to completing terms of a merger with Sprint.  Both carriers claim that a merger is needed to help them to better compete against AT&T and Verizon, but I'm not so sure about this.  A merger would likely lead to higher prices for everyone, and T-Mobile seems to be doing just fine on its own.
---
---