---
FreedomPop announced today that it will be firing up a new MVNO brand called Unreal Mobile.  The idea behind Unreal Mobile is to give FreedomPop a premium brand that can compete against T-Mobile and Sprint.  The new brand will offer unlimited data plans starting at $15/month.
Unreal Mobile Service And Plan Details
FreedomPop has not released many details about its new brand.  A representative of the company told Android Authority that the $15 plan will include 2GB of high speed data with unlimited throttled 2G data thereafter. The plan will also come with data rollover and users will be able to throttle themselves if they want to save their high speed data for when they really need it.  If the brand really means it that they want to compete against T-Mobile and Sprint, I think we will also see an unlimited LTE data plan announced at a later date.
Be informed of the latest deals, plans and promotions from AT&T and every one of its MVNO's when you subscribe to the AT&T weekly newsletter. No spam and you can unsubscribe at any time!
Unreal Mobile subscribers will have access to over 50 VPN's and ad blocking.  Both features are similar to what FreedomPop currently offers although FreedomPop charges its customers a premium to use them.
One feature that may separate FreedomPop from Unreal Mobile is that Unreal Mobile is said to offer voice services over a cellular network, whereas FreedomPop relies on VoIP to provide that service.  Unreal Mobile will still leverage the power of VoIP and number virtualization to allow its customers to place calls on their tablets, PC's and other secondary devices.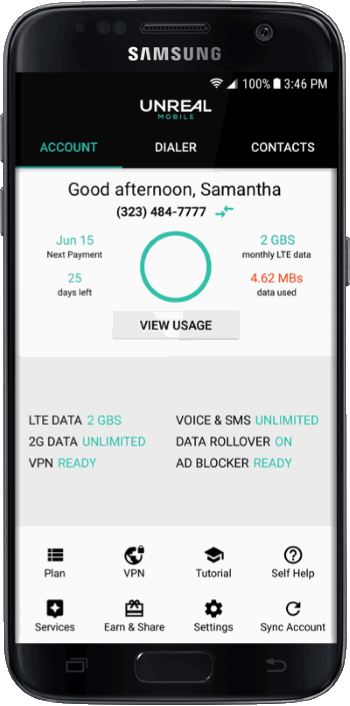 Why Launch A Secondary MVNO?
One MVNO launching another is nothing new.  Ultra Mobile did it when it launched it's successful Mint Mobile brand. Red Pocket Mobile has its Mango Mobile brand. Sometimes we see established brands do this to expand their reach and target new markets.  In the case of Mint Mobile, it seems to have been done to target a new market niche where subscribers pay for several months of service in advance.
The creation of Unreal Mobile is a direct result of the pending Sprint and T-Mobile merger.
"A year ago, there was no way Sprint would have allowed us to offer Unreal.....Today however, their hands are tied, as Sprint and T-Mobile are held up in regulatory approvals contingent on their ability to demonstrate that competition won't suffer. Given that FreedomPop's platform is enabling large companies like Dish to launch new MVNO brands in months, we decided to use it for our own purposes." -Mauricio Sastre, FreedomPop's SVP of strategy and carrier relations
At this time it is uncertain as to which network or networks that Unreal Mobile will operate on.  FreedomPop operates on both the Sprint and AT&T networks, however as of late the company has been making a hard marketing push to sell its AT&T based services. Given Maurico Sastre's comments, it would seem that at the very least, Sprint will be a network partner for Unreal Mobile.
Unreal Mobile will officially launch early this summer.  It is the 4th new MVNO or prepaid wireless provider to launch this year.  Interested persons can sign up for a beta service invite through the Unreal Mobile website.
---
---