Deals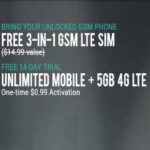 UNREAL Mobile
Get a 14 day free trial with unlimited talk, text and 5GB of data at LTE data speeds
UNREAL Mobile Phone Plans
---
advertisement
---
Things To Know About UNREAL Mobile
UNREAL Mobile At A Glance
Logo:
Year Founded:
2018
Networks Used:
AT&T, Sprint
LTE Bands Used:
2,
4,
5,
12,
14,
17,
29,
30,
66,
25,
26,
41,
Support For BYOD:
Yes
Sells Phones:
Yes
All Taxes And Fees Included In Price?
No
Online Payment Options:
Credit Cards, Debit Cards, PayPal
Overview
UNREAL Mobile is an MVNO that operates on the Sprint network.  The company was launched in early 2018 by FreedomPop.  It was designed with the idea of being a more premium product that could still offer budget pricing.
Unlike FreedomPop, if used on the Sprint network UNREAL Mobile does not rely on VoIP for phone calls.  Subscribers get access to Sprint's full cellular voice network.  However VoIP can be used as a fallback when Sprint's cellular voice network is unavailable or the signal is unreliable.  An app is available that will allow the service to work using VoIP on tablets and other devices while connected to a data network such as WiFi.   Text messaging is also available through the app.  VoLTE was unavailable at launch.
If UNREAL Mobile is being used on the AT&T network, an app is required for phone calls and text messages.  Plans on the AT&T network require VoIP for phone calls.
UNREAL Mobile's phone plans include unlimited everything, with data speeds reduced to 2G data speeds once the plans high speed data allotment gets used up.  Mobile hotspot is not allowed at this time on either network.
All of UNREAL Mobile's plans include a VPN, ad blocker, data saver and data rollover.  The VPN is used to encrypt and make your connection to the internet private.  It protects your phone calls, text messages and data from being accessed by unwanted eyes.  The ad blocker is used to block ads from showing up on web pages and in some mobile applications.  Data saver is likely used to compress and save data while you access the internet.  Data rollover allows left over data that a subscriber may have in their account at the end of a billing cycle to be carried over for usage in their next billing cycle.  A maximum of 500MB of data can be rolled over each month.
Where To Buy Service Plans And SIM Cards
Plans and SIM cards must be purchased directly from
UNREAL Mobile
.
Supported Phones And Devices
UNREAL Mobile sells a very small selection of phones.  Most are several generations old and include manufacturer's such as Samsung and Apple.
Bring your own device is fully supported.  Phones that are compatible with the Sprint network or AT&T will work fine on UNREAL Mobile as long as the device is out of contract and paid off in full.  Some universally unlocked phones from Apple, Motorola and Samsung are also compatible.  T-Mobile unlocked phones will also be compatible with UNREAL Mobile's GSM based plans.
Customer Support
Customer support is available by way of ticket submission or through social media.