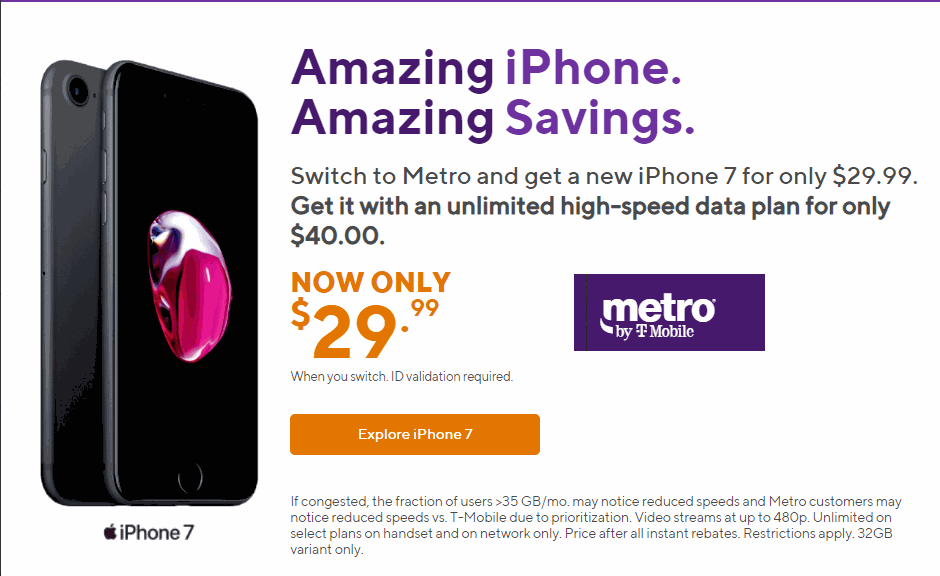 ---
---
The iPhone SE generation 2 is launching everywhere, but that doesn't mean you can't find a good deal on an older iPhone flagship.  Metro By-T-Mobile is now offering the iPhone 7 for $29.99, to bring it in line with the price Boost Mobile has it for.
T-Mobile gained temporary ownership of Boost Mobile when the T-Mobile Sprint merger completed on April 1st but is due to turn the brand over to the DISH Network in the near future.  In the meantime, T-Mobile has been working to converge the offerings available between the two brands.  Besides now having the same price on the iPhone 7, T-Mobile recently launched a $15 plan on Boost to match what is offered at Metro, and Boost Mobile is set to gain access to T-Mobile's network.
$29.99 Metro By-T-Mobile iPhone 7 Offer Details
Earlier this week Metro By-T-Mobile brought back online device sales.  However, it does appear that Metro will continue to offer its best deals in-store only, just like at Boost Mobile.  Metro's new $29.99 iPhone 7 offer is one such deal that is only available in stores.  The prepaid provider is currently marketing the plan by telling consumers they can "get it with an unlimited high-speed data plan for only $40/month."
This offer is only available to new customers who port-in and switch to Metro.  A valid ID will be required at the time of purchase. The $29.99 price tag is for the 32GB model of the phone only.  Taxes cost extra and will likely be based on the phone's regular retail price which is $399.99.  A $15 activation fee will also be charged.
Metro has offered the iPhone 7 at different price points over the past few months.  Back in February, it was available for $49.99.  The price was later raised to $99.99 before dropping to the current and perhaps all-time low price of $29.99.
---
---
---
---