Dish Now Owns Boost Mobile, And Wireless Plan Changes Are Being Made
July 1, 2020, is the day that Boost Mobile was officially acquired by the DISH Network for $1.4 billion. T-Mobile was required to divest Boost Mobile in order to gain regulatory approval to merge with Sprint. The merger completed April 1, and according to an SEC document filing T-Mobile was required to offload Boost within 90 days of the merger's completion. T-Mobile and DISH opted to use the entire 90 days before finalizing the Boost Mobile sale.
DISH's chairman, Charlie Ergen, has long vowed that once it acquired Boost Mobile it would be able to compete with the largest carriers in the country and that it would be competitive from day one. But is it?
Out of the gate, a change for the worse has been made to Boost's Quality of Service policy on its unlimited data plans. Customer's who use more than 35GB of data in a billing cycle may have their data speeds either deprioritized or reduced to 2G speeds for the remainder of their billing cycle. Under the previous policy, data speeds were only deprioritized once the 35GB threshold was reached. However, there was never any 2G data throttling for the remainder of the customer's billing cycle. This change is immediate for all new customers and current customers that upgrade their handsets. Starting on July 18, all other customers will be subjected to the new policy. The policy change was actually first displayed on Boost's website just a few weeks ago.
There's also a new logo that effectively merges DISH's logo with Boost Mobile's. The new and old logos are pictured below.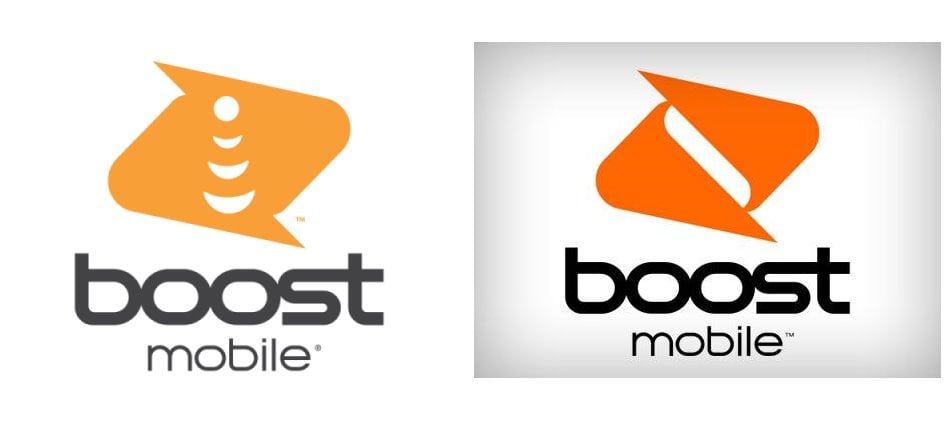 Starting on July 2nd, Boost Mobile will also have some new wireless plans. Let's go over them and see how they compare to the rest of the market and if they live up to Charlie's promise.
Boost Mobile's New $hrink-It Plan Details
Boost Mobile's updated wireless plans will effectively be a blast from the past. The brand is bringing back $hrink-It! which will reward customers by allowing them to pay less for their wireless plan the longer they stay subscribed to it. Boost's tagline for the plan is "the longer you stay, the less you pay." A similar price reward policy was offered by Boost from late 2010 through July 2014. Interestingly, Verizon Prepaid recently implemented its own loyalty discount program.
Boost Mobile's $hrink-It! plan will start out priced at $45/month. It will come with unlimited everything and the first 15GB of data each month will be at up to 5G data speeds. The plan will also allow for hotspot usage and up to 50 minutes of domestic roaming. Domestic roaming will only be available on select phones. The plan is open to new customers on Boost's Expanded Data Network. After a customer makes three on-time payments, the price of the plan will drop down to $40/month. After 6 on-time payments, the plan's price will drop down to $35/month. This is a bit better than Verizon's implementation where customers will have to stay subscribed for 9 months before the full discounts kick in. The new $hrink-It! plan will be for single lines only, and cannot be combined with any other plan. It will however allow for promotional pricing on handsets with the exception of BOGO promos or add a line handset promos.
In addition to the $hrink it plan, Boost is also increasing the amount of data included with its $35 plan. Customers on the plan will now get 10GB of high-speed data, up from its current allotment of 3GB (or 6GB if purchased at Walmart). It is not yet known if Boost and Walmart will continue their double data for life promotional offer with the plan update. Data is hard-capped on the plan, a notable change from its current offering.
Taxes and fees are included with all prices.
Dealer Only $hrink-It Plan Golden Ticket Promotional Offer
In addition to the new plans, BestMVNO has learned that Boost Mobile will also be launching a dealer only "Golden Ticket" promo. The promo will only be available through dealers that use the ePay WebPos platform and only to subscribers that signup using Boost's Extended Data Network which represents the T-Mobile network.
Customers with a Golden Ticket that switch to Boost Mobile from another carrier will not have to wait 6 months to get the maximum discount on the $hrink-It! plan. The plan will be discounted to $35 after the subscriber's 2nd month of service. The offer is available to any customer that ports-in through a qualifying dealer. Customers porting from Sprint MVNOs are not eligible for the offer, but those coming directly from Sprint are eligible. The promo is scheduled to be available until 7/31/2020.
This isn't the first time Boost Mobile has run a dealer exclusive "Golden Ticket" offer. Golden Ticket offers that gave subscribers $10 off their plan for life to switchers were frequently made available through dealers last year.
It's not 100% clear how potential customers will be able to get a Golden Ticket under the new promotion. But under previous offers, they were handed out near competitor brand stores. It's possible they may also be found online.
Editor's Take
Noticeably missing from DISH's press release today about its Boost Mobile takeover and upcoming offerings are mention of family and unlimited plans. It seems under DISH, Boost may be putting less of an emphasis on those particular plans. Still, industry analyst Jeff Moore, Principal of Wave7 Research believes the plans will allow Boost to win over more customers that don't require unlimited data.
"On balance, Boost is more competitive than before. There will be less emphasis on unlimited data, but the $35/month plan will now provide 10GB versus 3GB previously, while the 15GB plan that starts at $45/month will shrink to a price tag of only $35/month after six months. Boost has an opportunity to win more customers with moderate data usage patterns. Also, there will be more emphasis on BYO, now that Boost has access to T-Mobile's network." - Jeff Moore
The fact that Boost will now place more of an emphasis on bring your own device (BYO) will most certainly help the brand win over more customers that wouldn't have been able to subscribe otherwise. The 15GB of data for $35 $hrink-It! plan puts the brand more in line with some of the top offers at that price point from competing brands such as H2O Wireless, Altice Mobile, and Hello Mobile. It is still not best in class pricing though as both Hello Mobile and Altice Mobile offer cheaper plans with at least 15GB of high-speed data priced at $25 and $30 respectively. And of course, Boost Mobile subscribers will have to stay with the brand for a few months before they can even get that $35 for 15GB of data price.
---
---