Boom Mobile Updates Phone Plans, Get Unlimited Talk And Text With 2GB Data For $26.99
Boom Mobile has updated its wireless plans.  The MVNO powered by Verizon has lowered its prices and improved the service allotments included with its plans. The BestMVNO featured pick includes unlimited talk and text with 2GB of hard capped data for $26.99.  The plan was previously offered for $29.99.
This is the second time that Boom Mobile has updated its wireless plans since May when the MVNO opted to discontinue its Sprint based plans.  At that time, Jeff Holley, the company's founder said he expected to have new plans launched on the AT&T network within 30 days.  Those new plans were delayed.  Boom Mobile just released them today alongside the newly updated "RED" plans.  Boom Mobile has labeled the plans RED to designate that they are powered by the Verizon network, while the new AT&T based plans are designated "BLUE".
Boom Mobile's Plan Changes Highlighted
All but one of Boom Mobile's RED plans have been updated.  Below is a comparison of the new Red plans to their previous counterparts.
All plans now include unlimited text messaging.  Data is hard-capped.
Boom! RED Plans
$12.99/month - 250 minutes, 250MB data.  Previously offered 250 minutes, 250 texts, 250MB data for $14.99.
$14.99/month - 500 minutes, 250MB data.  Previously priced at $16.99.
$16.99/month - 1,000 minutes, 250MB data.  Previously priced at $19.99.
$17.99/month - 1,500 minutes, 250MB data.  Previously included 1,500 minutes and 500MB data for $19.99.
$21.99/month - unlimited talk, 1GB data.  Previously priced at $24.99.
$26.99/month - unlimited talk, 2GB data.  Previously priced at $29.99.
$35.99/month - unlimited talk, 4GB data.  Previously included 3GB data priced at $34.99.
$39.99/month - unlimited talk, 7GB data.  Previously included 5GB of data for $39.99.
$49.99/month - unlimited talk, 10GB data.  No changes.
$59.99/month - unlimited talk, 20GB data.  Previously priced at $69.99.
(Update - a reader has pointed out that Boom is now charging a $2.99 regulatory fee for all plans.  Previously the fee was included in the price Boom Mobile listed for its plans.  Taking that into account, some plans are still priced the same as they were before, while others have been improved.)
The boom! RED plans continue to include HD Voice and visual voicemail.  CDMA-Less provisioning is now supported.
In addition to the updated RED plans, Boom Mobile is also offering a new bundle deal.  Customers can purchase a Motorola E4 and two months of service featuring unlimited talk and text with 5GB of monthly LTE data for $99.99. Once the two months of service is up, subscribers can signup for one of the MVNO's new wireless plans.
In the third quarter of 2019, Boom plans to update its RED plans again to include family share options.
Boom! BLUE Plans
$20/month - unlimited talk and text with 100MB of data for basic phones
$24.99/month - unlimited talk and text with 1GB of hard capped data for smartphones
$67.98/month - unlimited talk, text, and LTE data for smartphones
All boom! BLUE plans include talk, text, and data usage while traveling in either Mexico or Canada and free domestic roaming at no extra charge.  The two smartphone plans also include WiFi calling, HD Voice, hotspot, and visual voicemail on both iPhones and Androids.  Unlimited texting to over 190 countries is included with all plans.  Video streams are limited to a maximum resolution of 480p.  For those on the unlimited data plan, there is a data prioritization policy in place.  Customers who use more than 22GB of data in a month may have their data speeds temporarily slowed during times of heavy network congestion.  A maximum of 10GB of data can be used for mobile hotspot.  Good news for iPhone owners, MMS text messaging is supported with the plans.  Several ATT MVNOs do not offer that basic feature due to Apple's policies.
"We're doubling down on new wireless plans that offer affordable, yet flexible family and business rates for the customers who shouldn't need to compromise the importance of staying connected," said Jeff Holley, Founder and CEO of boom! Mobile. "The addition of these plans positions boom! Mobile to address demand in specific niche-market verticals for new and existing members of boom! RED and boom! BLUE."
Boom Mobile also announced today that its customers will receive exclusive access to the "world's first micro-smartphone," the Smart Kee.  The Smart Kee is a palm-sized device that is water and drop resistant.  The company behind the device is marketing it for kids and those that want to be connected with an active lifestyle.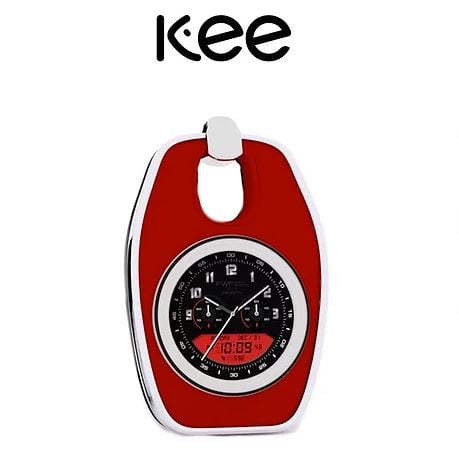 Editor's Take
Boom Mobile's RED plan updates follow those of other providers on the Verizon network.  Earlier this year Straight Talk Wireless updated its plans multiple times in a very short span. Total Wireless also updated its plans to include more data while Pix Wireless launched some very affordable plans on the network.
When Boom Mobile first launched several years ago, the company offered some of the best pricing around on the Verizon network.  Boom Mobile was also quick to gain favor with Verizon as Verizon allowed it to become its first MVNO partner to offer HD Voice calling.  Since then the landscape of the industry has changed dramatically.  Wireless providers have found more ways to offer value to their customers while also maintaining their own viability in a very competitive market.  Some MVNOs have focused on offering multi-month plans to compete while others have offered promos such as bonus data for life to new subscribers. While Boom Mobile may no longer be the cheapest Verizon powered provider around, it still innovates and competes favorably in the marketplace.  Boom Mobile is the only wireless provider that allows its subscribers to trade-in old gift cards from stores such as Best Buy to pay for their phone bill.  The company's founder, Jeff Holley, is also known to actively participate and answer subscriber questions in online forums such as Howard Forums.  Holley's commitment to the brand and its customers is what has likely allowed Boom Mobile to stay in business for the past 4 years, a time frame that can sometimes be considered an eternity in this marketplace.
---
---