In this guide, I will explain everything you need to know about Boom! Mobile before you subscribe. I want you to learn the ins and outs of Boom! Mobile so that you can make an informed decision on if this is the best place for you to spend your hard earned cash.
Boom! Mobile Deals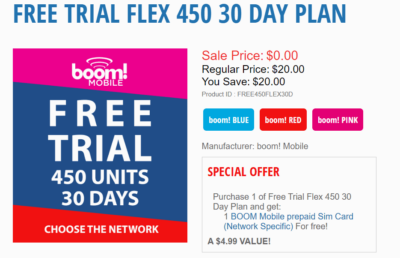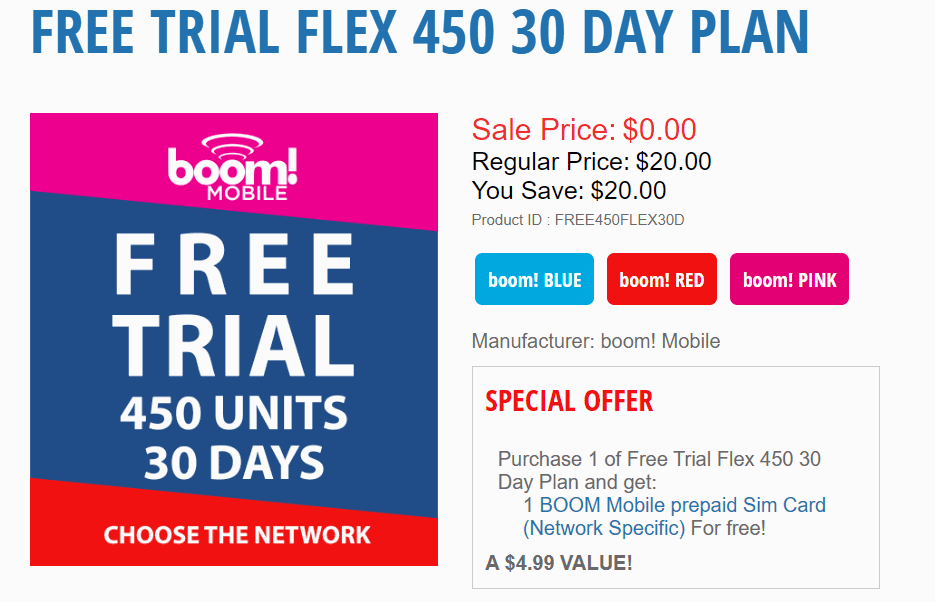 Boom Mobile Free Trial Plan
Get a 30-day free trial plan that includes up to 450 minutes, text messages and/or MB of data. On your choice of the AT&T, T-Mobile or Verizon networks.
Here's Everything You Should Know Before Subscribing
---
Boom! Mobile At A Glance
Logo:
Year Founded:
2015
Networks Used:
AT&T, Verizon
LTE Bands Used:
2
4
5
12
14
17
29
30
66
2
4
13
5G Bands Used:
n5 (850MHz)
n260 (39GHz)
n261 (28GHz)
n260 (39GHz)
Support For BYOD:
Yes
Sells Phones:
Yes
All Taxes And Fees Included In Price?
Yes
Online Payment Options:
Credit Cards, PayGarden
---
Overview
Boom! Mobile is a provider of contract free cell phone plans that run on the following networks: AT&T, and Verizon.
Boom! Mobile launched service in 2015 and the wireless provider is run and backed by the Enhanced Communications Group (ECG).  ECG is an Oklahoma based independent nationwide provider of telecommunications services for personal, residential, and small to medium sized businesses and the company is approaching its 20th year in business.
Boom! Mobile aims to provide its subscribers with an easy to understand phone bill through transparent pricing, and a good customer support experience through the utilization of a USA support based customer support system.
---
advertisement
---
Boom! Mobile Pay As You Go Plans
---
Supported Phones And BYOD Devices
Any phone that is compatible with AT&T or Verizon will be compatible with Boom Mobile.  The phones must be out of contract and paid off in full before use on the network.  Most universally unlocked phones from manufacturer's such as Motorola and Samsung are compatible with the network.
Where To Buy Service Plans And SIM Cards
Boom! Mobile does not maintain a retail presence at this time, and signing up with this MVNO must be done through the company's website.
Customer Support
Customer support is available by online chat with the following hours:
Monday – Friday : 8AM – 8 PM CST
Saturdays: 10AM -6PM CST
Sundays: Closed
Customer support is also available over the phone, social media and through an online contact form.
---
How To Port Out
Porting out will require you to have your account number and PIN number. Both your account number and PIN number can be found by logging into your Boom! Mobile account. Your account number is the same as your customer number and it is located in your account dashboard under the "Contact Info" heading. You'll find your pin number in the same place.
---