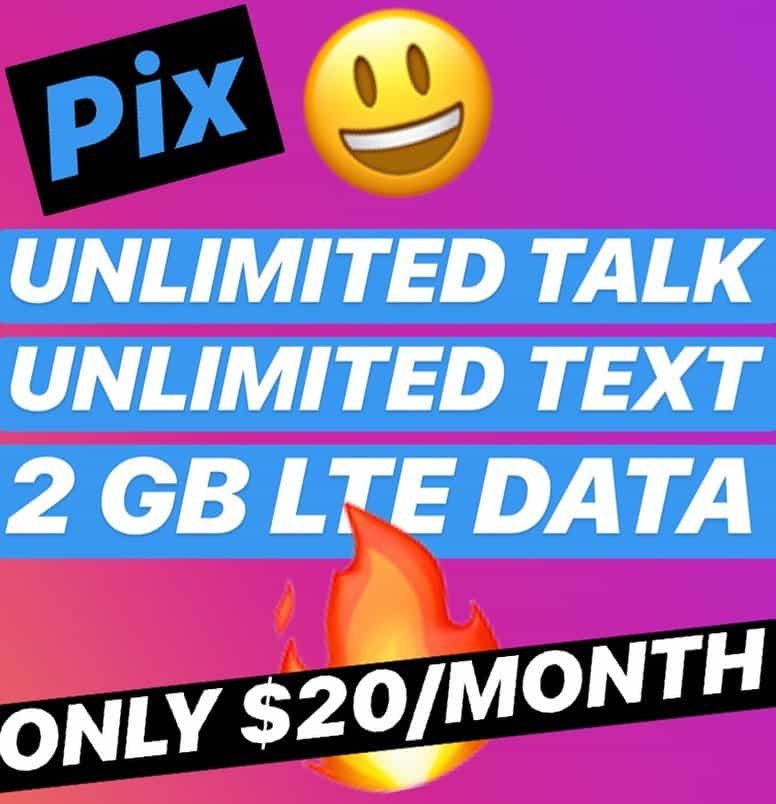 ---
Pix Wireless has updated its wireless plans.  The prepaid provider is now offering MVNO plans on both the Sprint and America's largest LTE network with pricing the same on both networks.  While Pix Wireless does not disclose who "America's largest LTE network" is on their website, from their coverage map and tagline verbiage it appears to be on the Verizon network.  Those network plans are competitively priced and feature an unlimited everything plan with the first 2GB of data at LTE speeds for just $20/month.  The plans look like they were launched around November 19th, 2018.  In addition to the updated plans, Pix Wireless is also readying the launch of a health service called PixHealth.
Pix Wireless Updated Plans Explained
All of Pix Wireless's updated phone plans come with unlimited talk, text, and data with the specified amount of data at 4G LTE data speeds.  The plans do not include mobile hotspot.  There are no additional costs for taxes and fees.  Pricing is all-inclusive.   With those details out of the way, here is what Pix Wireless is now offering:
$15/month - 500MB 4G LTE data
$20/month - 2GB 4G LTE data
$30/month - 4GB 4G LTE data
$40/month - 7GB 4G LTE data
$55/month - 12GB 4G LTE data
You have your choice of networks to choose from at signup.  Pix Wireless has designated its "Pix Silver" plans to represent "America's largest LTE network" which is likely Verizon.  WiFi calling and texting work on that network, as does VoLTE HD Voice calling as long as your phone supports it.  Its "Pix Yellow" plans represent the Sprint network.
If you don't want to pay several months in advance for a multi-month plan from a provider such as Red Pocket Mobile, Pix Wireless's Pix Silver plans represent the best value around for a pay by the month plan on the Verizon network.  I currently cannot find a pay by the month plan on the Verizon network that comes with more than the 2GB of data at the $20 price point that Pix Wireless sells.
UPDATE: Pix Wireless has supplied BestMVNO readers with the coupon code B0NYY0M71WA7.  The coupon code will get the first 20 BestMVNO readers that use it, 50% off the price of a Silver SIM.  The Silver SIM normally retails for $11.99 but through this special offer it will be available for $5.99.
PixHealth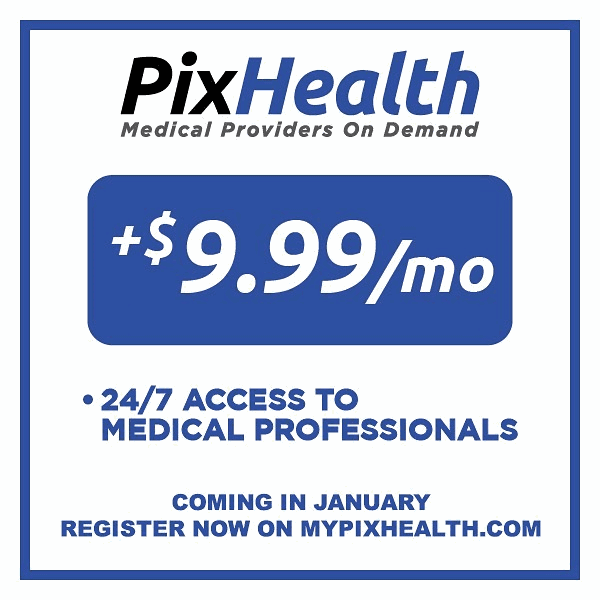 PixHealth is advertised as being able to "help you start feeling better no matter where you are or what time of day it is" for $9.99/month.  Access to health care is made available to subscribers 24/7.
Subscribers to the service will be able to receive medical care by smartphone, tablet, computer, telephone or app within minutes of requesting care.  PixHealth will connect you to a board certified and licensed practitioner in your state.  You will be able to consult with a therapist, nurse practitioner or doctor.  PixHealth says that it can provide you with "an accurate diagnosis, personalized treatment plan" that can help you to "get better faster without ever going to a doctors office."
Introductory pricing for the new telemedicine platform is 99¢ for the first month before it reverts to its regular price of $9.99/month.  The PixHelath website is up and running although if you try to signup for it, you will be greeted with a message that says the service is still under development.  However, you can still request to be notified as soon as the service becomes available.
This isn't the first time we've seen a wireless provider try and branch out and expand its revenue streams outside of the industry.  The somewhat now defunct ROK Mobile did it when it offered telemedicine, accidental death insurance and other oddities like cremation services with its phone plans.  Even major wireless carriers aren't immune to seeking new revenue streams outside of traditional means.  T-Mobile recently launched a banking service. 
If you want to know more about PixHealth, you can find out at https://www.mypixhealth.com/.
---
---