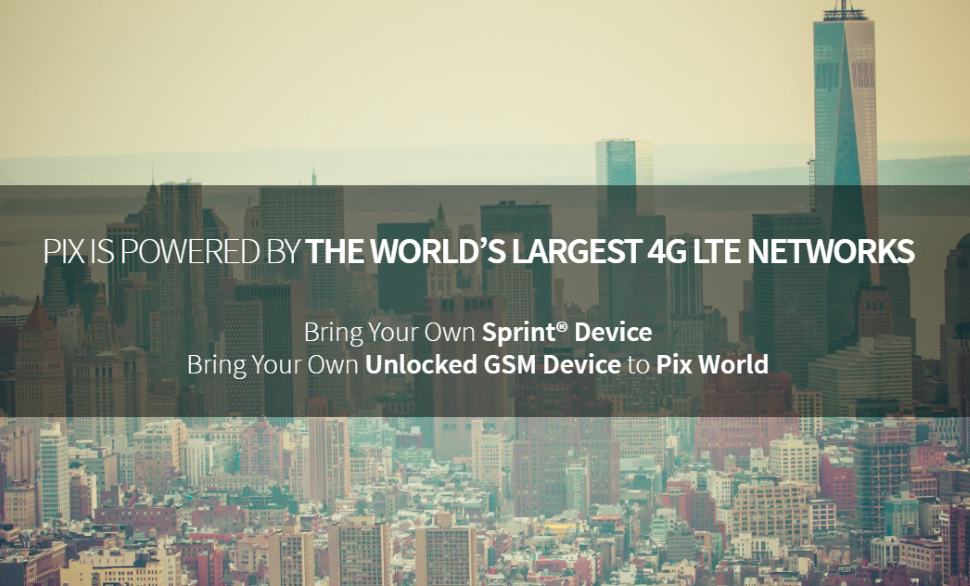 Deals
Sorry, BestMVNO could not find any deals from Pix Wireless at this time


Pix Wireless Cell Phone Plans
Provider
Talk
Text
Data
Price
Unlimited
Unlimited
500 MB
$25
Unlimited
Unlimited
2 GB
$30
Unlimited
Unlimited
4 GB
$40
Unlimited
Unlimited
7 GB
$50
Unlimited
Unlimited
12 GB
$70
---
advertisement
---
Pix Wireless Pay As You Go Plans
---
Things To Know About Pix Wireless
Overview
PIX Wireless launched in 2015 as a Sprint MVNO.  A year later it added AT&T as a network partner.  Today Pix Wireless is focused on two market niches.  One product line, Pix Wireless CDMAS is aimed at the traditional MVNO market and customer base and is served on the Sprint network.  The other product line, Pix World GSM targets world travelers.  Domestically it's serves customers on the AT&T and T-Mobile networks.  Worldwide it has over 190 partners and also includes coverage on cruise ships.  Pix World does charge for international coverage by the minute, text and MB of data.
Where To Buy Service Plans And SIM Cards
Service and SIM cards can only be purchased directly from the Pix Wireless website.
Supported Phones And Devices
Pix Wireless supports bring your own device.  Any phone that is compatible with Sprint will also work on Pix Wireless, as long as it is out of contract and paid off in full.  Pix World GSM will require a phone that is compatible with either the AT&T or T-Mobile network.  It must be out of contract and paid off in full.  Most universally unlocked phones from manufacturer's such as Motorola and Samsung should be compatible with both Pix Wireless CDMAS and Pix World.
If you don't already have your own phone, Pix Wireless carries a selection of devices from Apple, Samsung, LG and more for use with its CDMAS network plans.  Unlocked devices are also sold that are compatible with Pix World GSM.
Customer Support
Customer support is available through email, online chat and Facebook messenger.  No support hours are listed on the MVNO's website.
Company Highlights
Logo:
Year Founded:
2015
Networks Used:
AT&T, Sprint, T-Mobile
LTE Bands Used:
2,
4,
5,
12,
14,
17,
29,
30,
66,
2,
4,
5,
12,
66,
71,
25,
26,
41,
Support For BYOD:
Yes
Sells Phones:
Yes
All Taxes And Fees Included In Price?
No
Contact Information
Website:
https://www.pixwireless.com/
Phone Number:
1-866-205-9513
Address/Headquarters:
Miami, Florida
Social Media Accounts
Facebook
Instagram
Twitter
Google+