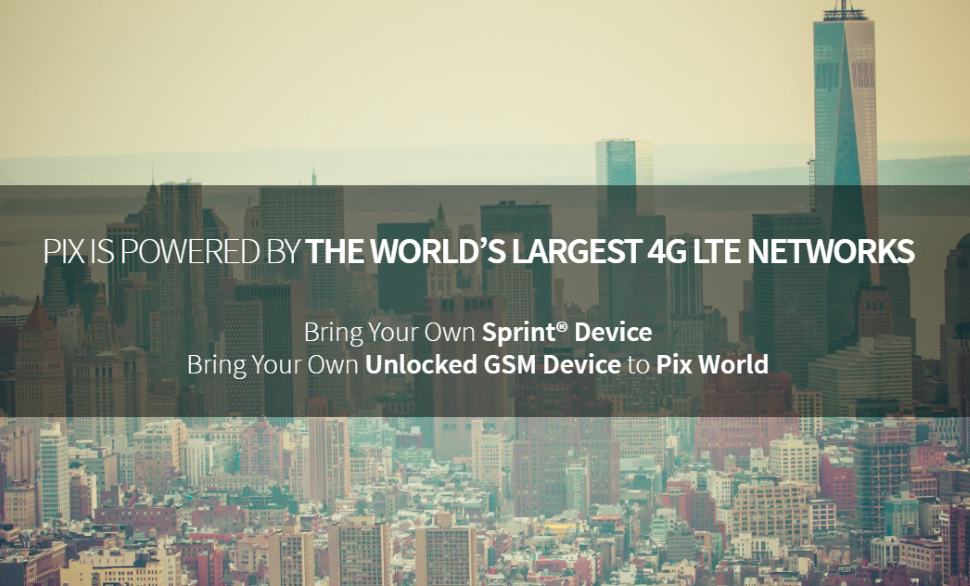 Pix Wireless Deals
Sorry, BestMVNO could not find any deals on a phone plan from Pix Wireless at this time
---
advertisement
---
Pix Wireless Pay As You Go Plans
Pix Wireless PG Starter Network(s): Sprint, Verizon

Calling Card

$5

Minutes/Data

2c/2c

SMS/MMS

0.5c/0.5c + data

Duration

365 days
Pix Wireless PG Basic Network(s): Sprint, Verizon

Calling Card

$10

Minutes/Data

2c/2c

SMS/MMS

0.5c/0.5c + data

Duration

365 days
Pix Wireless PG 25 Network(s): Sprint, Verizon

Calling Card

$25

Minutes/Data

2c/2c

SMS/MMS

0.5c/0.5c + data

Duration

365 days
Pix Wireless PG 50 Network(s): Sprint, Verizon

Calling Card

$50

Minutes/Data

2c/2c

SMS/MMS

0.5c/0.5c + data

Duration

365 days
Pix Wireless PG 75 Network(s): Sprint, Verizon

Calling Card

$75

Minutes/Data

2c/2c

SMS/MMS

0.5c/0.5c + data

Duration

365 days
Pix Wireless PG 100 Network(s): Sprint, Verizon

Calling Card

$100

Minutes/Data

2c/2c

SMS/MMS

0.5c/0.5c + data

Duration

365 days
---
Things To Know About Pix Wireless
Pix Wireless At A Glance
Logo:
Year Founded:
2015
Networks Used:
AT&T, Sprint, T-Mobile, Verizon
LTE Bands Used:
2,
4,
5,
12,
14,
17,
29,
30,
66,
2,
4,
13,
2,
4,
5,
12,
66,
71,
25,
26,
41,
Support For BYOD:
Yes
Sells Phones:
No
All Taxes And Fees Included In Price?
No
Online Payment Options:
Checking Account, Credit Cards, Debit Cards, Savings Account
Pix Wireless An Overview
PIX Wireless launched in 2015 as a Sprint MVNO.  A year later it added AT&T as a network partner.  Today Pix Wireless is focused on two market niches.  One product line, Pix Wireless's monthly phone plans  is aimed at the traditional MVNO market and customer base and is served on the Sprint network and Verizon networks.  The prepaid provider added service on the Verizon network in November of 2018.  The other product line, Pix World GSM targets world travelers.  Domestically it's serves customers on the AT&T and T-Mobile networks.  Worldwide it has over 190 partners and also includes coverage on cruise ships.  Pix World does charge for international coverage by the minute, text and MB of data.
Where To Buy Pix Wireless Service Plans And SIM Cards
Service and SIM cards can only be purchased directly from the Pix Wireless website.
Supported Phones And BYOD Devices
Pix Wireless supports bring your own device.  Any phone that is compatible with Sprint or Verizon will also work on Pix Wireless, as long as it is out of contract and paid off in full.  Pix World GSM will require a phone that is compatible with either the AT&T or T-Mobile network.  It must be out of contract and paid off in full.  Most universally unlocked phones from manufacturer's such as Motorola and Samsung should be compatible with all Pix Wireless plans.
Pix Wireless Customer Support
Customer support is available through email, online chat, Facebook Messenger and by text message at +1 305 570 4123.  No support hours are listed on the MVNO's website.