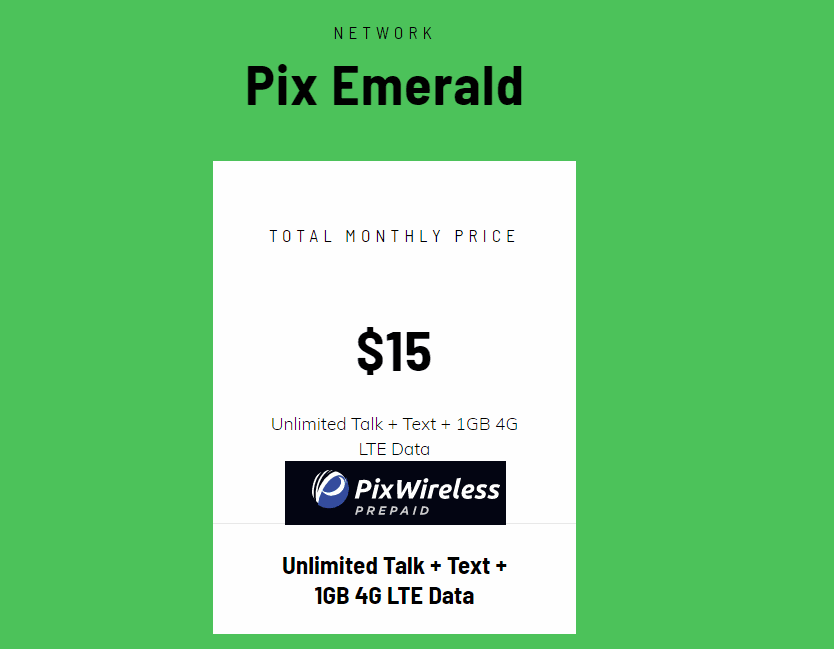 ---
PIX Wireless may already be selling what is the best value monthly plan on the Verizon network.  The company launched plans on the Verizon network under the plan name "PIX Silver" in late 2018.  The BestMVNO pick for the top valued PIX Silver plan includes unlimited talk, text, and data with the first 2GB at 4G LTE data speeds for $20/month.  Now the company is trying to bring value to another network.  PIX Wireless recently launched "PIX Emerald" plans which are described as being on "America's largest GSM network."  Due to non-disclosure agreements, PIX Wireless is not allowed to say what network that is.  But the slogan indicates it's most likely AT&T.
PIX Wireless Emerald Plans And Pricing
There are 6 plans being sold under the PIX Emerald name.  All plans include unlimited talk and text.  Data allotments vary from plan to plan and are hard capped on all but one plan.  All plans come with mobile hotspot.  The plans are priced as follows:
$15/month - 1GB 4G LTE data
$25/month - 3GB 4G LTE data
$30/month - 5GB 4G LTE data
$40/month - 7GB 4G LTE data
$49/month - 10GB 4G LTE data
$55/month - unlimited 4G LTE data
A representative I spoke to via online chat said taxes and fees are included in the prices shown.  SIM cards are priced at $6.99 and that price also includes taxes and fees.
Those that run out of data on a plan that is not unlimited can add more data to their plan at a cost of $10/GB.  The unlimited LTE data plan does come with a "fair usage policy."  That means customers that consume more than a certain amount of data in a month will have their data speeds slowed down for the remainder of their billing cycle.  A representative I spoke to said the fair usage policy limit is 20GB.
PIX Wireless says that it will soon offer plans on "America's fastest GSM network" as well, which can be inferred to mean T-Mobile.  Those plans will be called "PIX Indigo" plans and are advertised as starting at $5/month.
Editor's Take
PIX Wireless does offer pretty good value for a budget monthly plan on AT&T's network at the $15 price point.  However, a lack of unlimited 2G data stops it from being perhaps the best value around on the network at that price.  Good2Go Mobile, an MVNO currently under review by BestMVNO includes unlimited 2G data at that price point, although auto-pay billing is required to get the price down to $15.  It's $20 without.   FreeUP Mobile also includes unlimited talk, and text with 1GB of hard-capped LTE data for $15/month.  However, the FreeUP Mobile plan also comes with unlimited calling to Mexico and Canada.
---
---