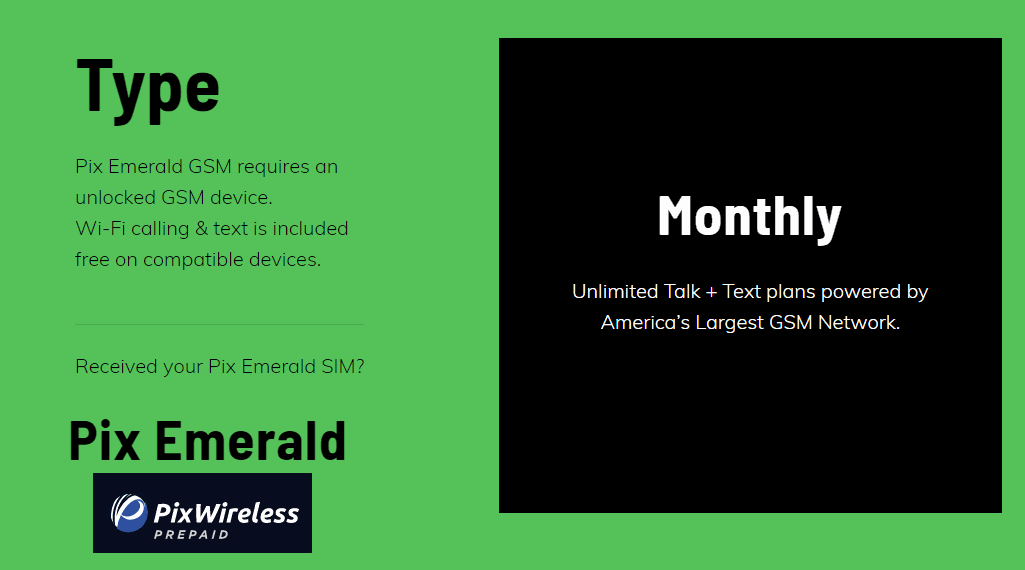 ---
Several Pix Wireless Pix Emerald plans recently got updated to cost subscribers more money.  Pix Wireless's Emerald plans correspond to service on the AT&T network.  Pix Wireless also operates on the Sprint and Verizon networks with service on the T-Mobile network perpetually stuck at "coming soon."
Pix Wireless Emerald Phone Plan Changes Highlighted
Pix Wireless now offers 5 Pix Emerald phone plans.  Previously a total of 6 phone plans were offered.  A summary of Pix Wireless's updated phone plans with the changes highlighted is described below.
All plans include unlimited talk and text and unless specified, hard capped data.  Hard capped data means subscribers do not get unlimited "slow data" or data at 2g data speeds once their plans allotment gets used up.  Instead their data gets shut off.
$20/month - 1GB 4G LTE data, previous price $15/month
$30/month - 3GB 4G LTE data, previous price $25/month
$38/month - 5GB 4G LTE data, previous price $30/month
$46/month - 7GB 4G LTE data, previous price $40/month
$55/month - unlimited data with the first 20GB each month at 4G LTE data speeds before throttling to 2G data speeds.
Taxes and fees are included in the prices shown.  WiFi calling and texting are also available with compatible devices.  Mobile hotspot is included.
Customers who have a hard-capped data plan can add additional 4G LTE data to their plan if they run out at a cost of $10/GB.  A $49 plan with 10GB of 4G LTE data has been discontinued.  The plan changes were first spotted and highlighted by Dennis Bournique.
Editor's Take
This sounds like bad news for the Pix Wireless brand and its subscribers.  The pricing changes are pretty significant.  While I don't have an exact date as to when the price hikes were first implemented, the changes were noticed at a time when competing AT&T MVNOs have been able to improve their plans and pricing structures.  Over the past month, Consumer Cellular, FreeUP Mobile, and H2O Wireless have announced plan improvements.  And for the past couple of weeks, fellow AT&T MVNO Pure TalkUSA has been teasing on social media that "something big is coming" to the brand on 11/1/19.  Hopefully, the Pix Wireless Emerald plan updates are short-lived, much like US Mobile's recent attempt at a price hike.  If not, subscribers may want to consider looking elsewhere for service.
---
---