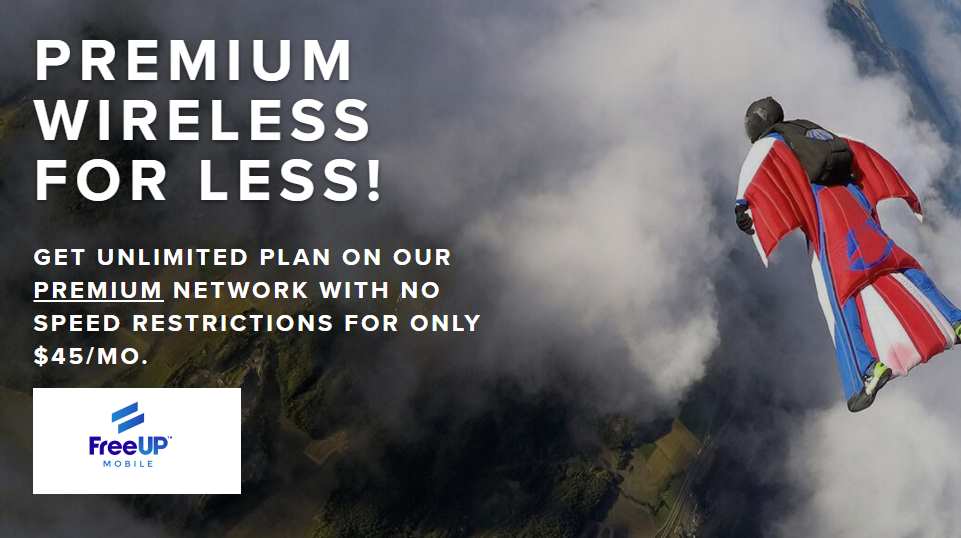 ---
FreeUP Mobile went live with changes to its website and phone plans today.  One plan got a high-speed data allotment increase and others got upgraded from hard capped data to unlimited 2G data.  Here's a summary of those changes:
FreeUP Mobile's Updated Phone Plans Highlighted
FreeUP Mobile's $45 phone plan now includes 15GB of high-speed data before throttling to 2G data speeds.  It previously came with 12GB of high-speed data before throttling.
FreeUP Mobile's $20 and $30 phone plans now include unlimited 2G data.  The $20 plan includes 2GB of high-speed data before throttling and the $30 plan includes 6GB.
All plans just described include unlimited talk and text.  They also include global calling to over 150 countries and international text messaging.  Some global calling countries come with unlimited minutes, others come with a finite amount of minutes and some are charged per minute.  FreeUP Mobile has a dedicated webpage detailing which international countries can be called and at what rates.
Customers can also use the FreeUP Mobile Talk app (available on iOS and Android) to place calls over WiFi.  Unfortunately, mobile hotspot is not included with the plans but may become available in the near future.  Applicable sales tax costs are extra. Other telecom taxes and fees are included in the prices shown.
FreeUP Mobile offers two other phone plans and they remain unchanged.  There's a $15/month unlimited global talk and text plan that includes 500MB of hard capped data and a free plan that includes a combination of either 250 minutes or text messages.
SIM cards are free with all plans, however, if purchased without a plan the cost is $10.  SIM cards are $7.99 if purchased via Amazon.
Editor's Take
FreeUP Mobile has always offered competitively priced plans using the AT&T network.  However, the lack of unlimited 2G data was likely a problem for some potential customers given that is a feature most of the competition offers.  Today, FreeUP Mobile has fixed that problem making the plans even more competitive, particularly at the $30 and under price points.
FreeUP Mobile's plan updates come hot on the heals of those being implemented by fellow AT&T MVNO, H2O Wireless.  H2O Wireless has new plans due out next week.  They will also compete well in the market and have several price points in direct competition with FreeUP Mobile.  For instance, H2O Wireless will be offering unlimited talk, text, and data with the first 5GB of data each month at high-speed before throttling to 2G for $30/month or $27 with autopay enabled.  H2O Wireless plans also include unlimited global calling and texting. However, H2O Wireless considers high-speed data to mean a maximum of 8Mbps for downloads.  FreeUP Mobile plans do not come with speed restrictions and this is something the company is highlighting on their updated website.  Plans come with "blazing fast 4G LTE" and "no speed restrictions."
---
---