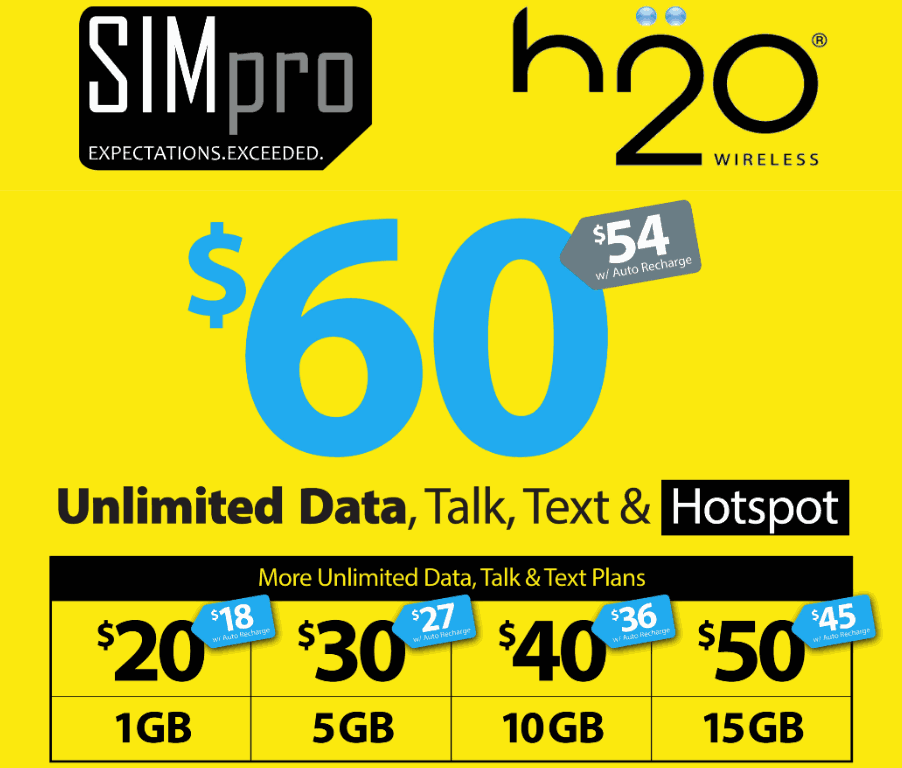 ---
H2O Wireless is updating their monthly unlimited phone plans with more data.  According to wireless distributor SIMpro, the updates will occur on November 1st.
H2O Wireless Plan Updates Highlighted
The data allotment updates coming to H2O Wireless with the changes highlighted are as follows:
Be informed of the latest deals, plans and promotions from AT&T and every one of its MVNO's when you subscribe to the AT&T weekly newsletter. No spam and you can unsubscribe at any time!
$20/month ($18 with auto recharge) - 1GB data, previously 500MB
$30/month ($27 with auto recharge) - 5GB data, previously 3GB
$40/month ($36 with auto recharge) - 10GB data, previously 7GB
$50/month ($45 with auto recharge) - 15GB data, previously 8GB
$60/month ($54 with auto recharge) - *unlimited* data, previously 10GB.
Taxes and fees cost extra and are not included in the prices shown.
All plans just described include unlimited talk, text, and data with the specified amount of data at high speed before throttling to 2G data speeds.  H2O Wireless considers high speed data to be a maximum of 8Mbps for downloads.  Videos stream at a resolution of 480p.  All plans come with unlimited international talk and text to over 50 countries.  The $20 and $30 plans include an additional $10 international talk credit, while the $40, $50 and $60 plans include a $20 international talk credit.  The international talk credits can be used to call countries that are not included in the 50+ international calling countries that are included free with each plan.  H2O Wireless plans are also being updated to include mobile hotspot.
Earlier in the year, H2O Wireless was bought out by Pure TalkUSA.  Pure TalkUSA offers an unlimited plan for $55/month.  Pure TalkUSA considers unlimited to mean 22GB of data before throttling to 2G data speeds.  I expect the same limit to be put in place for H2O Wireless's new unlimited plan offering. Update 11/1/19 - H2O Wireless's unlimited data plan includes 30GB of high-speed data before throttling to 2G data speeds.
Currently, H2O Wireless offers a double data bonus for new customers on the $20 and $30 plans.  The $40 plan gets 1GB of bonus data.  New subscribers get the bonus data for their first 3 months of service on the network.  It is not known if H2O Wireless will continue to offer promotional bonus data once the new plans come out.
More About H2O Wireless And Editor's Take
H2O Wireless operates as an AT&T MVNO, which means that AT&T is the underlying network that H2O Wireless uses to provide service to its customers.
The new plan updates from H2O Wireless continue to allow the brand to be competitively priced.  At the $40 and under price points, H2O offers one of the best values around in terms of price paid per GB of high speed data on the AT&T network.  Using the cell phone plan comparison filter, we can see the plans are only bested by Good2GO Mobile and FreeUP Mobile at certain price points.  Red Pocket Mobile and Unreal Mobile can also offer better pricing at some price points, but only if you want a multi-month plan or can live with VoIP calling.  Unfortunately, H2O Wireless may still lag behind the competition by continuing to limit LTE download data speeds to a maximum of 8Mbps.
---
---