Consumer Cellular Adds More Data To Plans, Subscribers Can Add 3GB Data For $10/Month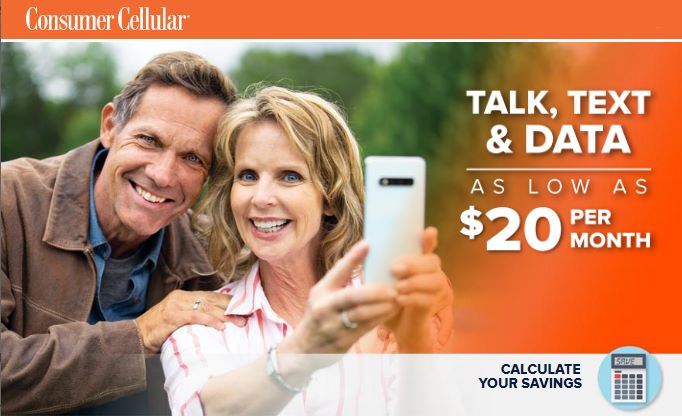 Consumer Cellular has updated its wireless phone plans.  The last time there was an update came in November of 2018.  The changes only affect the amount of data a customer can get at a given price point.  All customers now get more data at no extra cost.  The changes were announced by Consumer Cellular yesterday in a blog post and first acknowledged by Dennis Bournique via Twitter.
Consumer Cellular's Updated Data Allotments Highlighted
A summary of the updated plans can be found in the table below.
| | | |
| --- | --- | --- |
| Price | New Allotment | Previous Allotment |
| $5 | 500MB | 250MB |
| $10 | 3GB | 2GB |
| $20 | 10GB | 5GB |
| $30 | 15GB | 10GB |
| $40 | 25GB | 25GB |
Consumer Cellular refers to these plans as Connect Plans.  All Connect Plans come with unlimited text messaging.  If a customer wants to add a data Connect Plan to their account, they must first choose a Talk Plan.
Consumer Cellular's Talk Plans have not been updated and remain at the same price they were before.  Customers can get 250 minutes for $15/month or upgrade to unlimited for $20/month.  Additional lines can be added to an account for $15/month.  The second line does not get its own separate talk and data allotments.  Instead, talk and data allotments from the primary line are shared with the second line.  Taxes and fees cost extra and are not included in the prices shown.  AARP members can save an additional 5% on the cost of their phone plan.
Editor's Take
Consumer Cellular regularly updates the phone plans that it offers.  The updated data containing plans make Consumer Cellular's pricing much more competitive in the marketplace, particularly when compared to other AT&T based providers.  However, it's still not best in class.  For instance, Good 2Go Mobile offers an unlimited talk plan with 3GB of data for $20/month, a savings of $10/month over Consumer Cellular's plan with the same features. At the $40 price point with 10GB of data, Consumer Cellular now matches offerings from competitors including Unreal Mobile and Good 2Go Mobile.  The remaining plans are less competitive, at least for single line plans.  For instance, Straight Talk Wireless charges $45/month for a plan with 25GB of data.  The same plan would cost you $60 with Consumer Cellular.
Despite not always offering best in class pricing, Consumer Cellular continues to grow rapidly.  In August, the company announced that it had amassed over 3.5 million subscribers.  Based on previous official subscriber counts, it is growing at a rate of 50,000 new subscriber additions per month.  The MVNOs success can be attributed to its great reputation for customer care, and that it's positioned well in retail, thanks to its relationship with Target.
---
---