Visible & Straight Talk Now Have iPhone SE 3 Deals, Include $200 Gift Card Offer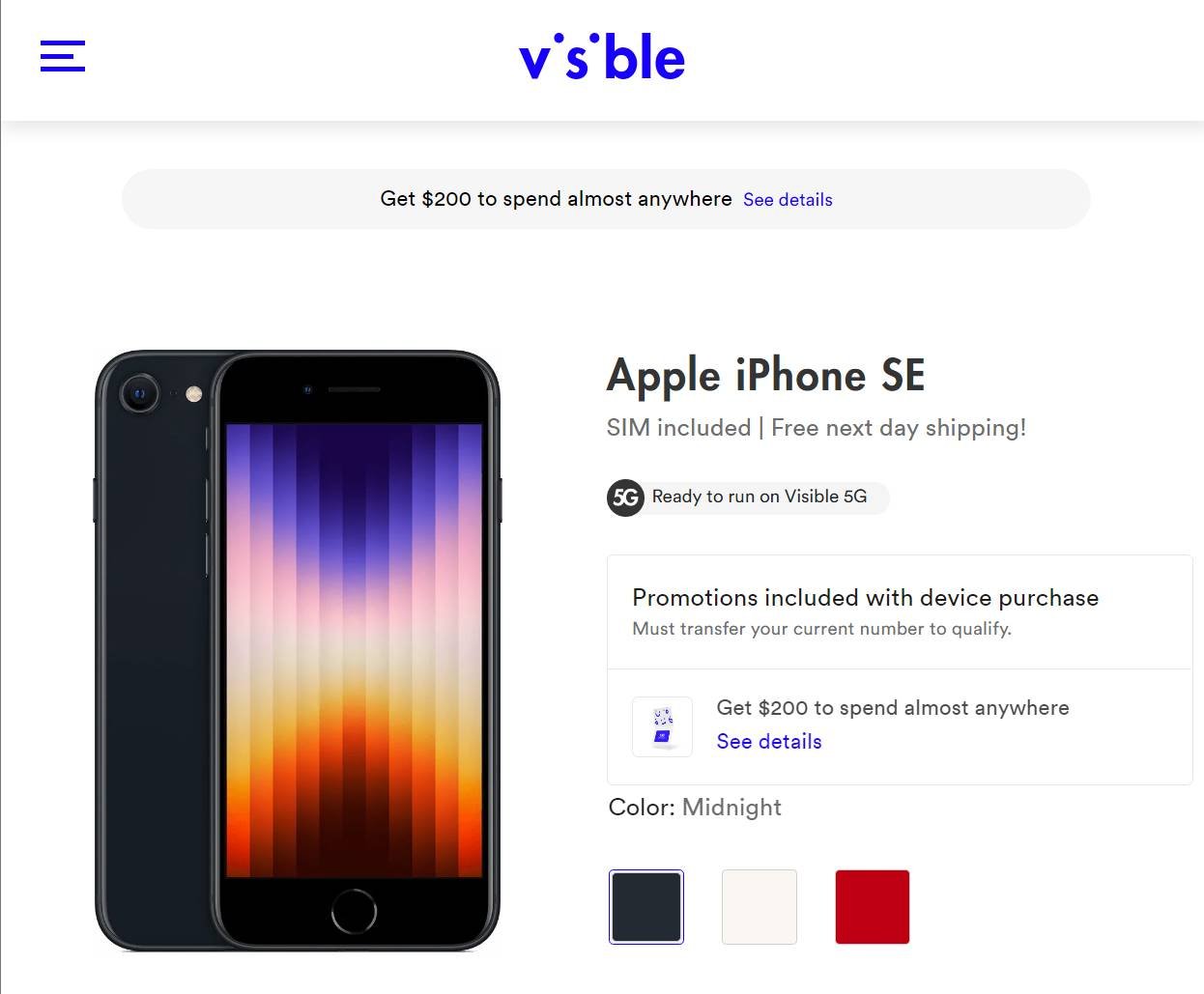 Verizon brands Visible, Straight Talk, and Total Wireless have launched iPhone SE 2022 deals. Visible probably has the best offer of the three as those who buy the device will pick up a $200 gift card. Visible is selling the phone for $429 or $17.87/mo with financing. Straight Talk and Total Wireless are both offering the phone for $379.99, a modest discount from the iPhone SE 2022's suggested retail price of $429. Last week, several other brands offered pre-order iPhone SE discounts.
Visible's iPhone SE 2022 $200 Gift Card Offer Details
Visible regularly offers gift cards to switchers that purchase a phone. Denominations typically range in value from $50 to $200. So Visible has launched the iPhone SE 2022 out of the gate with its best foot forward.
In order to qualify for this promo, customers must port a number into Visible from an eligible carrier within 14-days of activating their service. It should be noted, Visible's list of eligible carriers is grossly out of date as it includes providers that are no longer in business such as Virgin Mobile, and it still calls Metro by T-Mobile by its old brand name, MetroPCS. Customers wishing to claim the offer must also complete 3-full months of service to qualify. After both terms are met, a $200 virtual gift card of the customer's choosing will be sent, redeemable via a promo code. Visible offers gift cards from Amazon, AutoZone, and Best Buy among many other options.
Those purchasing the device should be aware that the phone is sold locked to Visible for a period of 60-days. Visible offers but one phone plan, an unlimited everything plan priced at $40/month for single lines, or $25/month when customers join a Party Pay group.
Update: Visible has upped the ante on this promo switcher deal, and is now throwing in a free pair of Apple AirPod 3 earbuds with the purchase of an iPhone SE 3.
Straight Talk And Total Wireless iPhone SE 2022 Offers
Both Straight Talk and Total Wireless are offering the iPhone SE 2022 at a slight discount from its suggested retail price of $429. Both are offering it to new and existing customers for just $379.99 or $15.83/month with device financing. The device will be sold locked for a period of 60-days. You can pick up the Straight Talk offer here, and the Total Wireless offer here.
---
---