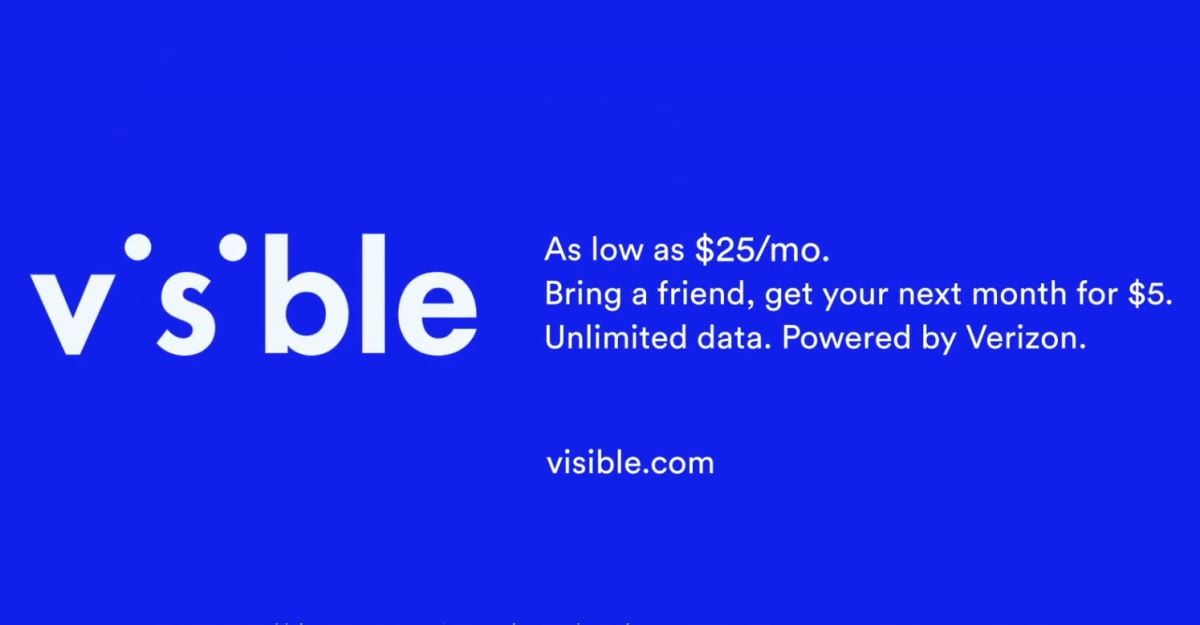 ---
Visible has announced several big changes to its wireless service. Calling and texting to Canada and Mexico is now included at no extra charge. Visible has also increased the number of members that can be in a Party Pay group. The Verizon owned prepaid brand's website now reads that "parties have no limits on participants, so invite away." The other change is that customers that refer a friend will earn themselves a referral credit so that they can get one month of service for just $5.
Visible has also launched what looks to be a new commercial for YouTube and its other digital channels that describes the service and the new referral credit.
Visible Party Pay, Now With No Limits
Visible offers just one wireless plan priced at $40/month all-in with taxes and fees included. Customers on the plan get unlimited talk, text, high-speed data, and mobile hotspot for $40/month. Access to Verizon's 4G LTE and 5G networks are included, however, data speeds on 5G are currently limited to a maximum of 200Mbps. Customers who signup for Visible and join a Party Pay group can get their plan for as low as $25/month if the Party Pay group has at least four members. Visible's Party Pay discount structure works out so that individual group members would have to pay the following each month for their bills:
$35/line - groups of 2
$30/line - groups of 3
$25/line - groups of 4 or more
The nice thing about Party Pay is that each group member is responsible for paying their own bill independently and separately from all other members. There's no sending money over to an account head to cover the cost of the plan.
Previously, Party Pay groups were limited to a maximum of four members. If one member left the group the remaining members would have to pay a little more for their phone bill unless they could find a new group member to replace the one that left. With Party Pay groups seemingly no longer having member number limits, this problem is largely eliminated.
Referral Credit Details
Visible is now offering its subscribers the ability to earn referral credits. Each Visible subscriber that refers a friend to the service will earn themselves a $5 referral credit. Referral credits can be banked. So subscribers that refer 12 friends in a calendar year will get 12 months of service for just $5/month. The referral credits can be earned regardless of if a subscriber is a member of a Party Pay group or not. A maximum of 12 credits can be earned and banked at a time.
New Visible Commercial For YouTube & Other Digital Channels
Visible is now airing a new commercial through YouTube and its other social media channels. The commercial is a minute long and leads off with the question "What is Visible?" A woman then explains, "to put it simply, it's a wireless service except different." The woman goes onto explain Visibile is different because they replaced multiple complicated plans with one simple plan that has everything customers need. Visible's plan is then described and it's highlighted that it operates on Verizon's 5G network. It's also mentioned that they don't have stores, and everything is done through an app. The ad finishes with a mention that the service is as low as $25/month for unlimited data powered by Verizon. It also mentions "bring a friend, get your next month for $5."
You can watch the whole video below.
---
---