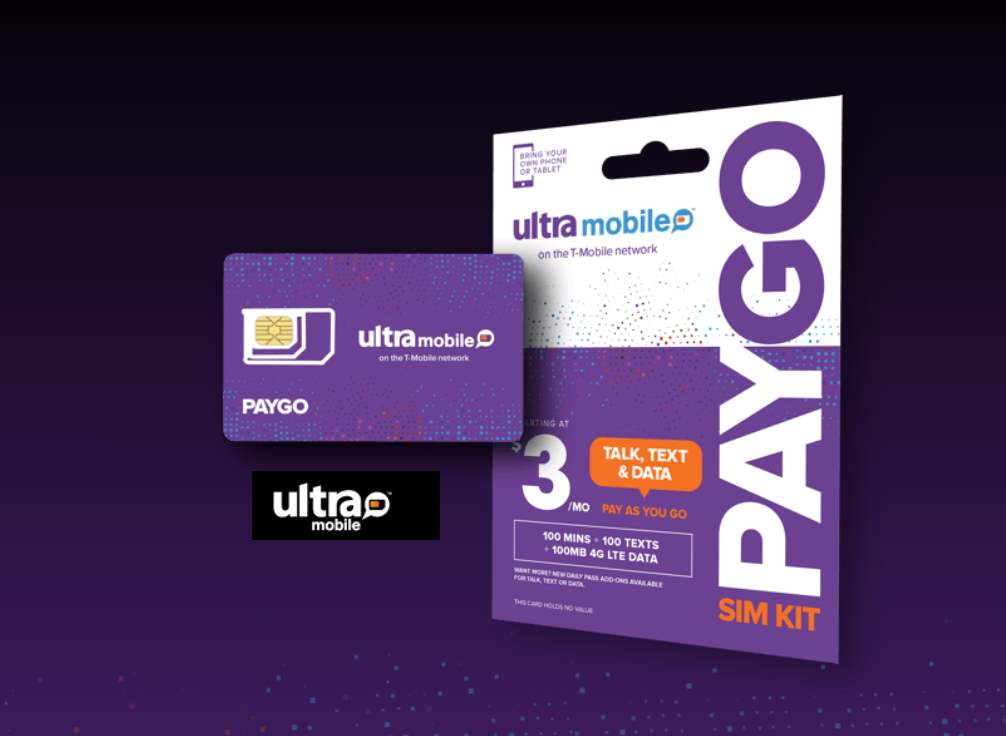 ---
A year ago Ultra Mobile hit it big when it's PayGO and Tourist plans landed in T-Mobile stores. The two plans served and continue to serve as replacement offerings for prepaid plans that T-Mobile discontinued. In essence, rather than to continue to offer what were probably low margin and selling plans, T-Mobile effectively outsourced them to Ultra Mobile.
At the time T-Mobile transitioned to offering Ultra Mobile's $3/month PayGO plan it included 30 minutes of talk, 30 texts, or any combination of both that added up to 30. Once 30 units were reached, additional minutes were billed at a rate of 10 cents each. Customers could have added 24h data pass with 500MB of data for $5 or a 7-day data pass with 1GB of high-speed data for $10. A 7-day unlimited talk and text plan for $10 was also available.
Be informed of the latest deals, plans and promotions from T-Mobile and every one of its MVNO's when you subscribe to the T-Mobile weekly newsletter. No spam and you can unsubscribe at any time!
The Tourist plan included 1,000 minutes of domestic talk, unlimited domestic and international texting, and unlimited data with the first 2GB at high-speeds for $30. That got subscribers 21 days of wireless service.
Thanks to a Howard Forums subscriber, Boz1, BestMVNO has learned that Ultra Mobile has updated and greatly improved its $3/month PayGO plan. The plan now comes with 100 minutes of talk, 100 texts, and 100 MB of 4G LTE data. Mobile hotspot usage is allowed and additional minutes are billed at a rate of 3 cents each, texts are now 1 cent each and additional MB of data are 3 cents per MB. The data pass add-ons and unlimited talk & text add-ons remain the same except for the addition of one new voice and text add-on. Subscribers can now add a 1-day unlimited talk & text pass for just $2. The exact date the plan got updated is not known at this time.
BestMVNO has also learned that Ultra Mobile's Tourist plan has been updated. The plan is still $30 for 21-days of service but has been improved to now include unlimited domestic talk, up from 1,000 minutes, and 3GB of high-speed data up from 2GB. The plan still includes 100 minutes of international talk to 80+ locations and unlimited global texting. According to a Google web search, the plan was likely updated between July 9 and July 11, 2020.
Editor's Take
Ultra Mobile's updated PayGO plan is a very good improvement over what was previously offered. It is also a nice plan for limited/emergency only use customers. There are only a handful of other competitors that really compete near that rate and most, if not all, cost more. To name a few, Hello Mobile offers a $5/month plan that includes 500 minutes, unlimited texts, and 500MB of monthly high-speed data. Tello offers a plan for $6 that includes unlimited texting with 100 minutes and 500MB of high-speed data. Red Pocket Mobile does offer an eBay exclusive plan for $5/month that does go on sale periodically. It includes 100 minutes, 100 texts, and 500MB of high-speed data. And TextNow offers a free plan with unlimited talk and text and no data, but it does rely on VoIP for phone calls. Unfortunately, Ultra Mobile's PayGO plan isn't as readily available as offerings from competing providers. It's still sold exclusively through select T-Mobile stores.
---
---