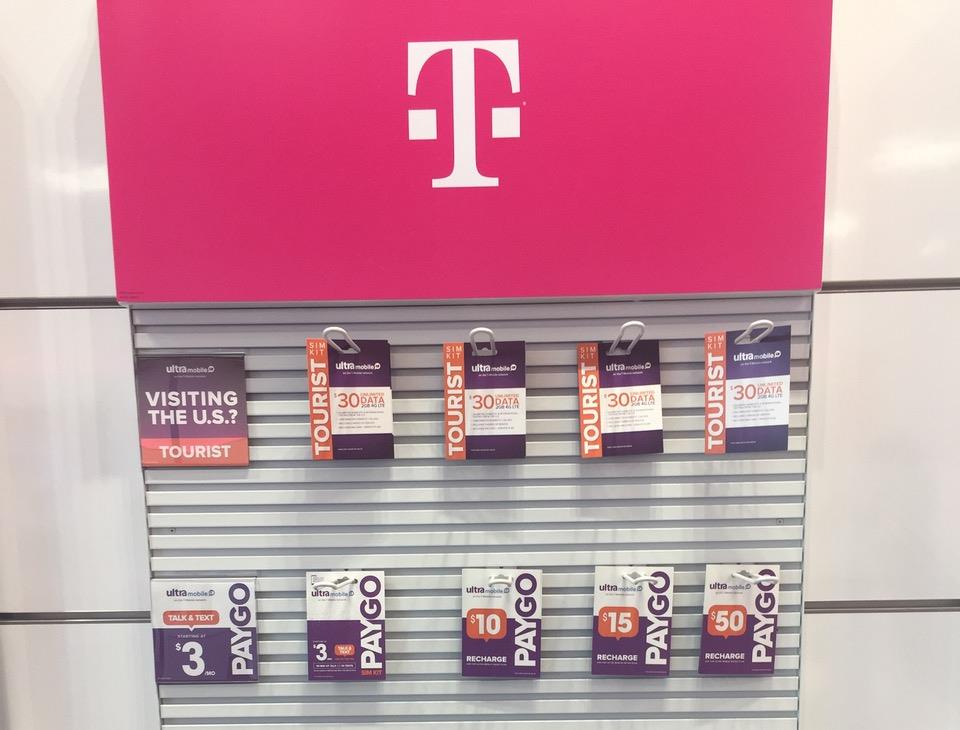 ---
Wave7 Research reported in a recent note to subscribers that T-Mobile's Tourist plan was replaced in T-Mobile stores by a similar offering from Ultra Mobile.  The move took place in late July.  Ultra Mobile PayGo plans and SIM cards are also now being sold in select stores.  That's a big win for Ultra Mobile.
T-Mobile's Tourist plan was a prepaid offering designed for international travelers visiting the USA.  It cost $30 for 21 days of service that included 1,000 minutes, unlimited domestic and international text, and unlimited data with the first 2GB at full speed before throttling to 3G data speeds.  The plan was marketed with heavy signage in stores in several popular destination tourist cities including New York, Los Angeles, Las Vegas, and Miami.
Ultra Mobile's tourist plan includes 3 weeks of wireless service for $30 and operates using the T-Mobile network.  It comes with 1,000 domestic minutes, unlimited international texting and unlimited data with the first 2GB at 4G LTE data speeds.  The plan also includes 100 minutes of international talk to over 80 destinations worldwide, a feature that was missing from T-Mobile's offering.
T-Mobile is not only selling Ultra Mobile's plan in store, but it is also advertising it online.  On T-Mobile's prepaid webpage, there's a heading that reads "Visiting The U.S?  Get the talk, text, and data you need while you're here."  There's a link under that heading that takes visitors to a landing page on Ultra Mobile's website.  The page explains all that Ultra Mobile's tourist plan has to offer.  It is currently only available for purchase at T-Mobile Brand retail stores and T-Mobile Preferred retail stores.
Editor's Take
Ultra Mobile has long had a relationship with T-Mobile and this is an expansion of it.  The relationship dates back to Ultra Mobile's founding in 2012.
T-Mobile discontinuing its Tourist Plan in favor of a plan from Ultra Mobile is an interesting development but the reason for the change is not clear.  It's possible that T-Mobile made the change so that it can focus more on its postpaid service which generates higher revenues for the company than its prepaid division.  T-Mobile may have also made the move to show that it will be friendly to its MVNO partners as it pushes to gain support for its merger with Sprint.  Although the merger was recently approved by the Department of Justice, several state Attorney Generals filed a lawsuit in hopes of stopping it.
Whatever the reason for the change, it is a big win for Ultra Mobile.  In-store visibility gives the brand a major leg up on its competitors.  It should help to drive sales for Ultra Mobile, increase its subscriber count, and improve brand awareness.
Update: 8/9/2019 - thanks to a reader tip, BestMVNO has learned that T-Mobile no longer is offering its $3/month PayGO plan.  The plan has been discontinued and is now being offered by Ultra Mobile.  Presumably, those on the T-Mobile PayGO plan have been migrated over to Ultra Mobile's plan.  T-Mobile's website also redirects to the new PayGO plan on the Ultra Mobile website.
---
---