In this guide, I will explain everything you need to know about Tello before you subscribe. I want you to learn the ins and outs of Tello so that you can make an informed decision on if this is the best place for you to spend your hard earned cash.
---
Tello At A Glance
Logo: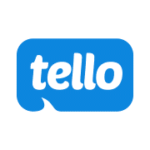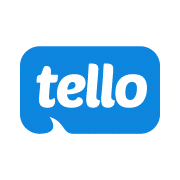 Year Founded:
2015
Subscribers:
100,000
Networks Used:
Sprint, T-Mobile
LTE Bands Used:
2
4
5
12
66
71
25
26
41
5G Bands Used:
n71 (600MHz)
n260 (39GHz)
n261 (28GHz)
n41 (2500MHz)
Support For BYOD:
Yes
Sells Phones:
Yes
All Taxes And Fees Included In Price?
No
Online Payment Options:
Credit Cards, Debit Cards, PayPal
---
A Summary Of Tello Phone Plans
No Credit Check Single Line Monthly Prepaid Plans
---
---
advertisement
---
---
Tello Pay As You Go Plans
Tello PG Network(s): T-Mobile

Calling Card

$10

Minutes/Data

1c min/2c MB

SMS/MMS

1c/1c

Duration

90 days
Tello PG 15 Network(s): T-Mobile

Calling Card

$15

Minutes/Data

1c min/2c MB

SMS/MMS

1c/1c

Duration

90 days
Tello PG 25 Network(s): T-Mobile

Calling Card

$25

Minutes/Data

1c min/2c MB

SMS/MMS

1c/1c

Duration

90 days
Tello PG50 Network(s): T-Mobile

Calling Card

$50

Minutes/Data

1c min/2c MB

SMS/MMS

1c/1c

Duration

90 days
---
Tello Deals
Tello Mobile 50% Off
Get 50% off any Tello plan priced above $10. Get 25GB of high-speed data for $19.50 for the first month.
Things To Know About Tello Before You Subscribe
Tello soft launched in the USA in late 2015, and formerly activated customers on the Sprint network. As of 1/18/21, Tello began activating all new customers on the T-Mobile network. Customers still using Tello on Sprint will have the option to move to the T-Mobile network at a later date.
Although the MVNO is a relative newcomer to the market, its parent company, KeepCalling, is a global telecommunications company that first registered in the USA in the year 2002.  From 2011-2014 KeepCalling grew its revenue by over 20000% and was named by Inc 5000 to be one of the fastest growing companies in the USA for 5 consecutive years. With Tello, subscribers join a company that has years of experience in the telecommunications market.
How Tello Phone Plans Work
Tello allows its subscribers to custom build their own cell phone plans.  When you custom build your own phone plan with Tello, you'll enjoy having no contract, free tethering, unlimited data (speeds reduced to 64 Kbps once high speed data allotment is used up), and international calling at no extra charge. In May of 2021, Tello updated its international calling list to include more than 60 countries up from just China, Canada, Mexico, and Romania. Tello charges state and county sales tax, and for the federal universal service fund.
Follow BestMVNO
Did you know BestMVNO is available to follow for free in Google News? Follow BestMVNO in your Google News app and keep up to date on wireless. You can also follow on Twitter for additional wireless insights, deals, and even debates!
---
Supported Phones And BYOD Devices
Tello does sell mobile phones, however,  those that already have a phone are welcome to bring it to Tello, as long is it is out of contract and compatible with the Sprint or T-Mobile network. Phones must also support VoLTE HD voice calling. Most universally unlocked phones from Motorola and Samsung are also compatible.
---
Where To Buy Service Plans And SIM Cards
SIM cards and plans must be purchased directly from Tello.  If you already have a Sprint SIM card, you can safely use that with Tello without having to purchase a new SIM card.
---
Customer Support
Customer support is provided by way of email, chat and over the phone.
---
How To Port Out
Porting out requires you to call Tello to get your account number. You will need to submit to them your name and email address. They will also ask you for your new provider name. Tello does not use PINS or passwords and so your port out password defaults to 0000.
---
Phone Unlock Policy
Tello sells all of its phones unlocked, so there is no device unlock policy to worry about.
---
Tello Customer Reviews