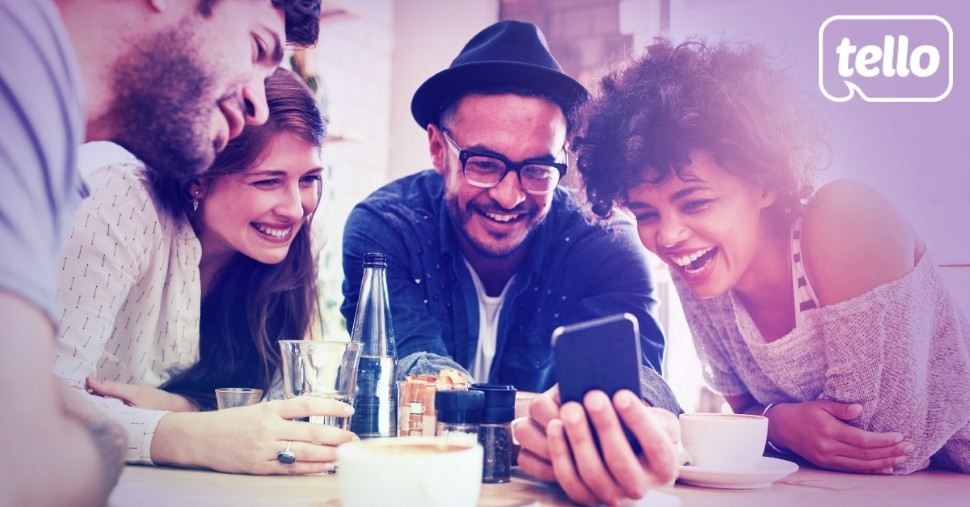 By
Joe Paonessa
Last Updated: Apr 19, 2022
---
---
Tello Overview
Tello is an MVNO that previously used the Sprint network to provide service to its customers.  However, in early 2021, Tello began activating all new customers on the T-Mobile network. This review was done using Tello's old legacy plans that were based on the Sprint network. The experiences described in this review should be fairly similar for the new T-Mobile based plans. Customer support is still the same, as is Tello's account dashboard.
(Disclosure: I was not paid or asked to do this review.  However, when applicable, affiliate links are used within the post).
Tello was officially launched in the USA in May of 2016.  The company is owned and operated by KeepCalling. Founded in 2002, KeepCalling specializes in offering international calling plans a feature that Tello also emphasizes.  With offices in the USA, Romania, and Bolivia, KeepCalling is a global business that is perhaps a bit larger than your standard American MVNO.
Tello Mobile Phone Plans
Tello sells phone plans that are structured a bit different than typical carrier phone plans.  Subscribers pick the amount of minutes that they want their plan to have and then separately pick the amount of data that they want. Data only and talk only plans are available.  All plans include text messaging, no matter which option is chosen.  Tello says that there are no predefined phone-plan combos, however, they do like to highlight a few different plan combination ideas. The highlighted plan ideas are as follows:
$10/Month Economy Plan - 200 minutes, 500 MB of data
$14/Month Value Plan - unlimited talk, 1GB of data
$24/Month  Smart Plan - unlimited talk, 3GB data
$39/Month Data Plan - unlimited talk, 10GB of data
( Update: 8/10/2019 since my initial review, Tello Mobile has greatly improved phone plans.   The updated base phone plans have improved to be the following:
$10/month - 1GB LTE data
$14/month - 2GB LTE data
$19/month  - 4GB LTE data
$24/month - 6GB LTE data
$29/month -  8GB LTE data
$39/month - 25GB LTE data   )
All of Tello's data containing plans include unlimited data at 2G speeds once the plans high speed data allotment has been used up.  Tello supports tethering/mobile hotspot.
Plan minutes can be used to call internationally to Canada, Mexico and China. Taxes cost extra. Update: June 2021 - Tello has further improved its plans to include international calling at no extra charge to more than 60 countries.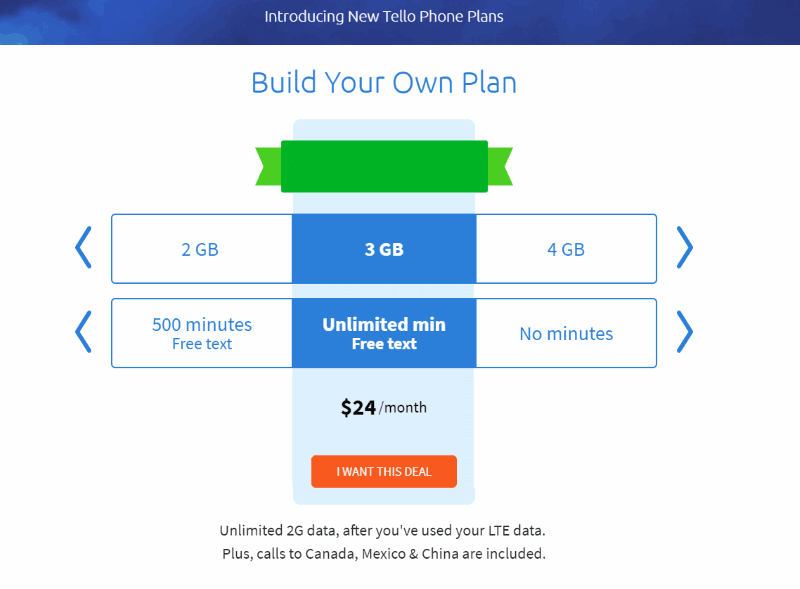 My Experience With And Review Of Tello
Tello allows you to use any Sprint SIM card you have on hand to activate service. Unfortunately, I did not have one on hand, and so I had to purchase a $9.99 SIM card directly from Tello.
I opted to subscribe to Tello's highlighted Smart Plan.  The Smart Plan included unlimited talk, text and data with the first 3GB at high speeds for $24/month plus tax.  Taxes in my area added an additional $2.26 to my bill.
I used an unlocked 64GB Motorola G4 Plus for the review and remained a subscriber for over one month with one recharge cycle.
Account Registration, Porting My Number To Tello and Line Activation
Account registration actually occurred at the same time that I ordered my SIM card.  The process was quick and easy.  Tello's system allowed me to create a complex and secure password using symbols.  This is a security feature that I like. However, several other MVNO's that I've reviewed so far don't allow it.
My SIM card was delivered to me 3 days after I ordered it.  It was not Tello branded.  It came branded with Sprint, Boost Mobile and Virgin Mobile logos.
The SIM card was shipped in a tiny package that did not require any signature when received.  For security purposes, some other providers do require a signature upon delivery.
Unfortunately, the shipped SIM card that I received was not a 3 sizes in 1 like other providers sell.  It was too small to fit in my phone.  I was fortunate enough to have an adapter laying around to allow it to fit into my phone properly.
Line Activation And Interaction With Customer Support
Once I inserted the SIM into my phone, I had issues getting the line to activate. When I used the dialer code *22899 to try and activate my phone I was greeted with a message saying that my account was not authorized to make calls to this number followed by "message 4 switch 372."  My notes are a little bit lacking about this next part, but it seems I got it activated by calling Tello's customer support line where a representative had me try the dialer code *#*#72786#*#*. The dialer code reset my network settings and I believe registered the phone on the network.
When I finally got up and running I ran into another problem.  I could not get 4G LTE data working.  I assumed this to be an APN settings issue and thus I had to call customer support again. My call to support was answered immediately.  They had me try updating my phone's profile and prl but it was to no avail.  They also tried some things on their end.  Some of the things they were trying seemed to take quite a bit of time, which prompted me to ask if I could call back later to check on the progress which I did.
Unfortunately, nothing they or I tried seemed to work.  Eventually, I came to the conclusion that the problem may have been due to a custom ROM that I was using.  I tried several other custom ROMs with no luck.  Finally, I decided to flash back to stock.  Once I did that I was able to update my phone's profile and prl.  This turned on 4G LTE data immediately.
In all, between the activation phone call, general customer support calls, and porting in described below,  I placed a total of 4 calls to Tello's support representatives.  Each time I called into support my phone call was answered immediately.  I found this to be a refreshing experience.
Porting My Number To Tello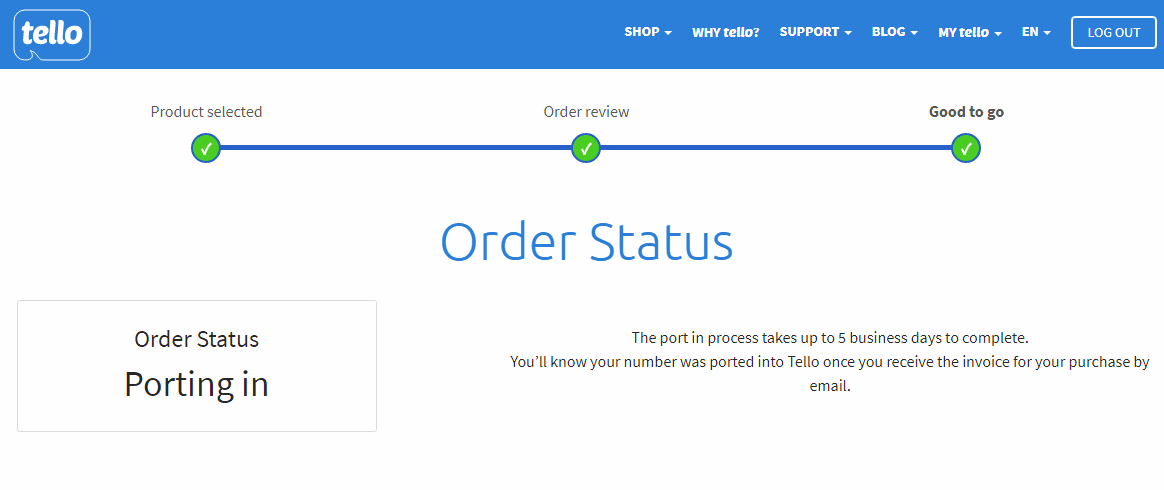 Once I got the phone fully activated and everything working as it should, I began the process of porting in.
Tello requires you to contact them over the phone to port your number in.  (Update 5/22/18: Tello has informed me that if you already have a Sprint SIM you can port in online, and do not need to call customer service.) There's no easy way to do it online yourself. Thankfully, when I called Tello's customer support to port in, the experience went quickly and efficiently.  I did not have to wait on hold to speak to an agent.  The whole phone call took less than 5 minutes.
The actual number port in however, took some waiting.  A total of 18h passed before my number switched over.  Tello sent me an email to let me know that the port had been completed.  This was a bit slow compared to when I ported into Red Pocket Mobile but it is pretty standard for the industry.
Tello's Account Dashboard
Tello has a nice customer account dashboard.  Some of its features rival that of a post paid account.  There is an activity log that tracks every phone call, and text message that you send and to what number.  It also tells you how much data that you consume each day.
Changing phone plans is easy too.  You can do it right from your account dashboard's home screen. There's also a remaining balance section that's easy to read and understand.
Tello Data Speeds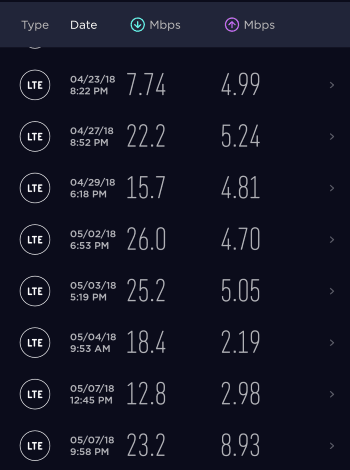 Theoretically, Sprint MVNO's should have the exact same download and upload speeds that Sprint customers get.  Unfortunately, I've never been a Sprint postpaid customer so I can't say how Tello compares in that department.  I can say that Tello's download data speeds were in line with every other MVNO that I have reviewed thus far.  Upload speeds were a bit of a different story.
During my test period, I ran a total of 22 speed tests at different times of the day and on different days of the week.  There was some variation among the tests, but a majority of the time download speeds stayed in the teens.
Average download speeds worked out to be 16.3 Mbps with a high of 25.2 Mbps and a low of 3.07 Mbps.  Average upload speeds came in at 4.2 Mbps with a high of 8.93 Mbps and a low of 2.19 Mbps.  Upload speeds were less than half of what I've witnessed on other carrier network MVNOs.  Ping times averaged 64 ms, with one real outlier at 186 ms.
During the review I used a total of about 3.5 GB of data.
Streaming audio and video worked flawlessly.  I was able to stream YouTube's Cobra Kai in 1080p and listen to Spotify and Amazon Prime Music.
Using Mobile Hotspot With Tello
All of Tello's data containing plan combinations include unlimited mobile hotspot with data speeds throttled once you go over your plans high speed data limit.  I actually had to use mobile hotspot on my PC for a bit, thanks to the cable company accidentally disconnecting my line when they hooked someone else up for service.  Speeds on the PC were perceived to be a tiny bit slower than what I'm used to on WiFi.  When I used hotspot to connect my Le Eco Le Pro 3 to the internet, I measured data speeds that were the same as I got on the Motorola G4 Plus with hotspot disabled.
Voice Calls And Text Messaging
During the course of the review, I logged 120 minutes worth of calls with 39 minutes incoming. Everywhere I used the phone the signal was good and I had no dropped calls.  The only issue I had was on one phone call with another MVNO.  Things seemed to break up at times with the other party talking to me.  I'm inclined to believe I was put on speakerphone and that is what caused the issue.  However, I did not ask about it.
Tello Mobile does not support VoLTE.  This means that you can't place calls and use cellular data for the internet at the same time.  You also don't get enhanced HD voice calls.  Most MVNO providers don't offer this feature at this time anyway.
Over 1,800 text messages were sent or received during the trial period.  All SMS and MMS text messages were sent and received without issue.
WiFi Calling And The My Tello App
Tello does offer WiFi calling, but you have to download the Tello App (available on Android and iOS) to use it.  Even though there's an app involved, it does just use your regular phone number for calling.  When I tested it out, it seemed a bit buggy.  Conversations were very choppy as words cut in and out.  Sometimes it just sounded scratchy.  At other points, it sounded as clear as can be.  I can't say for sure if it was a home network problem or a problem with Tello's servers, but my money is on Tello's servers.
I only logged 5-10 minutes of WiFi calls and did so strictly for this review.  The app only works when you are connected to WiFi and does not work if you try to use it with your cellular data connection, which is something I attempted to try so that I could troubleshoot the audio problems I experienced.
The My Tello app can also be used to manage your account, track your usage and change your phone plan.  It cannot be used for WiFi texting.
Ratings
Pros
Download speeds on par with other network MVNOs
Plans are cheap and start at just $5/month
Easy to use and informative account dashboard
Customer support is fast and responsive
WiFi calling is supported with download of the My Tello App
Cons
Real world network coverage isn't as large as AT&T/Verizon
You might get sent a SIM card that doesn't fit your phone
Account Dashboard Ease Of Use
9
Customer Support Response Speed
9
Tello Mobile Review, The Final Verdict
Overall I was happy with my experience on Tello and don't really have much to complain about.  The only two things I could really find fault with were slow upload data speeds and the SIM card that they shipped to me was too small.
Upload speeds were less than 1/2 of what I typically get elsewhere, although for me, it was not noticeable in real-world use and only realized during speed tests.
I could see someone getting upset if they got sent a SIM card that did not fit their phone.  Tello may want to be sure they send out 3 sizes in 1 SIM cards because not everyone will have adapter's laying around like I did.
Those issues aside, as long as Sprint offers good network coverage in your area, Tello is worth the try.  At the time of this review, they offer some of the best pricing around for a single month plan on the Sprint network.  They also have a nice customer account dashboard, and good customer support which are features that allow them to stand out a bit from other MVNOs.
---
---
Follow BestMVNO
Did you know BestMVNO is available to follow for free in Google News? Follow BestMVNO in your Google News app and keep up to date on wireless. You can also follow on Twitter for additional wireless insights, deals, and even debates!