Ultra Mobile Has New And Updated Multi-Month Plans, Get Unlimited Data For $40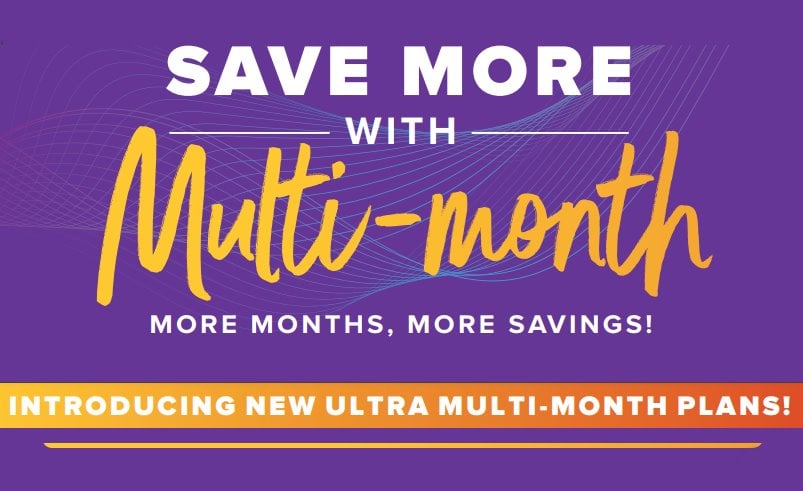 Ultra Mobile has updated the pricing of its multi-month plans and added more multi-month options.  The changes are not yet live on the MVNO's website, but Ultra Mobile has confirmed to BestMVNO they are available now exclusively through dealer channels.  They should also become available directly through Ultra Mobile once the dealer exclusivity period ends.
Ultra Mobile's Updated Multi-Month Plan Options
Ultra Mobile's Multi-Month Plans, Table Scrolls Left To Right On Mobile Devices

| | | | | |
| --- | --- | --- | --- | --- |
| | 1GB | 3GB | 6GB | Unlimited |
| 3 Months | $48 ($16/month) | $66 ($22/month) | $84 ($28/month) | $138 ($46/month) |
| 6 Months | $90 ($15/month) | $126 ($21/month) | $162 ($27/month) | $270 ($45/month) |
| 12 months | $168 ($14/month) | $240 ($20/month) | $300 ($25/month) | $480 ($40/month) |
All plans include unlimited domestic and international talk and text, and unlimited data with the specified amount of data at 4G LTE data speeds before throttling to 2G data speeds.  Plans also include mobile hotspot.  Taxes and fees are extra.
The 6 and 12-month plan options are entirely new.  Previously only 3-month options were offered.  The 3-month options can be found in an article published by BestMVNO a few months ago.  For the most part, the 3-month options remain the same with slight improvements to pricing.  Pricing improvements average out to a savings of about $2-$3/month.  There may be one potential big change coming, that revolves around the unlimited plan.  Currently, Ultra Mobile considers 50GB of data to be considered unlimited before throttling to 2G data speeds.  According to a flyer found on an Ultra Mobile dealer website, the unlimited data allotment may be getting reduced to 32GB before throttling to 2G data speeds.  BestMVNO reached out to Ultra Mobile for commentary but had not heard back by publication time.  If a response is received, the article will be updated.
Editor's Take
Ultra Mobile is the company behind Mint Mobile.  Since its inception, Mint Mobile has made multi-month plans its point of focus.  In fact, it can be argued that Mint Mobile is the leader and trendsetter in that growing market niche.
The brand must be doing extremely well because this past February Mint Mobile had a commercial air during the Super Bowl.  I'm not aware of any other MVNO brand ever airing a commercial during the Super Bowl with the exception of brands that are owned by Tracfone.
Given Mint Mobile's success, it comes as no surprise that Ultra Mobile is expanding its multi-month plan options.  Between the two MVNO brand names, Mint Mobile does offer better multi-month plan pricing.  However, the target audience for each brand is a bit different right now.  Ultra Mobile's plans come with international calling and texting and thus are focused on the wireless market segment that needs those features.  Mint Mobile's plans do not include those features.  Both MVNO brands operate on the T-Mobile network.
---
---