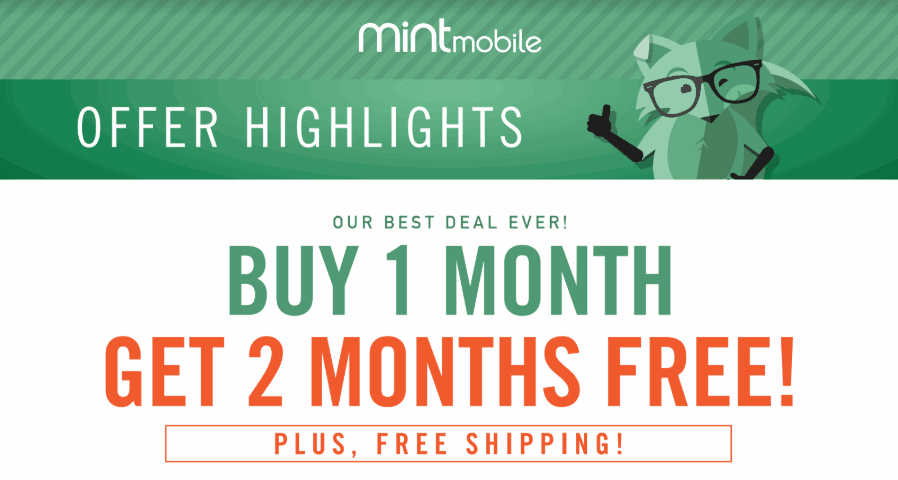 ---
Just days ago Mint Mobile updated its phone plans to include more data.  Now, just in time for the upcoming "Big Game," Mint Mobile has announced what it is calling its "BEST Deal Ever."  The offer will give new Mint Mobile subscribers 3 months of service on an unlimited plan for a total of just $20.  That's less than $7/month for a plan that includes unlimited talk, text, and data with the first 8GB of data at LTE data speeds.  Mint Mobile normally sells the plan with an introductory offer for new customers for $60, or $20/month.
Mint Mobile's BEST Deal Ever Offer Fine Print
The offer will be made available to all starting on February 3rd, 2019.  However, new customers who use the promo code CHUNKYTWEET at checkout will get early access to the deal.  When the offer goes live on Mint Mobile's website on February 3rd, no promo code will be needed to get it.
Don't Miss Out On More Deals Like This!
Get the next deal delivered to your inbox as soon as it's announced!
This promotion is scheduled to be available for a limited time.  It is set to end on Friday 3/1 at 2:59 AM.  However, like many other providers, Mint Mobile has been known to extend promos past their original expiration dates.
Customers who elect to signup for this plan will be able to renew it for 3 additional months at a cost of $105 or $35/month.  Subscribers can also elect to renew their plan for a 6 or 12-month interval.  Those who renew for a longer time frame will get a better deal on pricing.  If renewed for 6 months the plan will cost $105 upfront or an average cost of $25/month.  The 12-month renewal rate is $240 or $20/month for industry best pricing for the included data amount.
BestMVNO recently spoke with Aron North, SVP of Marketing at Mint Mobile and he had the following to say about the latest offer from his company:
"Mint Mobile is excited to present the absolute best value in wireless to the largest possible audience. It's time the entire US finds out there is a new way to get wireless – it's easy, online, only $20/mo. and only at www.mintmobile.com" - Aron North SVP Marketing At Mint Mobile
After your 3-month trial is up, if you find that you need either more or less data in a plan, you can signup for one of Mint Mobile's other offerings.  Mint Mobile sells two other phone plans, one with 3GB of LTE data each month, and one with 12GB of LTE data each month.  Pricing for those plans are described below:
3GB Multi-Month Plans
3 month pricing - $25/month with $75 due up front.
6 month pricing - $20/month with $120 due up front.
12 month pricing - $15/month with $180 due up front.
12GB Multi-Month Plans
3 month pricing - $45/month with $135 due up front.
6 month pricing - $35/month with $210 due up front.
12 month pricing - $25/month with $300 due up front.
All Mint Mobile plans include unlimited talk, text, and data with the specified amount of data at LTE speeds.  Mobile hotspot is included.  WiFi calling is available for select devices.  Taxes and fees are not included in the prices shown. They cost extra.  Plans come with a 7-day money back guarantee.
If you want to know where Mint Mobile's early access deal code CHUNKYTWEET is derived from, have a look below at their upcoming commercial that is scheduled to air this Sunday during the Big Game.
---
---